NFL Free Agency: Philadelphia Eagles Having the Best Offseason in the NFL by Far
July 30, 2011
Jonathan Ferrey/Getty Images
This has by-far been the best offseason for the Philadelphia Eagles that I can remember.
Even though the lockout has only been lifted for less than a week, there is no other trade or signing in the league that can top what the Eagles have done so far. 
Let's take this back to April. 
The Eagles kicked off their offseason by drafting 11 players, some of which who can be game-changers as early as next season. 
Taking an offensive tackle in Danny Watkins with their first pick was bold, but can help in the long-run. The Eagles did have a lot of problems keeping that line steady, so Watkins will be a great addition.
Other names I really like are Jaiquawn Jarrett, Casey Matthews and Dion Lewis. Jarrett will be a solid replacement for Quintin Mikell, and Lewis can add that deadly one-two punch at running back. 
Also, in the undrafted free agent signing, the Eagles picked up Noel Devine and DeAndre Brown; two guys that can and will make the team.
Devine is a running back nicknamed the "Human Highlight Reel" because he racked up over 4,000 yards and 29 touchdowns in West Virginia where he shined as a star. Having McCoy, Lewis and now Devine would just be flat-out scary, and no team could prepare for the speed and quickness of the Eagles. 
DeAndre Brown is a monster receiver at 6'6''. He would be a great guy to have in the red zone because of his size, but he would first have to get back to how he played in 2008 when he had 67 receptions for 1,117 yards and 12 touchdowns.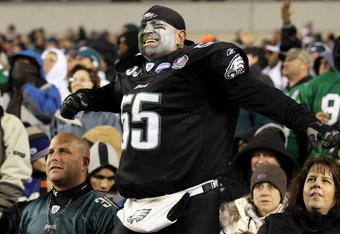 Jim McIsaac/Getty Images
Then comes the fun part. Once the lockout finally ended after 132 days, chaos was upon the league.
The Eagles started off with a bang by signing Jason Babin to a five-year deal. Babin recorded 12.5 sacks last season as a Tennessee Titan, and will now be reunited with defensive coordinator Jim Washburn.
As the highly anticipated deal finally happened, the Eagles traded backup Kevin Kolb to the Arizona Cardinals for cornerback Dominique Rodgers-Cromartie and a second-round draft pick in 2011. 
It doesn't end there. Looking to back up Michael Vick with Kolb now gone, the Eagles proceeded to sign Vince Young to a one-year deal. Young is someone who, under Vick, can still develop. I think he has a great arm and I wouldn't want anyone else as a backup. 
Now, the world has officially been shocked. With all the hype about Nnamdi Asomugha possibly being signed by either the Dallas Cowboys or the New York Jets, the Philadelphia Eagles stole the show by signing him to a five-year contract, putting an exclamation on the league.
The signing, however, makes for three Pro Bowl corners on one team. One will most likely be traded, and that is starting to look like Asante Samuel.
Samuel has been one of the best corners in the league since 2006, and it would be sad to let him go. Looking on the optimistic side of things, he has reached his prime, and DRC is still young. Samuel will most likely be traded for another big name sometime soon, unless the Eagles do decide to keep the trio. 
Still on the market, Stephen Tulloch is probably the best name still available, and the Eagles should still peruse him. He would be an absolute machine for the Eagles, replacing Stewart Bradley who was recently let go. If not, then this is where rookie Matthews can have his chance to shine. He has a lot of potential, and could develop into a prototype of his brother Clay.
While the rumors surrounding Plaxico Burress and the Eagles have surely faded, he would still be a nice addition in the red zone. 
One thing that really bothers me is the David Akers deal. I do not understand why he was not re-signed by the Eagles, as he would probably retire next season with a Super Bowl ring. 
Regardless, nobody has made a splash like the Eagles have so far.
All these great names and moves have the Eagles at the top of the league and are already Super Bowl favorites. They are surely winners to having the best offseason, and it's not even over yet.