What's Next for the Pittsburgh Steelers?
July 30, 2011
Al Bello/Getty Images
Since the lockout ended the Pittsburgh Steelers have been busy. 
They've re-signed CB Ike Taylor, OL Willie Colon, K Shaun Suisham and OT Jonathan Scott.
They have also signed 19 rookie free agents including TE Weslye Saunders, RB John Clay, LB Mario Harvey and DL Anthony Gray.
All of the 2011 draftees have been signed.
OT Max Starks, OT Flozell Adams and WR Antwaan Randle El have been released.
TE Matt Spaeth and DE Nick Eason have signed with the Bears and Cardinals respectively. 
And at some point today, head coach Mike Tomlin is expected to meet with former Steeler and Giant WR Plaxico Burress.
But what's next for the Pittsburgh Steelers?
I hope that the Steelers top priority is to sign OLB LaMarr Woodley to a long-term deal, which would provide Woodley with security and the Steelers with valuable cap room.  Because Woodley currently accounts for approximately $10 million against the cap because of him being franchised by the team.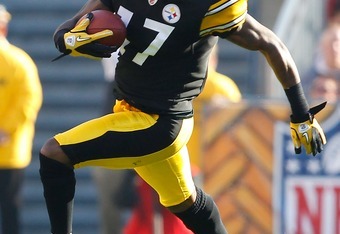 Jared Wickerham/Getty Images
And since the Steelers have a history of re-signing players when they have one year left on their deal, that makes it likely that the Steelers are focused on negotiating with S Troy Polamalu, ILB Lawrence Timmons and WR Mike Wallace, all of whom are nearing the last year of their contracts. 
And all of whom must be re-signed!
That being said, I believe that the Steelers will likely sign a veteran CB to fill the nickel CB role.  It could likely be William Gay because of his knowledge of Coach LeBeau's system, but Gay may be wanting a longer commitment than the Steelers are willing to offer due to the amount of young CBs on the roster such as Curtis Brown, Cortez Allen, Keenan Lewis and Crezdon Butler. 
Therefore another veteran CB could be signed on a one year deal and possibly released if any of the previously mentioned CBs look ready to assume the nickel role during the preseason.
I feel that the Steelers are done tinkering with their offensive line.  Flozell Adams was unwilling to take a pay cut and wants to be promised a starting job, so I feel that it is safe to assume that he won't be re-signed.
It is rumored that Max Starks may be brought back at a cheaper rate, but he seemed pretty resigned to the fact that his days as a Steeler are over on his Twitter account. 
In addition to that, the Steelers drafted another Florida product (Marcus Gilbert) in the second round this year that is likely able to play both OT and OG.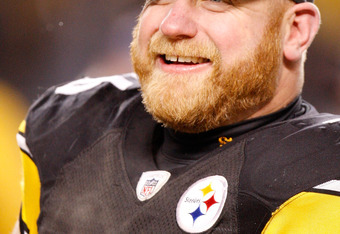 Gregory Shamus/Getty Images
So I expect to see the Steelers starting O-line unit to look like this:
LT: J. Scott, LG: C. Kemoeatu, C: M. Pouncey, RG: R. Foster, RT: W. Colon.
With Gilbert and Doug Legursky being locked in on the roster, allowing Tony Hills, Chris Scott, Keith Williams, Dorian Brooks and Kyle Jolly to battle for the remaining roster spots. 
I would like to see the Steelers and DE Aaron Smith restructure his contract in order to bring back NT Chris Hoke to back up Casey Hampton, which would round out a stellar defensive line unit that includes Hampton, Smith, DE Ziggy Hood, DE Brett Keisel, DE Cameron Heyward, NT Steve McClendon, DE Sonny Harris and NT Anthony Gray. 
I believe that if Hoke isn't brought back it signifies that the Steelers are comfortable with how McClendon played in his limited time last season.
The Steelers are set at the quarterback position with Ben Roethlisberger as the starter, Byron Leftwich as the backup and Charlie Batch and Dennis Dixon battling for the third QB spot.
The running back position is set at the top with Rashard Mendenhall being the bell cow and Issac Redman being the backup. 
After that it's up for grabs.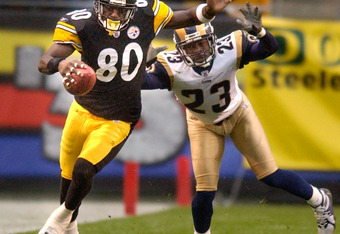 David Maxwell/Getty Images
Jonathan Dwyer, Baron Batch, John Clay and James Johnson are currently on the roster and battling for the remaining spots.
Mewelde Moore, who has been a solid third down RB, is a free agent and has not been re-signed to this point.
The wide receiver core is a talented group that includes Hines Ward, Mike Wallace, Emmanuel Sanders, Antonio Brown, Arnaz Battle, Limas Sweed, Tyler Grisham, Wes Lyons, Terrence McCrae and others. 
This is where the wild card comes in.
Could the Steelers bring back Plaxico Burress?
I feel that Burress is more likely to sign with the Giants and if he does so, the Steelers WR group will still be a strength. 
Ward, Wallace, Sanders and Brown are locks. 
Battle is likely to make the roster due to his special teams ability.
Grisham is a gutty, undersized WR with good hands, Sweed is the greatly talented WR that does everything well besides catch the dang ball and Lyons and McCrae are the young, tall WRs that Ben Roethlisberger asks for.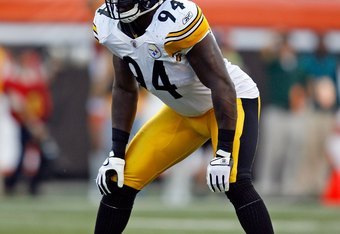 Andy Lyons/Getty Images
One or two of the previously listed group will likely round out the WR squad.
At tight end I feel that the Steelers are locked in. 
Heath Miller is one of the better TEs in the league and David Johnson is a young, cheap TE that is a solid blocker and versatile enough to play some fullback.
The third TE, in my opinion, will be former South Carolina TE Weslye Saunders.  
The 6'6", 270 lbs. former Gamecock could have been a first- or second-round draft pick if it were not for off-field issues.
The linebacking core is stacked with such players as OLB James Harrison, OLB LaMarr Woodley, ILB James Farrior, ILB Lawrence Timmons, ILB Larry Foote, OLB Jason Worilds and ILB Sylvester Stevenson. 
I expect Chris Carter, Chris Ellis and Mario Harvey to be the best of the rest as far as LBs with a chance to make the roster.
I expect the group of safeties to consist of SS Troy Polamalu, FS Ryan Clark, Ryan Mundy and Will Allen. 
Da'Mon Cromartie-Smith has enough talent to push Mundy and/or Allen for a roster spot and make things interesting.
There have also been rumors of Keenan Lewis being moved to safety, who then could also push Mundy and/or Allen for a job.
The battle to be the Steelers punter will come down to Jeremy Kapinos and Aaron Bates.