Floyd Mayweather or Sergio Martinez: Who Deserves Pound-for-Pound Number 2?
July 30, 2011
Daniel Barry/Getty Images
When Floyd Mayweather returns from his most recent 18-month hiatus on September 17th against Victor Ortiz, the most interesting debate in boxing will focus on who deserves to be ranked number two on the pound-for-pound lists. Manny Pacquiao is the consensus pound-for-pound king, and will likely stay there until he loses or retires. Whether you love him, hate him, or - like many ring observers - lie somewhere in between, it's hard to imagine Pacquiao being unseated as long as he stays active and keeps winning high-profile fights.
So we move to where the real action is: who should be number two?
The candidates are obvious: Sergio Martinez, who currently holds the position; and Floyd Mayweather, the former number one who held the P4P bridesmaid spot for a year before recently being stripped of his ranking due to inactivity.
There's a case to be made for both men.
The Case for: Sergio Martinez
Martinez, who turned 36 in February, has fought an active schedule and performed well against quality opponents such as Paul "The Punisher" Williams, Sergei Dzinziruk, Kelly Pavlik, and Kermit Cintron. Since earning his first major title fight in late 2008, he has fought six high-level opponents and has performed impressively each time. Though he is only 4-1-1 during that span, he fought well enough to win all six fights. The draw with Cintron was a joke, and Martinez avenged a narrow loss to Williams in extraordinary fashion with a second-round KO in their rematch last fall.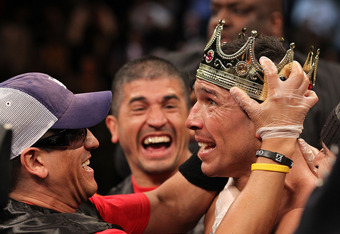 Al Bello/Getty Images
He is the best all-around athlete in boxing right now, and his claim is bolstered by the fact that he currently holds the position, and hasn't done anything that warrants a demotion. Boxing fans can also respect the fact that Martinez has paid his dues - coming back stronger after two frustrating decisions that would have been setbacks for many fighters. Martinez also knocks people out. Something Mayweather hasn't done lately.
Finally, Sergio Martinez may also be the most avoided boxer in the world right now. There is a long list of quality opponents who have conveniently found better things to do lately than face the Argentinian southpaw: Miguel Cotto, Antonio Margarito (who beat a green Martinez 11 years ago), Felix Sturm, Saul Alvarez, Matthew Macklin, Sebastian Zbik. With the best available opponent being undefeated (but unknown) British fighter Darren Barker, one has to wonder if Martinez might need to go up to Super Middleweight to find someone willing to face him.
The Case for: Floyd Mayweather Jr.
Though most of us have been disappointed with his recent decision-making in and out of the ring, make no mistake about it: I believe Mayweather is the most gifted boxer in the world today. Read that again: The most gifted boxer in the world today. He has more natural boxing ability than Martinez, Pacquiao, or even Nonito Donaire.
Mayweather also boasts arguably the best resume of any current fighter, with the possible exception of Pacquiao. And despite having only fought twice in three-and-a-half years, Mayweather's conquests have had bigger names and been ranked higher in the pound-for-pound rankings than the opponents of Martinez.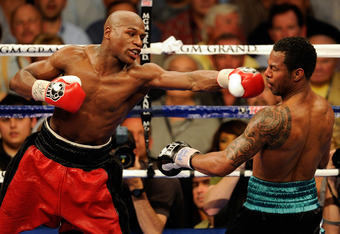 Ethan Miller/Getty Images
In a pure numbers game, Mayweather's two big recent wins - unanimous decisions over Juan Manuel Marquez and Shane Mosley - hold up better than anyone else's marquee wins over the last few years. Marquez and Mosley were both ranked among the top five pound-for-pound prior to their matches with Mayweather. Yes, they were both aging. Yes, Marquez was at a weight disadvantage even before Mayweather came in two pounds overweight. Yes, Mosley's career may have been unfairly bolstered by Margarito's inflated reputation.
But no one else in the past four years has beaten two top-five pound-for-pound fighters. Martinez has one (Williams), Joe Calzaghe has one (Hopkins), Pacquiao has one (Marquez in 2008), and Kelly Pavlik has one (Jermain Taylor). Mayweather's resume is impressive, no matter what you think about him.
Finally, there are two other factors that boost Mayweather's chances. The first is that he was number two pound for pound until being dropped from the rankings, so one could argue he still holds a claim to the position, since Martinez wouldn't have gotten there had Mayweather remained active. Second, he is a much bigger name, which could help him out if Ring Magazine is trying to court a beleaguered boxing public.
My Verdict: If Mayweather wants his spot back, he'll have to fight for it
 Barring a show-stopping early-round knockout of Ortiz (first to fourth rounds), Mayweather beating Ortiz won't do enough to justify him displacing Martinez at the top of the list.
Keep in mind, Ortiz had dropped off everyone's radar prior to the Berto fight. Marcos Maidana knocked out Ortiz two years ago, and Maidana hasn't looked particularly impressive since then. Mayweather's smiley appearance at the Berto-Ortiz fight was telling: he wanted either of those fighters, because they're both good, but not quite all-world level. It was yet another safe pick for Mayweather. Ortiz may be the number two welterweight in the world, but aside from Pacquiao, that division is marked by absences (Cotto moved up in weight, Mayweather hasn't fought since May 1, 2010) and recently-exposed fighters (Berto, Mosley).
If Mayweather stuns us by absolutely destroying Ortiz, then he makes a strong case and would arg Martinez. But he has to win convincingly. Ortiz has only fought once at welterweight, and he was knocked down twice by Berto. I am skeptical of the legitimacy of Mayweather-Ortiz.
So how did I make my verdict?:
Fighter 1:
Age: 34
Past 3 Years: 2-0, 0 KO's, 0 titles. Two dominant decision wins over top 5 P4P boxers.
Notes: Southpaw. Tremendous physical gifts. Exceptional defensive fighter, exceptional hand speed. Both recent wins over opponents aged 35+. Came in above an already-generous catchweight for the more credible of these wins, but nonetheless won convincingly. Last two opponents had a combined 9 losses. Recently has gained a reputation for avoiding difficult opponents.
Fighter 2:
Age: 36
Past 3 Years: 4-1-1, 3 KO's, 4 titles. One dominant KO win over top 5 P4P boxer.
Notes: Southpaw. Tremendous physical gifts. Excellent athleticism, hand speed, and power. The loss and draw were close and controversial. Fighter should be at least 5-1 in these bouts. All wins were against younger opponents, including one undefeated 34-year-old, and three fights against one-loss fighters between age 26 and 29. Last five opponents have had a combined 5 losses, and were ranked among the top 3 in their division. Recently has gained a reputation for being avoided by most quality opponents, but is willing to fight anyone in at least two weight divisions.
How can Mayweather regain a top-2 pound-for-pound spot?
Mayweather's credibility is at an all-time low among boxing fans, as he has been exposed as the one who is avoiding a showdown with Pacquiao, and has had such a low activity rate. He has also been challenged by Martinez at a catchweight or at junior middleweight, but has shown no interest in this opportunity. Mayweather's issue isn't a skill or resume issue. It's a credibility issue. He needs to fight more frequently and dominate many high-level contenders, or he needs to finally fight (and perform well) against Pacquiao or Martinez.