Do the Philadelphia Eagles Suddenly Have the Best Secondary in the NFL?
July 30, 2011
Jim McIsaac/Getty Images
Nnamdi Asomugha, hailed as the best cornerback in the NFL, had been labeled as the most prized free agent on the market, but now his skills have been claimed by a surprise candidate.
The Philadelphia Eagles signed the star corner to a five year, $60 million deal, disappointing several teams that had also been known to be in the running, such as the Jets, Cardinals, Texans, Cowboys and 49ers.
Any team that would have reeled in Asomugha would have instantly received a tremendous boost in the secondary, but the Eagles may have just created the league's best.
If he would have joined the Jets, the move certainly would've created the NFL's top corner tandem, but Philadelphia will partner him with another Pro Bowl corner, Asante Samuel, and recently acquired Dominique Rodgers-Cromartie, pressuring the Packers, who boasted the greatest secondary in 2010.
After adding Asomugha, many have thought Samuel may be traded, but according to the Philadelphia Inquirer the Eagles plan to keep the veteran unless they receive an offer they can't resist.
So the NFC East champions look to begin the 2011 season with three top-notch corners and a few young safeties, but how does their secondary match up with the team that knocked them out of the playoffs last season?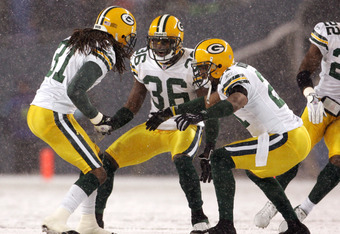 Kevin Casey/Getty Images
It's safe to say that Asomugha has overtaken Charles Woodson on the cornerback hierarchy and Tramon Williams isn't on Asante Samuel's level, even after a Pro Bowl season, so the Eagles do sport the best corners.
At the nickelback position, the Packers started the undrafted Sam Shields, who had a superb rookie season, but still Rodgers-Cromartie is the better player.
However, when it comes to safety, Green Bay steals the show. Nick Collins is a top-three talent at the position and has made three consecutive Pro Bowls. Morgan Burnett showed promise in his rookie season before going down with an injury and Charlie Peprah filled in excellently on his way to an extension.
Unless DRC can switch to safety, it appears the battle for the best secondary will remain a close tie between the two teams until they can prove differently on the field.