MLB Trade Rumors: The New York Yankees in on Domonic Brown
July 29, 2011
Len Redkoles/Getty Images
According to Mike Axisa of the River Ave. Blues, there has been speculation that a third team could be added to help send Hunter Pence to the Philadelphia Phillies. The belief is that the New York Yankees would give up Dellin Betances in order to obtain Domonic Brown of the Phillies. This deal could prove both good and bad in different ways.
I would somewhat like this deal because of the fact that it gets huge value for Betances, who is in AA, by supplying an MLB-ready outfielder who has experience in AAA. No one knows if Dellin Betances will ever be major league-ready, even though he has unlimited potential. He also has struggled with control this entire season, so it could be a good idea for the Yankees to sell high on this guy.
Even though I am in favor of the concept of selling high on guys who are not sure things, I hate the overall deal. The Yankees are not even able to address a need if they make this move. Betances would be needed for a Ubaldo Jimenez deal, unless the Yankees are willing to give up a guy like Jesus Montero, Ivan Nova, or Manny Banuelos instead. 
Plus, the Yankees' outfield is one of the best in the game. Offensively, the outfield is way above average, as Curtis Granderson is an MVP candidate leading the group of three. Brett Gardner is having a very nice year himself, as he has a .285 batting average and 32 stolen bases. After a horrible start, Nick Swisher is getting into the groove himself. He has been hot of late, raising his average to .260.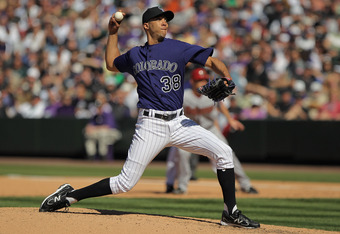 Doug Pensinger/Getty Images
The Yankees have little concern in the outfield, as they can depend on all of their starters to perform well on a day-to-day basis. They also have a great amount of depth, with guys like Andruw Jones and Marcus Thames able to step up into an outfield spot. Even Brett Gardner has versatility between LF and CF.
Domonic Brown has been less than impressive in the bigs overall. He hit .210 in 2010 and is currently hitting .247. I think the Yankees are better off without him for the short term. He will most certainly turn it around, but to me, Brown seems overrated as a MLB player today. Analysts, like Harold Reynolds of MLB Network, expected way too much out of this kid for the 2011 season. I will believe it when I see it.
The only possible way that I would endorse this trade is if the Yankees use Domonic Brown to trade for a useful piece. Maybe, when talking to the Colorado Rockies, they discover that they can afford to center a package around Brown. Maybe the Rockies like what they see from him. If this is the case, I would love the deal.
The Yankees could center it around Domonic Brown and Ivan Nova or Jesus Montero. To this package, a player like Andrew Brackman can be added as well to include three players who have played in AAA and are techincally MLB-ready. 
I do not necessarily consider Brackman to be MLB ready, but this deal has the potential to go through. The Rockies would know that Brown has MLB experience. Thus, this greater value with Brown helps recompense for the lack of consistency coming from Brackman.