WWE: The 8 Worst World Heavyweight Champions in Wrestling History
The World Heavyweight Championship has always been thought of as one of the most prestigious titles in all of professional wrestling. Over the years, we have seen many great World Champions in WWE as well as in NWA and WCW.
However, certain times the title has been given to wrestlers who simply hurt the credibility of the title. Usually, they either did not deserve it, were not ready for it, had boring reigns or in some cases, weren't even wrestlers (more on that later). So I took it upon myself to list the eight worst World Heavyweight Champions in wrestling history.
Keep in mind that I'm counting champions from WCW and NWA as well as from WWE. I'm ranking them based on:
1. How boring or pointless their reigns were.
2. How much they hurt the title's credibility.
Begin Slideshow

»
Basically, here you had a guy who was just coming off of feuds with Santino Marella and Evan Bourne. He then shockingly and inexplicably won the Money In The Bank Ladder match at Wrestlemania 26. When I saw that happen, I thought, "OK, this may not be so bad if they just build him up for a while before he cashes in."
But what do I know? Obviously, it was a much better idea to have this guy cash in just FIVE DAYS after winning to become the World Heavyweight Champion. At this point I thought, "Alright, they seem really intent on pushing this guy. Maybe if he gets some decisive wins as champion and establishes himself as a dominant force, then his title reign won't be so bad after all." For a short while, it seemed that that was what would happen. He was able to win a Triple threat match between himself, Chris Jericho and Edge and even beat Randy Orton cleanly at Extreme Rules.
But then, creative had the abysmal idea of having him feud with the career destroyer known as the Big Show. Show would squash him in a match at Over the Limit, where the champion managed to get himself disqualified. He would then lose his title to Rey Mysterio a month later in a Fatal Four-Way match, before sliding down to midcard oblivion.
What is that guy's name? Who cares?
Rey Mysterio's first World title reign was given to him at Wrestlemania 22 in 2006, solely because of the tragic death of his good friend Eddie Guerrero. It was great to see him win and all the fans in the arena that night left with a warm feeling in there hearts because of it.
However, after four months of hearing Michael Cole scream "Come one Rey!!!" every week, that warm feeling changed to annoyance. In my case, the annoyance came mostly because of Mysterio's gimmick. He was an billed as an underdog, you see, but he always won. Yes, you read that right: he was an underdog who never lost to anybody. Does that make sense to you?
Well it didn't make sense to the fans either, and Mr. McMahon finally came to his senses and after four months had Mysterio drop the title to King Booker.
Rey Mysterio would go on to have one more World title reign, but thankfully that one only lasted for one month, while his WWE title reign lasted about two hours.
Jeff Jarrett's presence in any main event is all I need to see before I change the channel. Seriously, the guy is a mid-card wrestler through and through, and for anybody who disagrees with that, I have two words for ya: drawing power. Yeah, in that field, Jarrett makes Daniel Bryan look like Steve Austin in 1999.
If you need proof of how bad Jarrett was in the main event, just look at his 11 lackluster World Heavyweight title reigns (seven NWA, four WCW). Every single one of these reigns was either boring, short or both.
Jarrett currently wrestles for TNA Wrestling, where he, as the minority shareholder of the company, has frequently put himself in main event storylines either with or at the expense of wrestlers far more talented than he ever was. However, as of right now he's working in Mexico where he's the AAA Champion.
Honestly I hope he and his wife stay there and the hell off my TV forever, but alas, life just isn't that kind.
In my humble opinion, Scott Steiner sucks. To me, he was always just a steroid freak with no mic skills and no wrestling ability. He's a bigger backstage whiner than Randy Orton and I'm thankful that his only World title reign was during WCW's last months, when nobody could care less who the champion was, especially the head booker Vince Russo.
Steiner would capture the title in January 2001 and feud with Booker T over it for two months before dropping it to Booker on the final episode of Monday Nitro, on March 26th, 2001.
Perhaps the most pointless, forgettable World title reign of all-time, Dolph Ziggler's 15-minute-long joke of a title reign gets the No. 4 spot on this list. Basically, Dolph lost to the World Champion Edge, but he was awarded the World title the following week anyway thanks to a pre-match stipulation set by then-GM of Smackdown, his girlfriend Vickie Guerrero. The stipulation was that if Edge used the spear, he would be suspended, and Ziggler would win the title.
Well, Vickie was the special guest referee. Vickie was taken out after hilariously attempting to spear Edge, who then speared Ziggler twice. Clay Matthews of the Green Bay Packers would then run down to the ring in a referee shirt and make the three-count.
The following week, Vickie announced that Ziggler was the new World Champion and that Edge had been suspended. Then, official Smackdown GM Teddy Long would return and reinstate Edge, who then squashed Ziggler in about six minutes to regain the title.
The title reign did absolutely nothing to help Ziggler or Edge. In my opinion, it only degraded the title, so it deserves the No. 4 spot on this list. Perfection? I think not.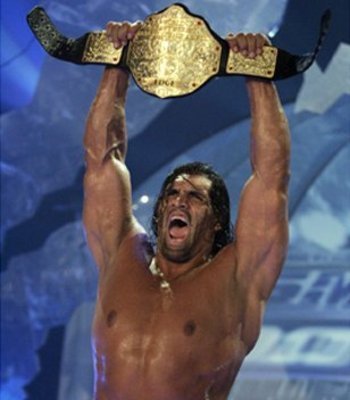 If you think Smackdown's main event scene is thin now, you should have seen it in 2001. Edge was out due to injury, Undertaker was out, and at one point the World Heavyweight champion was and is the worst wrestler in WWE, the Great Khali. This guy didn't speak English, he was uncoordinated, was slow and unable to perform the most basic moves, but he was big, and apparently that's all you need to be a World Champion in WWE.
Khali won the title in a 20-man Battle Royal on the July 20th, 2007 edition of Smackdown and held it for perhaps the worst two months in Smackdown history before dropping it to Dave Batista at Unforgiven 2007, on one of the happiest nights in the history of pro wrestling.
If you were lucky enough to miss Khali's World title reign, then let me give you an idea of what it was like. You see the picture on this slide of Khali holding the title and screaming incoherently? Well, his title reign was basically two months of that.
You know how Eric Bischoff said that Controversy Creates Cash? Well in the year 2000, Vince Russo proved to us that too much controversy creates bankruptcy.
His numerous bad decisions as head Booker of WCW would soon lead to the company's folding in 2001. The second worst of all Russo's booking decisions, though, was when he decided to book himself to win the WCW World Heavyweight Championship from Booker T on September 25th, 2000. His title reign lasted all of seven days before he realized he wasn't a wrestler (gasp!) and vacated the title on Monday Nitro.
But there was one World Heavyweight Champion who was even worse than Vince Russo and of course, his reign was booked by Russo as well. His name is...
Remember when I mentioned in the last slide that making himself the World Heavyweight champion was the second most idiotic decision of Vince Russo's booking career? Well, that's because nothing he ever booked matches the sheer stupidity of what he did on April 26th, 2000, when he booked actor David Arquette to become the WCW World Heavyweight Champion.
You see, what made this particular champion worse than all the others was that at least all the others were in the business of pro wrestling (Russo was a head booker; everyone else was a wrestler). But David Arquette was an actor. A freaking actor, and not even a good one. Yet Russo apparently saw fit to give him the biggest prize in the history of pro wrestling.
Both his and Russo's title reigns really gave us an idea of what Russo thought of professional wrestling titles. To him, they were just props, and that's the way he treated them. He could have cared less that men like Roddy Piper, Jake Roberts and many others put their bodies on the line on a weekly basis just to one day hold the world title and never did.
Honestly, that David Arquette can call himself a former World Heavyweight champion an Roddy Piper can't is a fact that still sickens me to my stomach. Thanks a lot, Russo.
I thought it'd be interesting if I let the readers pick all the Honorable Mentions. So, if there's a guy you feel deserves to be here, then tell me in the comments section and if your reasoning is good enough, I'll put him on this slide.
Ronnie Garvin (the father of "go away heat")
Chris Benoit (for his 2 hour WCW title reign before leaving the company)
Jeff Hardy
Kevin Nash (for the Fingerpoke of Doom)
Well, that's the end of this article. Feel free to like it if you did, leave a comment expressing your own opinion as well as a suggestion for the honorable mentions list if you have one. And by all means become a fan if you want to see more of my work.
Oh and one more thing. Hey Dixie Carter;
FIRE RUSSO! clap, clap, clap clap clap.