NFL Free Agent Signings 2011: Chad Ochocinco Becomes a New England Patriot
July 29, 2011
Jim Rogash/Getty Images
As the great Homer Simpson says whenever he's happy, "Woohoo!"  The New England Patriots added another fabulous pass catcher to their roster! 
From a strictly depth standpoint, you have to love this move.  I sure do.  Scroll down the Patriots receiver chart and asses their current situation.  You'll see what the Patriots are thinking in a microsecond.  Let's grab another fine pass catcher now because the future of their receiving corps is cloudy. 
Starting off we have Rex Ryan's favorite Patriot, Mr. Wes Welker.  The stats show he made a very good comeback in 2010 after tearing his ACL in the last game of 2009.
2009: 14 games, 123 catches, 1,348 yards, 11.0 yards per catch and four touchdowns
2010: 15 games, 86 catches, 848 yards 9.9 yards per catch and seven touchdowns
If you want to bet Welker will play better because of the "it takes two years to recover from an ACL tear" rule, I'd see your line of thinking.  However, he's also a free agent after this season.  The salary cap rules are back in place so we do have to prepare for the chance he'll get a better deal elsewhere.  With Ochocinco on board we have insurance in case that happens. 
I'll always appreciate Deion Branch for what he did during the Patriots unreal run of success.  At the same time we should also have a Plan B in case he starts to decline this year.  2011 will be his 10th season in the NFL and he is already 32 years old.  On one hand he's shown to be a tough, selfless, reliable, team-oriented guy who doesn't disappear in postseason games.  My one concern with Branch is the health and durability issue.  He's small for a receiver (5'9", 193 pounds) and the only time he played a full 16-game season was in 2005.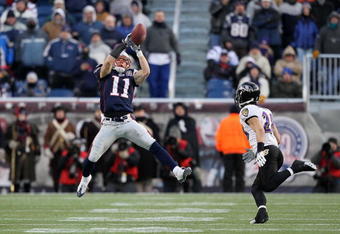 Al Bello/Getty Images
Julian Edelman has made a nice transition to the pros.  A lot of the time seventh-round picks don't even make the team.  The Patriots took a former college quarterback, converted him to receiver and the results have been decent.  He has shown to be a very good punt returner.  His stats were down in 2010 (seven catches, 86 yards, 12.3 YPC in 15 games) but I'd say that's due to the emergence of Rob Gronkowski and Aaron Hernandez.  His 2009 numbers (37 catches, 359 yards, 9.7 YPC, three touchdowns in 11 games) show he can be a fine player when he gets the chance, but he doesn't scare defenses. 
Taylor Price is a blank slate.  You can't say he's a bust yet.  2010 was a redshirt year for him and he could still be good, but we need to hedge our bets.  The Patriots have drafted enough receivers that couldn't cut it in the pros that I'm glad they're going the veteran route.  Bethel Johnson, Chad Jackson and P.K. Sam are a couple of examples. 
Brandon Tate has shown talent in two years.  He is already a very good kick returner and showed some promise as a receiver in 2010.  However, he was inconsistent, had some drops during the season and the question if he can capitalize on his talent is still out there. 
Who else is there?  Matthew Slater is a good special teams guy, but he doesn't make an impact in the passing game.  Tyree Barnes, Buddy Farnham and Darnell Jenkins look like practice squad players. 
Tom Brady is at his best when he has multiple options to throw to at any given moment.  This year he can throw short, intermediate and deep to anyone that's on the field.  The rushing attack has been revitalized with fresh legs, a tough run-blocking tight end and a mammoth new tackle to protect Brady's blind side. 
It's going be fun watching Ochocinco.  I hope every time he scores he joins the crew and fires off a couple of rounds on a musket.