NFL Free Agency: Eagles Miss on Reggie Bush, Darren Sproles, but All Is Devine
July 29, 2011
Andy Lyons/Getty Images
The Eagles were interested in both Reggie Bush and Darren Sproles but have lost out on both players.  This tells us that they are obviously in the market for another running back. 
But not just any running back, one that fits what they're looking for.  Both Sproles and Bush bring basically the same type of play to an offense…explosiveness. 
They're perimeter runners who can get to the outside and are a threat to take it to the house on any given play.  They both excel at catching passes out of the backfield and are fast and elusive open field runners.
In addition, they both double as a punt and/or kick returner and give teams a dynamic special teams weapon.  Either one of them would have made for an excellent addition to the Eagles and made the offense that much more explosive.
But not to worry Eagles fans, things will be just divine in Philadelphia…Noel Devine that is.  Running back Noel Devine is a guy they just signed this week as an undrafted free agent out of West Virginia.
Think of him as Darren Sproles part II.  They're very similar players in both style and size.  Let's do a little comparison of the two diminutive RBs:
Coming out of college, Sproles was 5'6", 181 lbs.  He ran a 4.48 second 40-yard dash at the combine and set numerous school records.  He was drafted in 2005 in the fourth round by the Chargers and went on to become a great change of pace back and dynamic return man.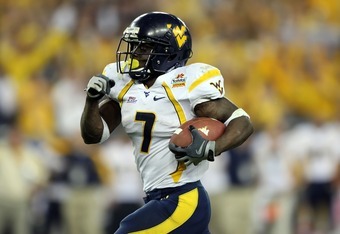 Jed Jacobsohn/Getty Images
His college stats were 815 rushes for 4,979 yards, 45 TDs, and a gaudy 6.1 yard per carry.  As a receiver he had 66 receptions for 609 yards and 2 TDs.  He also returned 40 punts for 378 yards (9.5 yard average) and 1 TD to go along with 35 kick returns for 846 yards (24.2 yard average).
Here is a brief amateur scouting report from finheaven.com on Sproles coming out of college:
Strengths: Great speed...Very productive...Dynamic and very hard to tackle...Runs harder than you would think for a guy his size and shows a lot of toughness...Has great vision...Unbelievable balance...Very shifty...Gets lost because everyone else is so much bigger than he is...Good receiver...Has all the intangibles...Also a return man.

Weaknesses: Vastly undersized...Will never be able to cut it as a blocker...Has been durable during his college career, but they hit harder in the pros...Had a down senior season and was shut down in some games.

Notes: Classic case of a great college player who just doesn't project well to the pro level...Won't go nearly as high as his reputation would lead you to believe...A better player than Quentin Griffin, but probably a backup and change of pace back at best in the NFL.
In his five year career as a pro, Sproles has been very productive as a third down back and return man and has scored a total of 21 TDs (six rushing, 11 receiving, four on returns).  He was valuable enough to the Chargers that they placed the franchise tag on him prior to the 2010 season.
Now for Noel Devine:
He is listed as 5'7" and 180 lbs and ran a 4.43 second 40 at his pro day.  Though he didn't set school records like Sproles, he did have a pretty good college career of his own:
729 rushes for 4,317 yards, 29 TDs, and a very good 5.9 yard per carry average.  As a receiver he had 98 receptions for 712 yards and two TDs.  He also return 34 kicks for 736 yards (21.6 yards per return) and one TD.
Here is a good scouting report courtesy of the National Football Post on Devine:
An explosive, undersized back who lacks ideal overall girth, but does possess a thick set of legs for someone his size. Is never going to be a guy who can carry the load for you in the NFL, has a tendency to get swallowed up at times by defenders inside and isn't a guy who can dish you much wear and tear on a defensive front seven.

However, the guy possesses a rare combination of initial burst, lateral agility and patience when asked to press the line of scrimmage. He runs from the gun consistently, but displays a real feel for tight areas, quickly picking his way through traffic, setting up blocks and then absolutely hitting another gear toward daylight.

Demonstrates the ability to routinely outpace angles in the secondary vs. even the most athletic of competition and is a big-play threat every time he gets his hands on the football. Displays impressive footwork and fluidity through his hips when asked to make a defender miss at full speed.

Runs with a low pad level inside, does a nice job protecting his smaller frame and can bounce off contact at the line of scrimmage and remain on his feet. However, it's his ability to sink his hips and quickly accelerate around the bend when reaching the corner that really makes him dynamic on perimeter runs.

Demonstrates impressive balance and body control in all areas of his game, which allows him to play so fast. Now, does have a tendency to dance behind the line at times and will run himself out of yards in search for the big play.

Exhibits the capability to catch the football out of the backfield and showcases a willingness to block in blitz pickup. Obviously isn't overly stout on contact, but can cleanly cut down defenders and reach targets on the edge. Was limited due to an ankle injury in 2010 which really took away from his ability to sharply make cuts and accurate quickly. Needs to check out medically.

Impression: A luxury guy for an NFL offense, but he can be dynamic with the ball in his hands and will find a way to generate big plays at the next level. You just need to find ways to get him the football.

Devine and Sproles are eerily similar.  Of course this doesn't necessarily mean Devine will be as good as, or better, than Sproles. But the potential is certainly there.
In all reality he could also be the next Nate Ilaoa (nicknamed "Nasty Nate").  He is the running back Eagles fans were all excited about in 2007 when they thought he would be the "big back" everyone clamored for. 
He quickly faded into oblivion and is still unemployed by the NFL.   Just goes to show you that these players need to shine brighter than the gleam off of Mr. Clean's head if they want to get noticed and stick on a roster.
The fact that the Eagles didn't land Bush or Sproles significantly helps Devine's chances of making the team as long as he can put on a good display of his skill set in camp and the preseason.
His best bet to secure a spot would be to show some pizazz on kick and punt returns.  When the Eagles pay DeSean Jackson his money, there will be an opening in the punt return game.
You can bet your last dollar that the coaches will be seeking a new return guy and there will be open auditions all the way up to the final cuts.
Devine fits the mold of what Andy Reid likes in his running backs.  He loves the smaller, quicker, and shiftier runners who are adept at catching passes out of the backfield. 
Unless the Eagles end up bringing in another running back such as Marion Barber, Kevin Smith, or another "name" player, I like Devine's chances at being on the final roster.