7 Reasons Why Chicharito, Mexico Will Contend at 2014 World Cup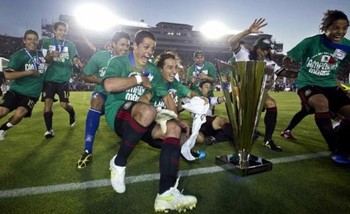 Hello, fellow Bleacher readers! This is my first article so I don't expect it to be a world class article. With that being said, I've decided to argue with an article in which there were ten reasons why Mexico wouldn't contend for the 2014 World Cup. Mexico is a great up and coming squad that seems promising. The Copa Oro, or Gold Cup, was a tournament that Mexico completely dominated every team they went up against. Yes, the Copa America was a horrible display, but that wasn't the squad that went undefeated in the Copa Oro. Mexico's squad has great talent that plays in Europe and also has solid players who play in their native country, Mexico.
Here are 7 reasons why Mexico will contend and may even possibly end up in the Finals at the 2014 World Cup taking place in Brazil.
7. Mexico Has Never Won the World Cup in the Professional Level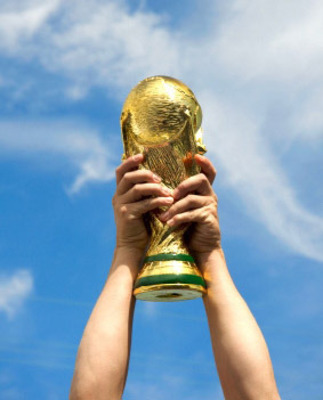 Mexico has never won a World Cup in the professional level.
Their U-17 squad has won two; one of them in which both strikers Carlos Vela and Giovani Dos Santos both competed in; and also one in which they have recently won. Since the U-17 has two titles, it would be obvious that the professional squad would love to show them who's boss.
They have the talent to make an extended run. Their performance in the 2010 World Cup didn't show a lot of promise, unfortunately. It had an inexperienced 'Chicharito', as well as inconsistent players like Guillermo Franco, and the wrong usage of a goalie. (They had Oscar 'El Conejo' Perez instead of gifted Guillermo Ochoa). The only real factor they had was great leadership in players like Rafael Marquez and Cuauhtemoc Blanco. The 2014 squad will have more experienced as well as hungry players.
6. Defense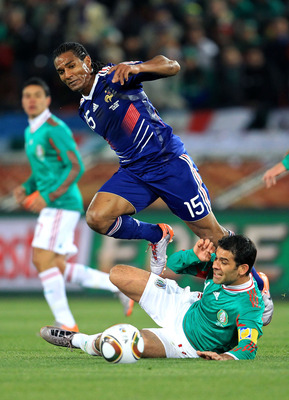 David Cannon/Getty Images
As they say, defense wins championships. And Mexico's defensive line is a solid one that can keep strikers contained. No, they're not Spain's defensive line with players like Puyol and Pique, but they have enough talent to allow no goals. The defensive is well led by Captain Rafael Marquez. They have a great player in Efrain Juarez who can keep up with players and well as play offense. A consistent player like Carlos Salcido is always someone you can count on to play well and defender 'Maza' Rodriguez plays tough and wise. They also have good defensive players coming off the bench like Jorge Torres Nilo and 'Maza' Rodriguez fill in, Hector Reynoso. Moreno played exceptionally well as a starter.
5. Performance in the Gold Cup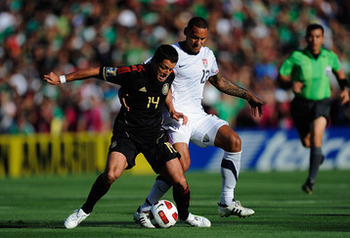 What can you say about their domination? Mexico completely handled and discouraged every team they went up against in the Cup.
Mexico went up against El Salvador in their opening match and defeated them 5-0 led by a hat trick from Javier 'Chicharito' Hernandez.They also went 5-0 in their second match against Cuba in which 'Chicharito', Dos Santos, and backup forward, Aldo De Nigris, scored. The final group match was played against Costa Rica and five goals were scored, but not in another shutout by Mexico. The game's final score was 4-1 with Guardado leading all goal scorers with two. They showed so much domination in the group stages that Mexico instantly became favorites by possibly everyone to win the Gold Cup.
They swept the group stage and found themselves against Guatemala. To everyone's surprise, the first goal was scored in five minutes by Guatemala. Then a substitution by Mexico gives them the tie with De Nigris scoring after playing two minutes. Then Hernandez's heel kick goal topped it off and Mexico went up against Honduras in the Semi-Finals. The quarter-final game showed Mexico as a team that can come back from tough situations.
The tense Semi-Final game went into Extra Time after their regulation score ended at zeros. Again, De Nigris, scored and 'Chicharito' went on to finish them with the second goal. Once again, Mexico had reached the Finals.
The rivalry between USA and Mexico went undergo in the Finals of the cup. USA scored the first two goals and looked to be in shape. But then winger, Pablo Barrera, scored the first goal for Mexico and motivated the team. Guardado tied the game up and Mexico never looked back. As Barrera scored the third goal, the crowd at Pasadena was lit on fire! Then the final world class goal from, Giovani Dos Santos made the stadium erupt and left the USA goalie, Tim Howard, crying. With the comeback of 4-2, Mexico went undefeated and pleased many followers. Mexico should pure dominance as well as resiliency.
4. Bench Production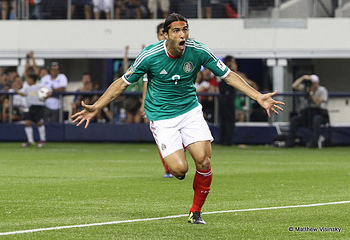 Mexico's bench is a artistic one. In the Gold Cup, Mexico's consistent substitution was Aldo De Nigris. He usually scored in five minutes after he had just gone in.
Mexico had a scandal in which key players like 'Maza' Rodriguez and Guillermo Ochoa were suspended for the rest of the cup; but backup goalie Alfredo Talavera and other bench players stepped up to the occasion and did not disappoint.
Talavera played very well in the games left. Underused player Jorge Torres Nilo is a great young defender who might take the spot of Carlos Salcido in the next World Cup. Angel Reyna was also a player I personally looked forward to see how he would impact Mexico. Unfortunately he wasn't used much and didn't provide much of an impact; but he was the leading goal scorer for the Mexican League the season prior to the Gold Cup so I see him returning to the team.
We could also see players from the U-17 championship team in the team. I look to see striker Carlos Fierro and defender Antonio Briseno on the squad if they can improve their play.
3. Chicharito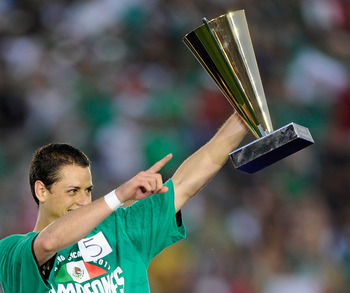 Kevork Djansezian/Getty Images
This kid is amazing. He is a lethal goal scorer whether he's playing for Manchester United or Mexico. He quickly made a name for himself in England and is going to be the best player in Mexico for years to come. Yes, he does deserve his own slide because he is the face of Mexico currently. He could work on his passing and strength but his finishing is amazing.
He's already that good. Imagine how much improved he will be when it's time for the 2014 World Cup.
As a player of Guadalajara, I hated him because of the rivalry between Chivas and Club America. But now I have quickly gone to respect and adore him. I'm sure he will continue his great play and will continue to captivate the minds of all Mexico supporters.
2. Mix of Youth and Experience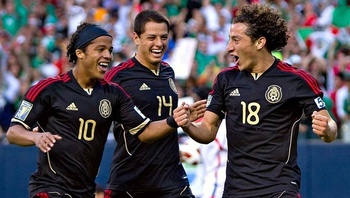 Mexico's youth will be needed as well as experience. Captain Rafa Marquez will be 35 at the time of the next World Cup as well as midfield Gerardo Torrado.Midfielder Israel Castro and Carlos Salcido will both be 34 and 'Maza' Rodriguez will be 32.
They all are experienced players who have played several games with Mexico. Those veterans can guide the youngsters in making correct decisions on and off the pitch. Giovani Dos Santos, 'Chicharito', Andres Guardado, Efrain Juarez, Pablo Barrera, Carlos Vela, and Guillermo Ochoa will all be under 30 which provide a lot of youth and energy to the team. They're already good players. When it's time for the 2014 World Cup, they will be great players.
1. Talent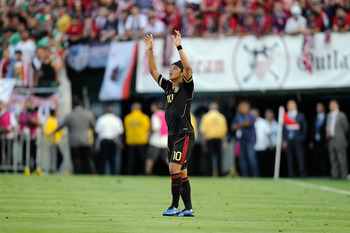 Kevork Djansezian/Getty Images
Mexico's already got loads of great talent. Ochoa is the best goalkeeper Mexico currently has. Their defensive line isn't world class, but they have enough to contain elite scorers. Their midfield is possibly their best attribute. It can control and dominate the ball as well as send deadly crosses and passes. Their attackers are excellent led by 'Chicharito'.
Obviously these guys aren't heavily recognized across the world but the fact that they will only get better is a sign that Mexico is evolving. In three years, the younger players will probably be in their prime and that's good news for Mexico. With a great fan base, the Mexico squad can be known as a deadly opponent across the world.
Conclusion
Mexico is going through a great era. Their improved play will be seen in the World Cup. Hopefully the players will stay out of trouble and stay in top shape when it's time for the World Cup. I look forward to the next World Cup taking place in Brazil!
The future seems bright for Mexico!
Let me know what you guys think? What I could have improved? And obviously let me know if you guys liked my article.
Keep Reading