2011 SEC College Football Conference Preview: Intra-Conference Overview
July 27, 2011
Mike Zarrilli/Getty Images
This is part four in a series previewing the 2011 SEC college football season.
Team Overviews of the SEC Intra-Conference Schedules
SEC East Overview
The SEC East was the weaker division in-conference during the 2010 season and South Carolina took advantage of this opportunity. The Gamecocks had big wins at home versus Georgia, Alabama and at Florida. However, they lost handily to Auburn on the road, Arkansas at home and a close one on the road to the Wildcats (let-down game). This year Georgia should be better with sophomore Aaron Murray under center again. Florida is the wild card team. How will the immensely talented Gators respond to their new head coach and new offensive philosophy? Were the last 5 games of Tennessee's 2010 schedule a preview of things to come or a lucky break in their schedule? South Carolina has a lot of offensive weapons; can they be stopped? It looks like 2011 is a repeat of last year in the SEC East.
Individual Team Overviews
Florida Gators (2010 record: 8-5, 4-4 SEC)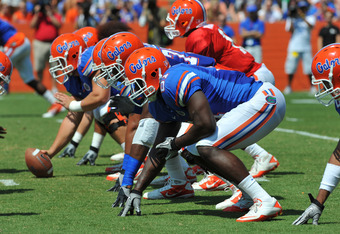 Al Messerschmidt/Getty Images
Will Muschamp gets his first SEC action against Tennessee September 17th, but his first real SEC test will be on the road against Joker Phillips and the Kentucky Wildcats. This game should prove to be a good measuring stick for both teams. After Kentucky, Florida is at home versus Alabama, at LSU, at Auburn, bye week and then Georgia in Jacksonville. Welcome back to the SEC Mr. Muschamp. If Florida had one more tough non-conference or conference game their schedule would be as demanding as LSU's.
Georgia Bulldogs (2010 record: 6-7, 3-5 SEC)
The Dawgs better be ready right out of the gate. They have Boise State in week one and then the Gamecocks in week two. Their national title hopes and SEC title hopes could be in serious trouble before they make it to their third game against Coastal Carolina (September 17). The Coastal Carolina game could be the break Georgia needs in order to figure out what has gone wrong or a "let's rest up and get ready for the rest of the season" game. If Georgia splits their first two games, they could still be on track for a great season and top tier bowl. With nine weeks left in the season anything is possible. They get Florida in Jacksonville at the end of October, after their bye week, and they do not have to play Arkansas, Alabama or LSU this year.
Andy Lyons/Getty Images
Kentucky Wildcats (2010 record: 6-7, 2-6 SEC)
Kentucky should be bowling around New Year's Day again in 2011. They have a tough stretch at the end of September and into October; vs. Florida, at LSU and at South Carolina. Going 1-2 in that stretch would be a coup of sorts for UK, as they had a three game losing streak around the same time last year (at Florida, at Ole Miss, vs. Auburn). Kentucky has an opportunity to win tough games at home versus Mississippi State, Ole Miss, and Tennessee. If Mr. Phillips can get two late season road wins against Vanderbilt and Georgia, the Wildcats could sway some die hard UK basketball fans into Commonwealth Stadium for a raucous SEC finale vs. Tennessee. They should pad their win total this year and improve on the 6-7 record, 2-6 in the SEC, they had last season.
South Carolina Gamecocks (2010 record: 9-5, 5-3 SEC)
South Carolina has a middle of the road SEC schedule. They're at Georgia, at MSU and at Arkansas. They get Florida and Clemson at home. The Gamecocks could be 8-0 before their third straight road trip to Fayetteville, Arkansas on November 5. Their bye week comes between the MSU and Tennessee games. South Carolina does not play Alabama or LSU this year. The Gamecock's schedule lines up for a great run in 2011.
Tennessee Volunteers (2010 record: 6-7, 3-5 SEC)
Tennessee needs to have a weak conference schedule if they hope to make a bowl game this year. They get a bye after Florida (September 17), then they play vs. Buffalo, vs. Georgia, vs. LSU, at Alabama, vs. South Carolina and at Arkansas (November 12). This will prove to be a tough year for a proud program and second year coach Derek Dooley, who is trying to turn the Vols program around.
Vanderbilt Commodores (2010 record: 2-10, 1-7 SEC)
The litmus test for new coach James Franklin will come September 17th when Ole Miss comes to town. Vandy has owned Ole Miss over the last four years (3-1), especially since Houston Nutt arrived at Oxford, and this could be their best and only chance for a win in conference this season. This is not a slight to Vanderbilt, the players, or Mr. Franklin. The Commodores have a five game SEC stretch that includes South Carolina at home, at Alabama, vs. Georgia, vs. Arkansas and at Florida. If Franklin has things going his way, the last three games of the season could put the Commodores in a bowl game; vs. Kentucky, at Tennessee and at Wake Forest.
SEC West Overview
Holes to fill and questions left unanswered; that's how to sum up the SEC West during the preseason. The SEC West is full of talent, hype, and promise. Arkansas, Alabama, and LSU all have great defenses returning but serious question marks at prominent positions on offense. Mississippi State should improve upon their 2010 season and make life tough for every other team in the SEC. Auburn has lost a lot of talent from their 2010 BCS Championship team but with Gus Malzahn running the offense and the previous recruiting efforts of Gene Chizik and staff, Tiger fans expect to reload, not rebuild. Ole Miss has a tough haul in 2011 and could be the poster child for being left behind in a hurry. The SEC West has five teams that should spend time in the AP Top 25, three in the top 10. The West side of the conference proves to be the toughest division in college football.
Alabama Crimson Tide (2010 record: 10-3, 5-3 SEC)
Alabama has a pretty easy SEC schedule (remember SEC schedule!). Bama gets Arkansas and LSU at home. Their toughest road games should be a trip to the Swamp and a November trip to MSU. Bama does not have to play South Carolina, whom they lost to last year 35-21, or Georgia. If Bama wins two of their three toughest games (Arkansas, LSU and Florida) they should be in line for an SEC Title Game appearance, which would be their third in four seasons.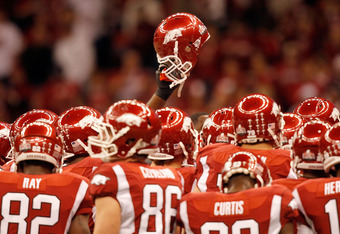 Matthew Stockman/Getty Images
Arkansas Razorbacks (2010 record: 10-3, 6-2)
Arkansas has two tough road games with Bama and LSU, the latter being another Arkansas/LSU game with the winner going to the SEC Title Game. The schedule shines on the Hogs as they drop Georgia, pick up an upstart Tennessee team and don't have to face the Florida Gators. With home games against South Carolina, a team they beat on the road 41-20 last year, and MSU, a 38-31 double overtime win in Starkville, Arkansas could have an easier road to the SEC Title Game than their conference foes.
Auburn Tigers/War Eagles (2010 record: 14-0, 8-0 SEC)
Auburn may have the toughest six straight games of any team in college football. October 1st starts the run of games at South Carolina, at Arkansas, vs. Florida, at LSU, Ole Miss and then at Georgia. The Tigers' early games include a home bout versus MSU, at Clemson, and their season finale is the Iron Bowl at home versus in-state rival Alabama; a series that Auburn has dominated 8 wins to 3 losses since 2000. What can anyone say to Auburn and their fans but good luck?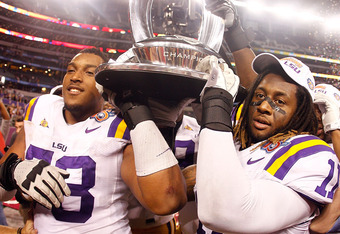 Chris Graythen/Getty Images
Louisiana State University Tigers (2010 record: 11-2, 6-2 SEC)
LSU arguably has the toughest schedule in college football. The silver lining is that breaks come their way with only two tough in-conference road games; at MSU and at Alabama. Their other SEC road games are against Tennessee and Ole Miss. Home games versus Kentucky, Florida, Auburn, and Arkansas will make their schedule easier to manage. LSU's only back to back demanding games are against Mississippi State and West Virginia, both on the road. Not having South Carolina or Georgia on the schedule helps as well. The Tigers have a demanding schedule but everything lines up for another possible run to the SEC Championship game.
Mississippi State Bulldogs (2010 record: 9-4, 4-4 SEC)
Mississippi State has a lackluster non-conference schedule, which could hurt them come bowl time. They have two tough road games, at both Georgia and Arkansas, as well as home games against LSU, South Carolina, Alabama, and in-state rival Ole Miss. MSU's final three games against Alabama, Arkansas, and Ole Miss could make or break their season. Mullen recruits for his scheme not stars, and hopefully he has acquired quality depth for his 2011 team. In 2010 they finished 9-4, 4-4 in the SEC. If MSU can finish their six toughest games above .500 they will improve upon their 2010 season.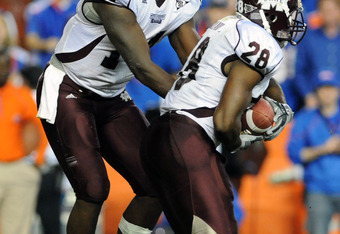 Al Messerschmidt/Getty Images
Mississippi Rebels/Black Bear Rebels (2010 record: 4-8, 1-7)
If Ole Miss can turn around their 4-8, 1-7 SEC record in 2010, this schedule will do it for them. Ole Miss gets Georgia, Alabama, Arkansas and LSU at home. Their tough road games could include every road game if Houston Nutt and company start the season with a loss against BYU like they did last year to Jacksonville State. Ole Miss' SEC road schedule includes Vanderbilt, Auburn, Kentucky and Egg Bowl rival Mississippi State. They miss SEC East heavyweights South Carolina and Florida this year. Nutt needs to win this year because their road schedule will be killer in 2012.
Predicted Order of Finish in the SEC
SEC East Team/SEC Record/Overall Record
South Carolina: 6-2, 10-2
Florida: 6-2, 9-3
Georgia: 5-3, 9-3
Kentucky: 4-4, 8-4
Tennessee: 2-6, 6-6
Vanderbilt: 1-7, 5-7
SEC West Team/SEC Record/Overall Record
Arkansas: 7-1, 11-1
Alabama: 6-2, 10-2
LSU: 6-2, 10-2
MSU: 5-3, 9-3
Auburn: 1-7, 4-8
Ole Miss: 0-8, 2-10
SEC Championship Game
Arkansas Razorbacks vs. South Carolina Gamecocks
Final Score: 31-17
SEC Champion Arkansas Razorbacks
The SEC Championship Game will be held December 3, at the Georgia Dome in Atlanta, Georgia. CBS will televise the game starting at 4:00 p.m. EST.