Alberto Del Rio: When Will His Time Come in the WWE?
July 29, 2011
Gallo Images/Getty Images
Alberto Del Rio has been one of the fastest rising superstars of all time. In almost a year he's been pushed to no end.
He's won the Royal Rumble, competed in a world heavyweight championship match at Wrestlemania, and a few weeks ago became the next Mr. Money In The Bank. Its pretty obvious that the WWE is very high on this arrogant aristocrat.
Why shouldn't they be? He's got great mic skills, people love to hate him, and his wrestling ability is top notch and continues to improve. In many ways, he's the total package. A perfect heel character for this generation.
Even with all this going for him, Del Rio's megapush is constantly put on hold for reasons I'm really not sure of. 
It seems like recently Del Rio is suffering from a case of bad luck, as well as poor decision making from the WWE front office. 
The bad luck stems from a few things. First there was the Wrestlemania match against Edge. Although its uncertain what the outcome was supposed to be, there's a good chance that Edge and the WWE may have already known about the Rated-R superstar's career-ending injury.
Since this would be his last match, a loss just wasn't in the cards, whether it was even in there to begin with.
Again, I'm not the one deciding the matches, but Del Rio had a very legitimate shot before that match began, and anyone watching Wrestlemania knew that.
Then, there was Christian. Like many people, I believe Christian was always overlooked, and the fact that he never held the strap was a pretty sad example of front-office politics.
But I also believed that his opportunity had come and gone, and even though he never was champion, he was still one of the greats of his generation.
The fans clearly wanted more however, and the sudden surge of Christian love throughout the WWE Universe could not be ignored. So at Extreme Rules, Del Rio's time to shine was put on hold once again, in order to give a seasoned veteran his rightful moment on top of the world. 
Del Rio's destiny was once again left incomplete, this time it was in order to appease the WWE's most loyal fan base. It was very clear though that his moment was on the horizon, possibly. 
But before his match at Extreme Rules, the WWE decided to move Alberto to Raw, which was a very horrible move.
In the blink of an eye, Del Rio was lost in the Raw shuffle. While the one and done R-Truth headlined a pitiful main event match against John Cena, Del Rio was thrown into a random feud with the Big Show, losing any momentum he already carried with him on the blue brand.
Making a move like this was bad on so many levels. One, it makes Smackdown look weak, and makes the World Heavyweight Championship look like just a unwanted piece of metal.
Why even keep the brands separate if you're going to move all the young rising stars onto Raw? How can Smackdown ever possibly grow and build future talent? What would have been so terrible about an Orton-Del Rio feud?
Smackdown is very close to becoming unwatchable, and its because the WWE simply refuses to put respectable, popular talent on that roster, minus Randy Orton, of course.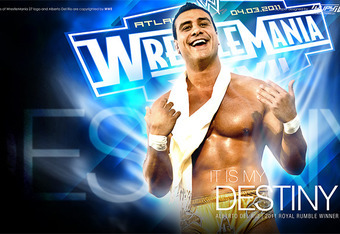 Don't believe me? Go back to the draft recap and check where Alex Riley's supposed to be right now. That's right, he was drafted to Smackdown. But I guess his talents are just too good for the B show over on Friday nights.
Del Rio was simply a victim of this stupid habit, and it's done nothing but hurt him.
Sure he's Mr. Money in the Bank right now, but where exactly does that leave him? He's tried to cash it in twice already and failed horribly both times. Now there's just too many big storylines coming up to possibly fit an honorable Del Rio title run.
It's clear that the Cena-Punk feud is just kicking off, leaving him out of the main event at Summerslam. Plus, with the Rock apparently returning in November, that leaves Del Rio with pretty much a pointless briefcase.
Come on, you don't really think he's going to cash it in on Super Cena on the Road to Wrestlemania right?
Once again, Del Rio's destiny is on hold, maybe for quite some time. There's just too much room at the top right now, but if you're going to push someone as hard as Del Rio, you damn well better not screw it up.
Del Rio is still a future champion, but that doesn't mean it'll be anytime soon.
Destiny Unfulfilled