Calvin Ayre & BODOG Spill the Beans on Ayr United Football Club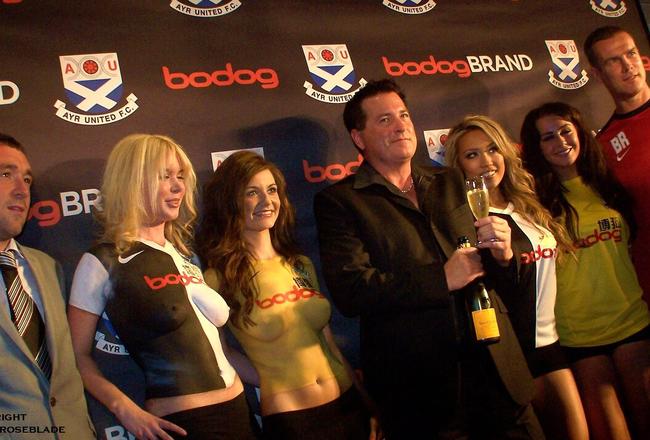 Calvin Ayre (centre), Ayrehead girls, Michael Moffat and Brian Reid(ayr united)

After leaving the blazing sunlight that had been splitting the sky over Somerset Park for the previous couple of days, Calvin Ayre and Bodog were to get no respite from flashing bright lights when they entered Ayr United's Ally McLeod hospitality suite on Monday evening just two hours prior to the big Manchester United match.
Heralded as the official launch of the new shirt release for the upcoming season 2011-12 for Ayr United, many fans of the club had been wishing for an announcement that Calvin Ayre would maybe be purchasing the club; After all, it's not every day that a billionaire businessman casually wanders onto the terraces at Somerset Park.
That speculation and wishful thinking was never to materialise from the press conference, but news that BODOG were hopeful of helping to build the brand of Ayr United in the Asian market through the current sponsorship deal was to be announced.
Ed Pownell Head of Bodog Global PR said:"If we gain a fraction of the Asia market, it will be great."
Lachlan Cameron (ayrunited),Calvin Ayre, Ed Pownell (bodogbrand)
The PR Guru also spoke about the new promotions involving Ayr United saying:"We have released the new Second Team App on Facebook and have had a phenomenal response in a short time with over 1500 fans joining, most though have added Ayr as there first team but no harm there."
Ayr United Chairman was quite happy as normal to let someone else take the limelight but did add to Ed's enthusiasm of the move towards Asia saying:"The diverse nature of the Asia market coupled with Bodog's Internationally recognised brand, we should now see Ayr United start to move forward as a club."
The day however belonged to one man, Calvin Ayre.
The billionaire philanthropist has made a living from Gamblin' Drinkin' Partyin' and had plenty to say about the new union between the company he founded and the new football club they now sponsor.
Calvin Ayre, Michael Moffat (ayr united)
"The support I have from Ayr United supporters through Facebook and my (calvinayre.com) website has been great and especially love your Somerset Boab youtube videos. We will be doing all we can to help with shirt sales and gather new business opportunities for the club by using our brand." he said.
Asked if he had won anything at the horse racing a couple of hours earlier where Bodog had sponsored a race he replied:"I left the races with nothing more than some sunburn which I wasn't expecting whilst in Scotland."
When pressed on the strip launch part of the conference he only had one thing to say:"Bring out the girls!" to which a bevvy of 'Ayreheads' strutted into the room wearing the new home and away strip. However in true Bodog and Calvin Ayre fashion, all was not as perceived at first glance as two of the young ladies involved had been body painted with the shirts and when noticed, the gathering photographers flashbulbs starting going into meltdown, indeed the paintwork itself may have started to melt should any more lights been shone their way.
It was a masterstroke of PR by the guys in charge of Bodog and if, at the very least, the photos of the girls make the press, the job will have been successful in reaching it's target market and audience.
After the furore had settled down over the girls, a champagne reception took place where I got the opportunity to talk to Calvin Ayre personally and asked him about the fans of Ayr United with him replying:"They have been great, especially on facebook where they seem to have flooded me with friend requests. At the races today I was quite surprised at how few fans approached for photos though and only took about 15 but I was equally taken aback by being asked for autographs which nearly never happens."
We also spoke about his liking for the Somerset Boab videos with Calvin saying:"Yeah I love them and when we added his youtube singing videos onto the Bodog betting site we didn't expect the targets to be hit but it didn't take long for them to reach the threshold for payout. We will be keeping in touch with Boab to hopefully extend his reach in the future."
Calvin seemed very down to earth and happy to discuss matters other than football with me as well, and this-I am sure-bodes well for Ayr United that he doesn't want to distance himself from the club or the supporters.
As the champagne reception edged to a close, I picked up my Bodog goody bag and left to go watch what was supposed to be the main event of the night, the Ayr United v Manchester United football match, but my lasting impression of the night will probably be much the same as many others that were present, and it began with the immortal words 'Bring out the girls'!
Marc Roseblade is a Contributor for Bleacher Report as well as Not Just Scottish Football and youth development reporter for Ayr United Football Academy. All quotes are obtained first-hand unless otherwise stated.
This article is
What is the duplicate article?
Why is this article offensive?
Where is this article plagiarized from?
Why is this article poorly edited?