Honor & Respect: Why Ring of Honor Is the Home of Future Stars!
July 27, 2011
WWE is the leading global sports entertainment/pro wrestling brand of today.
But where would WWE be if WWE did not build new stars, in the heated battle against WCW in the Monday Night Wars?
Well we don't have to worry about that; WWE was able to build new stars, crush WCW, and globally expand the company into what it is today.
You need fresh, new faces to keep things going and bring a new audience in.
Although TNA (Impact Wrestling) is still growing and expanding their brand, the same rings true for them as well!
But with fans wanting new exciting things now, both companies have to constantly search for talent.
Talent that can produce as soon as possible and has full potential to be future stars!
But neither companies won't have to look far as a certain formula has been working for both companies…that formula being= go to ROH (Ring of Honor) Wrestling.
If you haven't noticed, ROH is a breeding ground for future crops of talent; just look at CM Punk, AJ Styles , Samoa Joe and others.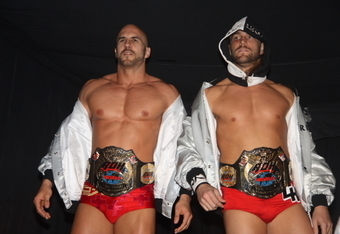 ROH has taken big hits over the years as their top talents continue to depart, these prospects either join their fellow friends at either companies (TNA & WWE).
Daniel Bryan (Bryan Danielson), Tyler Black (Seth Rollins), Nigel McGuinness (Desmond Wolfe) have been recent departures from ROH; with more to follow like Kings of Wrestling: Chris Hero & Claudio Castagnoli.
Those are great talents that have packed up and left to pursue big time roles in the two companies…but somehow ROH continues to produce inspiring talent to snatch up!
But why are these talents so compelling?
All the guys who do departure from ROH and go to the big times are all great in-ring technicians, who have crafted their skills over the span of their careers.
For either company getting their hands on these incredible talents can do big things in the future or even present time!
Although Punk was signed to a developmental contract back in 05' to the WWE, his true skills and craft have just begun to be seen.
This is great for either company, as either will always have that ace in their shuffle to unveil at any time.
Yes CM Punk has been at the top before, but nothing like this.
After seeing what Punk can do, fans and WWE want to see what the other talents can do with their skills.
It is being reported by numerous online spoiler websites that ROH and WWE may be in cahoots:
FOLLOWING WAS REPORTED BY SESCOOPS.COM-
There are many people in both WWE and Ring of Honor that suspect that the two companies have some sort of a working agreement in place,.
Sources insist that some of the things CM Punk spoke about in his infamous RAW promo a few weeks back will start finding their way onto WWE TV soon. For example, Punk talked about Triple H taking over and he began that storyline on this week's RAW. Punk also mentioned John Laurinaitis and Colt Cabana, both who appeared on WWE TV in the past week. While Cabana wasn't named by the announcers, he was shown at ringside on Money in the Bank and was photographed with Punk and the WWE Title in Chicago after the pay-per-view.
For what it's worth, Cabana has told at least one indy promotion that he's worked regularly with that he's not taking any more bookings with them after next month.
This is great news, especially how things have been playing out as of late.
This is nothing new either as we have seen similar deals in the past with WCW-ECW and WWE-ECW.
But with the rise of ROH stars on WWE television & TNA (Impact Wrestling), we could look forward to some great entertainment.
This is why Ring of Honor needs to receive more props for what they have done.
As they continue to produce gold.
THERE IS ANOTHER ONE FOR YOU, HOPE YOU ALL ENJOYED!
IF YOU DID LIKE THIS ARTICLE GIVE SOME PROPS AND MAYBE BECOME A FAN…AND CHECK OUT SOME PAST ARTICLES
T W