WWE Drops the Ball Once Again
July 27, 2011
Like many members of the Internet Wrestling Community, I have been highly critical of the way WWE "creative" handles many of the most important storylines in the WWE Universe.
But this week on RAW, they managed to pull a feat even they haven't done before—they threw water on the hottest storyline in recent memory, and did they gave us they same crap we've been inundated with for years.
And they did it in the span of about half an hour.
WWE Creative Blew Another Huge Storyline
When the eight superstars from the first season of NXT invaded RAW last summer, leaving John Cena and the entire RAW ringside area in ruins, it turned the WWE Universe on its ear.
WWE creative promptly decided to give the rebel group the main event spot at the second-biggest pay-per-view event of the year, SummerSlam.
And they were buried by Team SuperCena.
On June 27, CM Punk set the pro wrestling world on fire by cutting a true-to-life worked shoot promo. The real-life story of Punk leaving WWE turned into the hottest storyline since the Attitude Era when Punk did the "unthinkable" and left Money in the Bank as WWE Champion.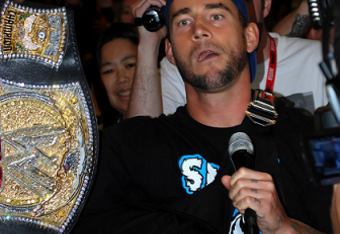 Punk tweeting pictures of the WWE Championship was brilliant. Punk showing up at the San Diego Comic-Con added fuel to the fire.
Yet, eight days after Punk ran through the crowd at the Allstate Arena with Vince McMahon's WWE Championship belt, Punk returned to RAW.
Creative was holding the golden goose in their hands. They could have ridden this story into the fall and set up a massive clash between Punk and Cena at Survivor Series.
But that would take the spotlight off Dwayne, as Punk might say. The build to The Rock's match with John Cena at WrestleMania XXVIII is reportedly set to begin at Survivor Series, so it looks as though creative needs to make sure their chance at saving the ratings McMahon is so obsessed with is cut short in order to appease The Rock.
There were a cavalcade of different ways WWE could have played this out. Punk shouldn't have appeared on WWE television until SummerSlam, at the earliest. Punk could have interfered in the WWE Championship match in Los Angeles, marking his return and staking his claim as the true WWE Champion.
Punk could have continued to "crash" WWE media events, continued to tweet pictures of the WWE Championship he was, essentially, holding hostage.
Instead, they chose to bring the Second City Saint back eight days after he shook the WWE Universe to its core.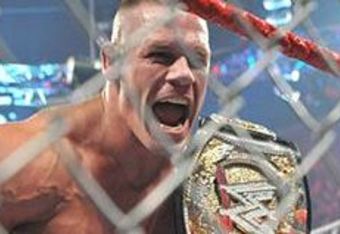 I suppose we shouldn't be surprised. WWE hasn't handled a blockbuster storyline correctly in years.
Let's hope creative doesn't throw away Punk's push with the storyline that got him there. Punk could be the next true anti-hero, the next "Stone Cold" Steve Austin. He could, and probably should, headline next year's WrestleMania.
But historical precedents don't provide a sunny outlook for CM Punk. It looks like Punk will soon take a back seat to the John Cenas and Randy Ortons of the WWE Universe.
For the sake of WWE's future, I hope I'm wrong.
John Cena is WWE Champion...Again. Really? Really?

Since winning the strap at Extreme Rules, John Cena went without his WWE Championship for all of eight days.
The strap was redesigned for Cena. At this point, WWE would likely be best served to put a picture of Cena on the belt itself.
Not only did WWE slap the fans in the face by handing the title back to Cena, they insulted one of the company's most popular superstars by making Rey Mysterio WWE Champion for all of an hour and a half.
It now appears we're headed for a WWE Championship unification at SummerSlam. If Cena was the man to challenge Punk in Los Angeles, why didn't WWE just give the title right back to Cena? Why did Mysterio need to be used in the manner he was?
I mentioned historical precedents earlier, and this historical precedent tells us Cena will do what he always does and overcome "evil" to become the undisputed WWE Champion.
Five Moves of Doom. Hustle, Loyalty, Respect. Declining ratings.
The top argument against turning John Cena heel was the decline in merchandise sales WWE would suffer without Cena as the company's top draw.
As fans in Chicago witnessed, when Punk's new t-shirt sold out in a flash, and as I witnessed first-hand last Monday night at the Resch Center for RAW, there are plenty of WWE fans willing to dole out the cash for CM Punk merch.
I'm not saying WWE should turn Cena heel (things really wouldn't change in the Punk vs. Cena feud if Cena turned, anyway), but I am saying WWE needs to believe in someone not named John Cena or Randy Orton.
It looked like they believed in CM Punk. Time will tell if that really is the case.