NHL Flashback: Carolina Hurricanes 6, Toronto Maple Leafs 5 on Nov. 19, 2009
July 27, 2011
Bruce Bennett/Getty Images
In late summer, the hockey world is often left with, frankly, nothing short of nothing to do. There are no games to watch, no breaking news to follow, and even the free agent signings have all come and gone. We could go back to that stat page on the previous season's faceoff leaders, after all...but, then again, we've been studiously analyzing that for a few weeks already, anyhow.
In more cases than not, the only option is to turn on the ol' television yet again, scroll through our DVR list and find that one memorable game from a couple years back. We've probably seen it a few hundred times before now, but it still never fails to amp us up for hockey yet again even when we find our favorite team's players are probably still watching their own T.V.'s at that moment.
For those who happen to live near the Carolinas and have taken a liking to the Hurricanes, that special, cherished recorded game seems to, for many, have come all the way back on November 19, 2009—which, except for one absolutely unforgettable game, was just a casual Thursday with the chilly autumn breeze beginning to blow in.
That game was a match between the 'Canes and the visiting Toronto Maple Leafs, and, going in, it's doubtful that too many eyes outside of the two team's fanbases were preparing to tune in. The respective clubs were 29th and 30th in the NHL at that point; the 'Canes, at 3-12-5, had just ended a franchise-longest 14-game losing streak four days prior, while the Leafs, with a 3-11-5 record, had just one win—which had come against Carolina on November 6th—in 12 conference games.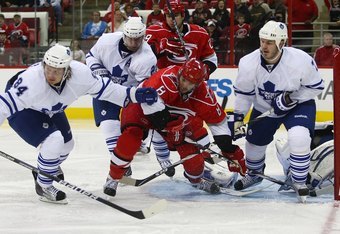 Bruce Bennett/Getty Images
But, just a little under three hours later, the few handfuls that had bothered to watch had seen one of the most exciting games of the season between the two most unlikely opponents.
A blown lead? Check. Controversial calls? Check. Lots of goals? Check. Unlikely X-Factors? Check. Extra hockey? Check. Last minute heroics? Double check. Every single component of a truly thrilling, can't-take-your-eyes-off-of-it game? Absolutely a check.
For 'Canes fans, the game started in typical fashion, as Toronto saw goals by Matt Stajan, Lee Stempniak and Mikhail Grabovski, all aided by some less-than-Grade A goaltending from Manny Legace, give them a 3-0 lead at the first intermission.
But then things started to change. A very lost-looking Jonas Gustavsson decided to give the puck the blind eye, and Stephane Yelle's slip-and-slide dive managed to both score the 'Canes their first goal and topple at least one teammate and the referee in dominoes-esque fashion.
Matt Cullen struck less than a minute later with a ridiculously accurate wrist shot from the side of the goal that snuck over the shoulder of Gustavsson, still trying to find his bearings after his first allowed score, and brought Carolina within one.
The third period started off quite similar to the first, as Alexei Ponikarovsky struck, taking advantage of another weak effort from the Hurricanes netminder. Soon after, however, the legendary goal scorer of defenseman Tim Gleason appeared and revived Carolina's chances. Gleason scored with 11:52 remaining with a slap shot from the point and then again with just over eight minutes to play on perhaps the only wrist shot of his career, tying the game at four goals apiece.
Then came the one of the more enthralling 60 seconds of the 2009-'10 season.
Ian White, who, earlier in the contest, had engaged Erik Cole in a fight and also taken a much-debated double minor for high sticking, slid the puck through the five hole of Legace to give Toronto a 5-4 lead with just 29 seconds to play.
However, there were still 29 seconds left...and that was enough time for Erik Cole to get his revenge, pounding home the rebound of a frantic ping-pong shot from Joe Corvo back at the blue line as the clock ticked under two seconds to play.
Overtime's five minutes eventually resulted in, for once, no goals, but it still managed to last long enough for at least one more dubious play to occur. Niklas Hagman unknowingly deflected a pass in towards Legace, who then lost track of it when he seemed to be assaulted by supposed-teammate Niclas Wallin.
In Apocalypse-like fashion, everyone piled into the goal crease, the puck somehow slid in the goal, but the striped zebra behind the cage called it off. We're still not sure, 20 months later, exactly what happened, but we can tell you that it was ruled not a goal.
After 65 minutes of play, the two franchises, mired in the cellars of the league, remained tied. Time for a shootout? You guessed it—it wouldn't have been right to end this one without a little more controversy, and the shootout never fails to disappoint in that regard.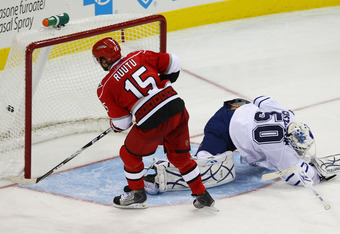 Bruce Bennett/Getty Images
Gustavsson, who was also, as we found out, was a tad inexperienced in the shootout in addition to the art of goaltending, was absolutely left out to dry by Tuomo Ruutu in Round One and then pulled a paralysis trick as Jussi Jokinen ripped one by in Round Two to cook the Maple Leafs. Of course, Phil Kessel's less-than-decisive dekes and the aforementioned Stempniak's less-than-perfect puckhandling skills didn't help Toronto's fate much, either.
After such an insanely awesome (there's no other way to say it) game, we just hope your recording didn't end at the scheduled time...because that was with two minutes left in overtime.
However, it's certainly fair to question how important that game ended up being. In truth, it wasn't exactly a humongous factor in how the rest of the '09-'10 NHL season played out.
The Hurricanes finished the season in 11th place in the East with 80 points, a humongous improvement over their standing on Nov. 9 but still eight points out of a playoff spot. On the other hand, the Leafs remained in the basement, concluding the season in last place with 74 points. A single extra point would've actually hurt them (in draft pick order) more than it would've helped them.
And where have the primary producers in this game ended up? For many, out of town. Four of Toronto's five goal scorers have now since left the team, and arguably their best player on that night, Ponikarovsky, is actually now a Hurricane. For Carolina, the two players who started the comeback, Stephane Yelle and Matt Cullen, are also now departed.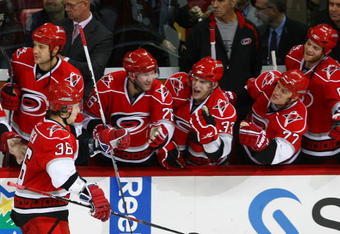 Bruce Bennett/Getty Images
And the two goalies that combined for 10 goals allowed and an 87.0 save percentage in this match? Neither one is still a starter for their club today: Jonas Gustavsson now backs up James Reimer, and Manny Legace, just a short-term fill-in for franchise cornerstone Cam Ward, retired a year ago.
How about Carolina's savior on that night, Tim Gleason? Well, unlike most of the others we've mentioned, he is still on the team. Conversely, though, the 28-year-old blueliner scored just one more goal the rest of the '09-'10 season, finishing that year with a total of five, and has only 14 career tallies in 475 appearances over seven seasons with the Kings and Hurricanes.
So while it might be an incredible set of highlights to watch over and over again, the ultimate influence of this particular game borders on nothing. But in mid-summer, who cares about that? It's the perfect example of hockey at its best, and, when the next scheduled game is in three and a half months, that's all that really matters.
Mark Jones is currently Bleacher Report's featured columnist and community leader for the NHL's Carolina Hurricanes . In his 34 months so far with the site, he has written over 295 articles and received more than 335,000 total reads.