Cleveland Indians Trade Rumors: Don't Expect a Big Deadline Deal
July 27, 2011
Ezra Shaw/Getty Images
With the news that the Indians were very much in on the Carlos Beltran sweepstakes, it's tempting to believe that the Tribe will go out and get the next big thing on the trade market. Whether it's B.J. Upton, Hiroki Kuroda or even Ubaldo Jimenez, with the Indians only a few games out of first place, it's nice to believe that we'll make a big splash in the next few days.
Yet I believe that we're more likely to end up with a player like Conor Jackson.
The hard truth is that the 2011 Cleveland Indians aren't built to win now. This year's team was meant to be a transition from the doldrums of 2009 and 2010 to competing in 2012.
When the Tribe signed Jack Hannahan, Austin Kearns, Travis Buck and Orlando Cabrera this past offseason, they were meant to occupy temporary starting (or backup) roles until their replacements were deemed Major League-ready. The best case scenario seemed to be that they would play well enough to allow Lonnie Chisenhall and Jason Kipnis to mature a little longer in AAA Columbus.
Well, that happened perfectly according to plan, but another funny thing happened: the Indians got into contention. Whether it's a byproduct of the weak AL Central, luck or Orlando Cabrera's always-making-the-playoffs voodoo magic, suddenly the completion date for the Indians rebuilding has been moved up a year.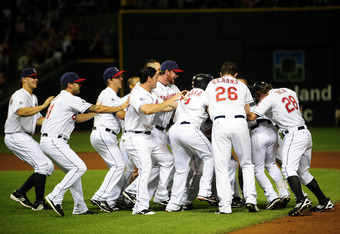 Jason Miller/Getty Images
Except it really hasn't.
This team is still not ready to make the playoffs. Long-term, we need our young talent (Chisenhall, Kipnis, Carlos Santana, Ezequiel Carrera, Matt LaPorta) to mature so we can know whether they'll be good to go in 2012 or if they'll need to be replaced. This needs to happen. Yet, a team full of rookies and young players rarely manages to keep from crumbling down the stretch.
So our options have become either ride it out with our youngsters and possibly fade or go back to the underachieving, aging veterans. Not a promising proposition on either front.
Don't take all of this the wrong way; I still think the Tribe can ride it out with their youth movement and make a run at the playoffs, but it's unlikely. I'll root for them as hard as I can, but I've come to grips with the fact that we're 22-35 following our 30-15 start. The Indians have been fading for months now and one player isn't going to stop that.
Our best course of action is to avoid giving up our top prospects and search for a cheap quick-fix for two months. That's where Conor Jackson comes in.
Jackson's biggest asset to us is his ability to play both the outfield and first base. Until Shin-Soo Choo returns, Jackson can play right field. After Choo's back, Jackson can either replace Carrera's outfield spot or spell the struggling Matt LaPorta.
This sort of flexibility tends to be something the Indians value (see Casey Blake and Mark DeRosa). They like people who are able to help them in more ways than one. Trading for a player like Upton or Beltran would have handcuffed them; Jackson gives them flexibility in 2011 and beyond.
Jackson is only owed $1.1 million for the rest of the year and will be a free agent after the season. This means that if he can help us this year, then great. If he can't, then he we just let him walk and continue building long-term.
Jackson's stats for the season aren't greatest (.264/.332/.349 slash line, .681 OPS [91 OPS+], 3 HR, 30 RBI, 3 SB, 33:24 SO:BB, 0.6 WAR [0.2 oWAR, 0.4 dWAR] in 289 PAs), but they're also not bad. Add in that he could easily revert to his 2008 form (.300/.346/.446 slash line, .823 OPS [109 OPS+], 12 HR, 75 RBI, 10 SB, 61:59 SO:BB, 3.0 WAR) when thrust into a pennant race and won't cost all that much and you have a typical Indians deadline pickup.
There's no point mortgaging the future for a playoff run this year. If it happens, it happens. If not, then the ride was fun. Trading for Conor Jackson is a low-risk move that could nudge us to the division title. But if it doesn't, then that's no real loss on our part.
Just having competitive baseball out of the Tribe this year should be enough for us. Contending into September or even making the playoffs should just be icing on the cake. As such, we should treat the 2011 trade deadline accordingly and not look for the Indians to shoot for the moon.