Pro Wrestling: CM Punk Destined to Be the Next Face of WWE?
July 28, 2011
CM Punk is the hottest thing going on in professional wrestling. That is no secret, ladies and gentlemen. That is a fact.
Ever since his epic shoot promo a few weeks ago on Raw—where he bashed the WWE and basically said all the things the IWC have been saying for years now—CM Punk has been the talk of the wrestling world.
And when CM Punk won the WWE Title at Money in the Bank in a huge shocker, pro wrestling and sports entertainment was given a huge jolt of life that it desperately needed.
Unpredictability showered the WWE, with no one having any sort of idea what was going to happen.
Quality wrestling was finally given, as we were shown one of the best WWE PPVs of all time.
And finally, the people we want pushed are finally being pushed, such as Christian and Daniel Bryan.
Now CM Punk has made his return to WWE last Monday on Raw, coming face to face with WWE Champion John Cena with his own championship title, disputing the legitimacy of Cena's reign.
This is very likely going to lead to an epic champion-vs.-champion match at SummerSlam to determine the true WWE Champion.
For the first time in years, WWE is must-see TV, and we can thank CM Punk for a large part in it.
But can CM Punk become the next face of WWE?
It is a question I have asked myself for a while, and it's actually very likely to be honest.
CM Punk's popularity is going through the roof, as his pops are some of the loudest you have ever seen, and his name is chanted by people the moment any mention of him is made. 
And I hear that his merchandise is flying off the shelves, as even the IWC are scrambling for CM Punk's new shirt.
And it's becoming increasingly obvious that people are choosing CM Punk over John Cena. Their last encounter pretty much solidified this as CM Punk got a louder pop then Cena when they raised their respective championship belts.
But can CM Punk truly surpass Cena and take the helm of WWE as its next face?
It is certainly possible, but CM Punk has got a long way to go. Yet he is on the right path.
He has got the popularity that a face of WWE must need for such a position, and there's no doubt that his merchandise sales will reach the levels needed for one in no time at all.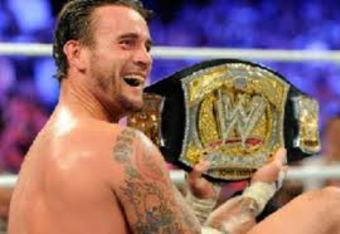 But he still has not reached the level of Cena, or of Randy Orton, quite yet.
He is certainly red hot at the moment no doubt, but one wrong booking decision, and it's all over for CM Punk. If he loses when a win is needed the most, then CM Punk will cease to be the phenomenon that he is right now.
He needs to permanently establish himself at the top of main event once and for all. Punk has been there before and is there now, but CM Punk has been unable to stay there on a couple of occasions. But this is undoubtedly his best chance at doing that once and for all.
He also needs to keep his momentum going for quite a while, and not lose in the big-time matches where everything is at stake.
Remember's Cena's first three reigns as WWE Champion? They were some of the longest in history, especially his year-long reign, and they helped establish him as "The Man" in WWE.
If CM Punk can hold onto his WWE Title for a long time, perhaps up until Royal Rumble, then he can reach Cena's level, the point where he doesn't need the title.
And perhaps the most essential part of this process is that he beat Cena cleanly at SummerSlam.
There is no other outcome that can work for CM Punk. If he wins by dirty means or, worse, loses cleanly, then all of his momentum will either drop a bit or be lost completely. And he will be made to look weak, and none of the things I just spoke about will even have the opportunity to be accomplished.
But I have the utmost faith that CM Punk can pull all of this off.
He's got the look, charisma, mic skills, wrestling skills, popularity, merchandise sales and momentum.
CM Punk has got a long way to go, but he is on the right track. And maybe—just maybe—Punk can become the new face of the new WWE era.
And I'm all for such a vision, and I'm sure most of you are.