Sacramento Kings: With J.J. Hickson in Town, Is Jason Thompson the Odd Man Out?
July 24, 2011
Jed Jacobsohn/Getty Images
During most Kings games, Jason Thompson is more decoration than function. It's not all his fault. He's just boring. So, so boring.
His game is uninspiring and based below the rim. He doesn't live to posterize opponents or swat shots. He doesn't shine in any one specific facet of the game, and he certainly will never outshine the flashier personalities of Sacramento's young alpha dogs.
Thompson's understated game has been a nice fit in Sacramento for the last three years. Personality-wise, he has provided a nice balance to the bravado of Tyreke Evans and the...expressive DeMarcus Cousins.
But the tides are changing for the Kings. The team is moving towards a new identity based around physicality, athleticism and quickness, and simply, Thompson doesn't fit the bill.
While Thompson may have improved since his rookie season, he hasn't developed into the player that anyone hoped he would become when he was drafted.
Like many Kings fans, I've long awaited the day when J.T. breaks out, transforms his game, utilizes his ballhandling skills, and takes things to the next level. And, again like many Kings fans, I've basically given up hope that this day will ever come.
While the preceding conclusion has become more apparent to me with every season Thompson plays, his place on the team has remained secure. Maybe he wasn't great, but let's be honest, Darnell Jackson and Joey Dorsey aren't taking anyone's job.
Chris Graythen/Getty Images
Then came draft day 2011, and with it, signs of a new attitude in the Kings front office.
When the Sacramento Kings (re)acquired John Salmons, it sent a clear message to the team's underachieving band of small forwards that, for some, time in a Sacramento uniform would be limited.
As it turned out, Omri Casspi was the one who was left out in the cold (literally—hope you enjoy chilly, lonely nights in suburban Ohio, Omri!).
Originally, I saw the Salmons acquisition as a lateral move—more doggie paddling from a franchise that had been treading water for some time.
Then I looked at things from a different perspective.
The Kings acquired Salmons not because he is the answer to the team's woes at small forward, but because Casspi, and whatever form his game will ultimately take, was decidedly not the answer.
I'm sure Petrie would have traded Garcia if he could, but he has a terrible contract, and finding a team willing to part with a legitimate player for the right to pay the Latin Assassin $5.8 million next season probably isn't going to happen.
Greene has too much raw talent to command fair value on the trade market, so Casspi, not so far removed from an impressive rookie season, had to go.
The Salmons trade, I have talked myself into believing, was Geoff Petrie's way of throwing his hands up in the air, cutting his losses and walking away from players who are experiments and projects in favor of ones who can either provide concrete results, or who have value solely based on raw talent.
On a team as young and cash-strapped as the Kings, he obviously can't do this at every position, but he had the pieces to do it at small forward.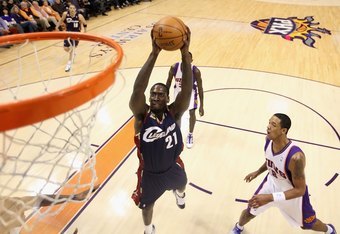 Christian Petersen/Getty Images
Now, with J.J. Hickson in town, he has the pieces to similarly revamp his corps of big men.
Unfortunately, Jason Thompson does not provide concrete results, and no longer yields value to his team through unreached potential. Much like Casspi, he simply is not the answer.
As their roster is currently constructed, the Kings big men are in much the same position that their small forwards were a month ago. It's no guarantee that one of them will be traded, but it does seem more likely.
Geoff Petrie and Paul Westphal are committed to DeMarcus Cousins, and with good reason. Barring a Godfather offer-type situation, he isn't going anywhere.
J.J. Hickson is the new King in town, and has showed enough promise and athleticism in his young career to warrant significant playing time for the young Kings. He just got here, and certainly won't be traded this season.
Hassan Whiteside is the Donte Greene of the big man crop in Sacramento. He may not be good, but the team would be stupid not to make an honest effort at finding out what they have in him.
Like Greene, the Kings would not be able to get fair value for Whiteside because no one is sure what his true value is. He will get some playing time in 2012, if only for scientific method purposes.
That leaves Thompson as the odd man out, especially if the Kings can resign Samuel Dalembert or acquire another quality big. And yes, I did just call Samuel Dalembert a quality big.
Jed Jacobsohn/Getty Images
I've watched J.T.'s entire career fairly closely, and I'm still not sure if he's any good. He certainly showed progress last season, but for a former 12th overall pick in the draft, his career seems to have stalled.
While the Kings have suffered for their lack of physical big men, Thompson has, season after season, settled for jumpers instead of inviting contact, and disappeared from the boards for long stretches.
Whether Hickson is "better" than Thompson is, I suppose, debatable. What is not debatable is that Hickson better typifies the kind of player that the Kings seem to be seeking during this offseason.
He is both a known quantity and a potential trade chip. He will be a much better fit than Thompson in an up-tempo, run and gun offense, and even if he falters, will maintain trade value because he is so young, so affordable, and so athletic.
Hickson brings to the table what the Kings need. He gives them defense against the pick-and-roll. He scores around the basket. He runs the floor. He upgrades the team athletically.
Don't get me wrong, Hickson has a lot of room for improvement and is nowhere near a finished product. But he has a specific set of things he does well, and his value is increased because of his raw athleticism.
Thompson, on the other had, is a master of no trades. His greatest skills seems to be his maturity and hustle, but he has terrible hands around the basket, is a subpar defender and is not nearly physical or athletic enough to intimidate opposing big men.
For three years, Jason Thompson has floated along because the Kings were simply accumulating assets, and a former first round pick on a favorable contract is certainly an asset.
However, now it seems that the Kings are finally moving towards establishing an identity. They are young, they are athletic, they are physical, they run the floor and shoot the three. And if you can't do those things, your time in Sacramento will be limited.
Jimmer Fredette fits into this equation. So do Tyreke Evans, DeMarcus Cousins, John Salmons, Marcus Thornton, Hassan Whiteside and Donte Greene.
Jason Thompson simply does not fit into Sacramento's new identity. He has been part of the Kings young core for the last three years, and during this time the Kings went 66-180. He is going into the last year of his rookie contract, and I don't expect him to be around much longer.
The Kings are badly in need of an identity, and Geoff Petrie is correct to turn his eyes to the future. At this point, it seems that the future does not include Jason Thompson.