King Gets the Bling: Amir Khan Reigns Supreme After Zab Judah Falls in Round 5
July 24, 2011
Scott Heavey/Getty Images
Amir Khan (26-1-0, 18 KO) wasn't one to listen in on any murmurs about an upset against his favor last Saturday night as he put veteran adversary Zab Judah (41-7-0, 28 KO, 2 NC) down and out in the fifth round of their super lightweight, IBF and WBA unification title bout in the Mandalay Bay Resort and Casino in Las Vegas, Nev.
Khan came into the fight with the momentum of four straight WBA title defenses, all of which served as part of his currently standing eight-fight winning streak. Khan's only recorded professional loss was against Columbian contender Breidis Prescott, who knocked Khan out in the first round of their 2008 fight.
Familiar faces filled Khan's corner as Freddie Roach and Alex Ariza, both of whom serve under reigning pound-for-pound king, Manny Pacquiao's corner were present.
Judah on the other hand was also coming off his own winning streak, which stood at five fights, three of which were by way of knockout. Judah's last loss was at the hands of Ghanian welterweight star Joshua Clottey in August of 2008.
Judah's journeyman career—which started when he was just 18 years old—has so far been defined by his coming up short in some of his biggest fights, losing to fighters like Kosta Tzyu, Corey Spinks, Carlos Baldomir, Joshua Clottey, Miguel Cotto and Floyd Mayweather, Jr.
Judah's cast was not to be out-shined, being backed by retired Mexican champion Fernando Vargas and trainer Pernell "Sweet Pea" Whitaker.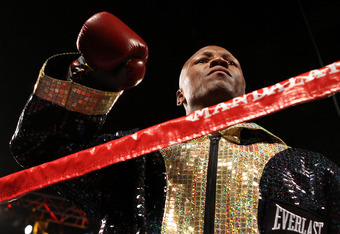 Scott Heavey/Getty Images
Given the nine-year gap between the 24-year-old Khan and the 33-year-old Judah, both fighters weighed in at an even 140 pounds apiece and measured up equally at 72-inch reaches, rendering Khan's 5'10'' frame as his only physical advantage over Judah.
The fighters came out of the gates with very polar approaches to their entrances, whereas Judah decided to walk to the tune of a relaxing, slow song and Khan burst out with Lil Wayne, Chris Brown and Busta Rhymes' "Look At Me Now."
The crowd had split reactions as the fighters each made their way into the ring, but the dominant sound were chants favoring the American, Zab Judah.
After formal announcements by ring announcer Michael Buffer, Judah, who wore black and gold trunks and Khan who wore a dominantly green attire, finally faced off.
The first round was defined by Khan's aggression and slickness, spending most of his time advancing and putting early pressure on Judah. Judah seemed to be showing his maturity as he backed away while using his jab to keep him safe, countering with limited shots when he found an open opportunity.
Judah looked to set up throughout the early goings but Khan's advances would not allow him enough time to do so.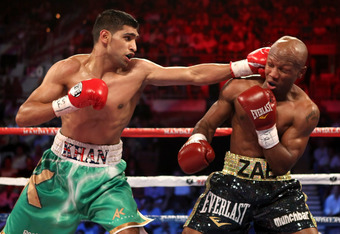 Scott Heavey/Getty Images
Some minor swelling was visible around Judah's right eye at the end of the round, which he blamed on an alleged accidental headbutt from Khan.
The following rounds were practically identical images of Amir Khans absolute dominance.
Khan kept to the textbook style attack, coming in with his left jab lead, opening up multiple flaws in Judah's defense and exploiting them. Judah responded with a few counter punches but they were too limited to even take into account.
Later on, Khan would turn up his intensity and keep pushing forward, landing shot after shot straight to Judah's face and the supposed veteran fighter could not come with an answer for anything the young phenom had to throw at him.
Come Round 4, Judah seemed to be out of steam and bent on simply surviving the ordeal. He barely threw any punches and when he did, they made no lasting effects on Khan.
Judah looked more helpless than ever, abused and bloodied as he headed to his corner for the fifth round.
It would be the last moments of the fight for Judah as he sat in his corner, face mangled, with Pernell Whitaker and the rest of his corner pleading desperately for him to wake up and fight.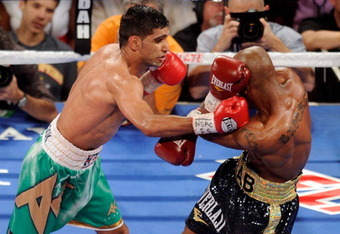 Ethan Miller/Getty Images
Khan sat in the opposite corner, with a calm demeanor and clean face, listening to Freddie Roach give the necessary corner precautions.
Khan began the final round by moving around the stationary Judah and sticking sharp jabs and straights right on the mark. Judah looked increasingly wobblier by the second, trying to stay on his feet.
Khan sensed his opponent's clear frustration at not being able to avoid or land punches and took advantage of the situation, putting all the pressure he could on Judah who was nothing but a sitting duck.
Judah tried to engage in a late exchange and ended up trying to clinch for safety, this then gave Khan a huge opening to land his right uppercut which landed flush on Judah's belt line, sending him down for the referee's 10-count.
Judah would not get up before it is administered, but he then protested that he was hit by a low blow, thus should have been given time to recover and get up. His plea was shunned by officials and Khan was given the victory and unification of the IBF and WBA super lightweight world titles.
Upon closer inspection, it was clear that the shot landed on the belt line itself, not above nor below, whether Judah was indeed hurt by the blow due to foul play or fair game or he was simply trying to buy some time to rest, we may never know, but the ruling stands that he was unable to stand upon the referee's 10-count, thus the win being sealed under Khan's record.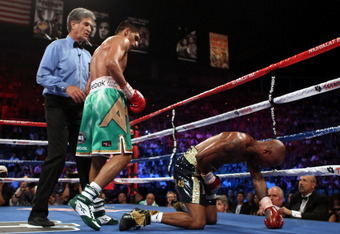 Scott Heavey/Getty Images
Both fighters gave their closing interviews to HBO before leaving the ring, with Judah still standing by his claim of being hit by a low blow. Khan on the other hand gave the audience a verbal walk through of his corner's game plan for the night and how he was able to execute it. Detractors of Khan were also addressed as he said this fight proved just how strong of a chin he has.
As for the future, Khan stated that he was looking to go on to the next challenge and said that undefeated light welterweight pound-for-pound contender Timothy Bradley was afraid of him for not agreeing to a fight, he said that Bradley's unavailability did not bother him as he believes Judah is a much better fighter anyway.
Talk of a possible match up between Khan and top welterweight draw Floyd Mayweather Jr. emerged last week after Khan said that it would be his dream fight.
Nothing is set in stone, but it has never been more clear to the boxing world that the future is indeed shining bright for Amir "King" Khan.
This article was brought to you by: The Block Clothing and The Carlo Chronicles.
Twitter: @CarloHerrera.