Amir Khan vs Zab Judah: Preview
July 23, 2011
Scott Heavey/Getty Images
Since Amir Khan first began boxing competitively at the age of 11, one of his biggest goals has been to headline a major fight card in the fighting mecca that is Las Vegas.
On Saturday, July 23, he is set to do precisely that. He takes on Zab Judah in a light welterweight world title unification bout with Khan's WBA and Judah's IBF straps both on the line.
At 24 years of age, the world is seemingly at Khan's feet. He is the United Kingdom's brightest boxing star at a time when the country boasts a rich stable of them. He is gradually elevating his profile in the United States. Victory on Saturday will propel Khan to bigger and better things.
Mega fights await along with the cash and status which accompanies them. However it has not always been smooth sailing for Khan to reach this point……..
Rewind back to September 2008 when Khan was blasted from the ring in 54 seconds by Columbian unknown Breidis Prescott. The look of shock on Khan's face that night was echoed by many around the UK that night.
It was billed as another night at the office for the precociously talented Khan, the same fighter who had won silver at the 2004 Olympics at the age of 17. Khan faced much criticism in the aftermath of that debacle. He was overhyped. He had no chin. He had no heart.
Since that night, Khan has rebounded in very impressive fashion. A number of factors have contributed to this. The hiring of Freddie Roach as his trainer has been central to his success.  Khan has reeled off seven consecutive victories.
Notable foes to whom he has handed a loss include Mexican legend Marco Antonio Barrera, Andreas Kotelnik, Paulie Malignaggi and most recently, Marcos Maidana.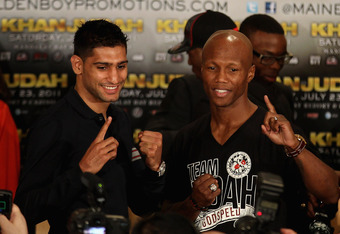 Scott Heavey/Getty Images
Roach moved Khan up a weight to 140 pounds, stating he was too lean and drawn out at lightweight and that this contributed to his capitulation against Prescott.
His defence has improved immeasurably inside the ring. He previously had a tendency to stand and trade when caught and this contributed to multiple knockdowns. Roach has taught him how to use his natural speed and athleticism to get out of trouble.
He demonstrated this impressively against the hard-punching Maidana in a fight that was voted the 2010 fight of the year by the Boxing Writers Association of America.
Training at the legendary Wild Card Gym has enabled Khan to spar with the likes of Manny Pacquiao. This has done wonders for his confidence. Roach has also done an excellent job of picking the right fights at the right times for Khan.
Zab Judah (41-6) represents a tough challenge for Khan. The slick southpaw is a five-time world champion at both light welterweight and welterweight. His career has been a bit of a roller-coaster ride. He has had some memorable highs and some less than captivating lows.
He has, however, been in excellent form lately. He has rededicated himself to his fate and hired a new trainer in Pernell Whitaker. He has also dropped back down to light welterweight. All of this has culminated in him winning his fifth world title last time out against South African Kaizer Mabuza.
Judah, at 33 years of age, brings tremendous experience to bear in this fight having previously shared the ring with fighters such as Kostya Tszyu, Floyd Mayweather, Miguel Cotto and Joshua Clottey. He has also unfortunately however, lost to all of these fighters.
A brash, outspoken character. Judah has done a good job of building the hype for this fight. He has significant name recognition in the US and has been billed by pundits as a very credible and dangerous opponent. Yet the fact remains that he has fallen short in his biggest tests to date.
The respective styles of both fighters should make this an interesting fight for the fans. Both are extremely quick with very good punching power in both hands.
Expect Khan to stick and move early on, while Judah stalks him patiently and looks to catch him with shots as he comes in. Both have excellent jabs and whoever can dictate this aspect of the fight, will have a major advantage. I expect this to be Khan.
A younger fighter who is entering his prime, he should hold advantages in the speed and strength stakes over Judah, who is about five years removed from his. The first six rounds of the fight should be close.
Judah, a southpaw, will be a difficult puzzle for Khan to solve. However, a combination of his youth, superior class and Freddie Roach's tutelage should see him establish his dominance as the fight wears on.
A win for Khan will see him jump up to the loaded welterweight division. Among the fighters who currently ply their trade at that weight are Manny Pacquiao, Floyd Mayweather, Juan Manuel Marquez, Victor Ortiz, Andre Berto and Shane Mosley.
A match-up with any of these fighters will see Khan have his name up in lights on the Las Vegas strip once again.
First, however, he must overcome Zab Judah. Judah represents a significant hurdle, but if Khan is as good as advertised, one which he should be able to overcome.
Prediction: Khan TKO – 11th Round.