Oakland Athletics Trade Rumors: Billy Beane Prepares for A's Annual Summer Sale
July 22, 2011
Christian Petersen/Getty Images
Sell! Sell! Sell! All items must go!
Attention all shoppers! Are you looking for summer rental items, or even long-term property? Then the strip mall of Oakland is the place to be.
It's that time of year again. In the heat of hot summer blowout sales, MLB's shopping season sparks the most frenzy, fun and fanfare.
No coupons or vouchers are needed. Not when a visit to Oakland will suffice. All you need and all you can have at low-low prices, guaranteed. Shipping cost included!
If a playoff-contending team is looking for marked down players, the Oakland outlets and flea market have a huge inventory of collectables. Their perennial summer blowout is notoriously fully stocked with formidable veterans capable of helping a team toward a playoff push. All items must go, while supplies last!
It's just another season sale as part of the yearly cycle in Oakland. Last winter, the Oakland Athletics purchased many players of their own, in hopes that with high productivity during the spring and summer seasons, they would appreciate into fall classics.
Alas, that has not been the result, as the A's have limped into the bargain basement of the AL West, 13 games behind first place Texas. Much blame can be placed on the Athletics' off-season acquisitions, those glimmering new toys they obtained during the winter.
During the off-season Oakland traded for outfielder David DeJesus and signed Josh Willingham, reliever Brian Fuentes and designated hitter Hideki Matsui. And all of them have disappointingly floundered in their mid-season performance evaluations. In addition, pitcher Rich Harden found himself back on the shelf before the season even began.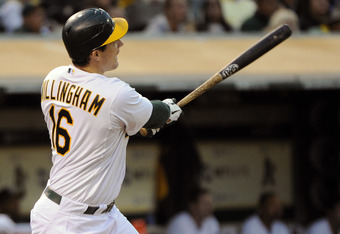 Thearon W. Henderson/Getty Images
In the Athletics' case: buyer beware; you get what you pay for. Oakland's parsimonious owners have Billy Beane digging through the medical scrapheap for free agents year after year. It was no different in 2011, as the A's seemingly plucked from the physical therapist's office DeJesus, Willingham and Harden, all of whom were injured for stints in 2010. Not surprisingly, each has visited the doctor this season with various ailments. Compounding their fractures is the fact that, along with Fuentes and Matsui, all of them have underperformed on the field.
With the spring rentals having not met their quarterly expectations, Beane is likely to offload these players during Oakland's annual summer cost-cutting efforts. Names that have been tagged include all three Opening Day starting outfielders—DeJesus, Willingham and Coco Crisp. Also veteran relievers Jerry Blevins, Brian Fuentes and Mike Wuertz have come up in recent talks. Get rid of any or all while each still has market value.
According to ESPN's Buster Olney, DeJesus has drawn attention from the Pittsburgh Pirates. The A's should do everything in their power to dump the light-hitting right fielder, as he is currently posting career-lows in batting average, on-base percentage and slugging percentage. DeJesus has not been the savior for the A's offense, and offloading him would give opportunities for other young players in the crowded outfield to show what they can do.
Meanwhile, Crisp has been linked to both Ohio teams—Cleveland and Cincinnati. Crisp has been the A's best and most consistent hitter and has base stealing ability and Gold Glove-caliber defense to boot. Any team looking for a leadoff hitter with tremendous outfield defense should get Crisp while he's hot. In a season of offensive dejection and rejection, Crisp's numbers would be even better when surrounded by a more talented lineup like the Reds. Crisp will hit free agency at season's end, so the A's will look to dump him now to get players in return.
The subject of the most trade discussions, however, is Willingham, rumored to have been asked about by the Pittsburgh Pirates, a move that would bring him back to the National League, where he appears to feel more comfortable. However, in spite of his apparent difficult adaptation to AL pitching and the spaciousness of the Oakland Coliseum, Willingham still leads the A's in home runs and runs batted in, despite a stint on the DL in June.
Willingham will draw interest from a number of teams looking for a solid right-handed power hitter, so the Athletics better acquire something in the same mold in return. The current roster has no power-hitting presence in the outfield, and in the farm system it is still hoped that Michael Taylor, 25, blossoms into the star he's intended to become. If Oakland trades Willingham, they need to acquire in return some outfielders who hit for power.
So far all of the relatively big off-season gambles have flopped this year—with the exception of Grant Belfour. And Oakland, as they do every season, will establish an order profile, bundle some packaging of supply and ship out depreciated inventory at bargain reductions.
At this juncture in the season, the A's are willing to put almost anybody with more than five years of MLB service up for sale. They might as well rid themselves of the surplus of salaries by putting every veteran on the market. Matsui, Craig Breslow, Conor Jackson, Brad Ziegler—all should be eligible to be packaged and sold.
Hopefully the A's can restock their depleted minor league system. In recent seasons, Oakland has not been able to produce a legitimate everyday hitter from its farm. Kurt Suzuki and Cliff Pennington are great young defensive players but have hit their offensive ceilings after three seasons in the big leagues. The Athletics need to replenish their farm system and propagate homegrown offensive talent, so that off-season oft-injured discounted free agent veterans aren't so risky.
As the trade deadline approaches, look for the A's to serve as wholesale vendors to playoff-bound teams. It's the Athletics' annual auction, one of the most exciting events of the summer. Act fast, as the A's liquidation sale lasts for only nine more days. All sales are final, while supplies last.
If a playoff contender is looking for some experienced hitters or setup men, Oakland is a great place to go. So come on out to the East Bay and bring piggy banks. Bartering welcome. Call now. Operators are—Beane is—standing by to take any orders.