Cincinnati, Ohio to Host "Strikeforce Grand Prix Semi-Finals" on September 10th
July 22, 2011
Strikeforce will be returning to Cincinnati, Ohio on September 10, featuring the semi-final matchups of their Grand Prix heavyweight tournament.
Multiple sources confirmed with MMAJunkie.com that the now Zuffa-operated Strikeforce will come to "The Queen City" at the U.S. Bank Arena for the next installment of mixed martial arts action.
The first-ever Strikeforce event to be hosted in Cincinnati is actually the second Zuffa-operated ultimate fighting contest held within the blue-chip city.
UFC 77 was hosted at the 17,000-seat U.S. Bank Arena back in May of 2007. Headlining that night's action was hometown icon Rich "Ace" Franklin, who suffered his second defeat to the UFC middleweight champion, Anderson "The Spider" Silva.
The co-main event on September 10th features two Grand Prix semi-final fights. The first will be a clash between the hard-hitting Russian kick-boxer Sergei Kharitonov and the multi-talented, polarizing figure, "The Baby Faced Assassin", Josh Barnett.
In the night's second co-main event matchup, Antonio "Bigfoot" Silva will challenge Daniel Cormier. Originally slated to fight Alistair "The Demolition Man" Overeem, the change of Silva's opponent comes after UFC President Dana White pulled Overeem from the tournament, citing Overeem's broken toe as the rationale for the switch.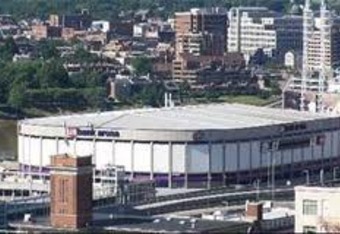 Non-tournament action includes a title fight between current Strikeforce middleweight champion, Ronaldo "Jacare" Souza versus the challenger, Jake Rockhold.
Other confirmed bouts include a light heavyweight duel between the undefeated Brazilian jiu-jitsu ace Roger Gracie and former Strikeforce light heavyweight champion Muhammed "King" Lawal, as well as lightweights Josh Thomson versus Maximo Blanco.
All bouts on this September 10 card will air on Showtime.
Stay tuned to Bleacher Report for any up-to-the minute changes in the night's action.
Enjoy the fights.
Todd Seyler