Golden Sports: Commercializing Kung Fu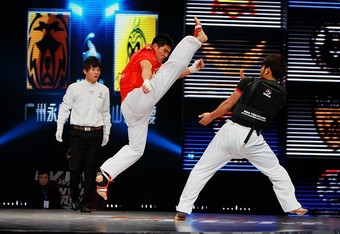 Fight scene of the latest eposide of WMA. Photo: Courtesy of CCTV

While fight fans in the western half of the world are enjoying the thrilling mixed martial arts (MMA) cage fighting, those in the eastern hemisphere are having their eyes focused on their Chinese equivalent - the Wushu Masters Association (WMA).
After a debatable inaugural showing in 2009, the latest installment of WMA, China's professional Kung Fu championship was put on the Big Screen in CCTV prime time this year.
Filling The Void
Resembling the Ultimate Fighting, which has exploded exponentially in popularity in North America for the past several years, the Kung Fu championship pits combatants in various Wushu disciplines on Leitai, an elevated fighting arena without railings that first appeared in China during the Song Dynasty (960-1279). The main objective of the championship is to knock off the opponent from the elevated platform under a strictly controlled set of rules.
However, unlike its western counterpart, which crudely follows the doctrine in the business bible that reads "business first and entertainment second", the Chinese martial arts championship seems to be on a mission to bring more cultural flavor to the big stage.
Kung Fu, brimming with ancient wisdom and millennia of tradition that are otherwise unavailable in other parts of the world, is a gem of Chinese culture. There is a saying that one cannot get a deeper understanding about China without comprehending Wushu.
Kung Fu has put down its roots in the culture. According to Gao Xiaojun, president of the Chinese Wushu Association, in China, there are 130 million people practicing Wushu and 121 colleges and universities with Wushu majors, along with over 10,000 private-owned Wushu schools. The total number of Wushu students reaches 500,000. The influence of Kung Fu literature and movies is profound and far-reaching. Popular Kung Fu novelists mostly turned out to be household names in China and the nation has been the one major source of Kung Fu movies on the global map.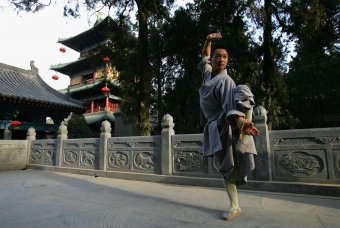 Cancan Chu/Getty Images
Although the local art has a large following, Wushu has never been a mainstream sport in China, whereas western sports such as soccer, basketball and tennis have dominated the domestic market.
Some insiders concurred that the sorry state of Chinese martial arts was partly due to the industry's low level of commercialization and lack of a platform for Wushu event. For the past several decades, there had hardly ever been any professionally-managed Kung Fu league match.
The WMA was meant to fill the void in the traditional art's market, with a brand new business model and a series of modern concepts in sports business.
Brand New Model
"WMA is the first professional sports league in China with a complete industrial chain," says Ruan Wei, Managing Director of CCTV Sports Entertainment Co., Ltd, the company that runs the WMA.
Although China adopted the notion of professional sport from the West and brought in the league system as early as more than 20 years ago, a professional sport in essence that is built entirely upon the system of free market economy has yet to come into existence, as China's sports federations, which own their respective sports league such as Chinese Super League (CSL) and Chinese Basketball Association (CBA) etc., are all State-run.
"For the industry to reach its full potential, China's sport must free itself from the centrally planned regime and be centered around independent, professional sports league as well as develop its own industrial chain," Chen Shaofeng, director of the Sport Industry Research Centre of China told this journalist.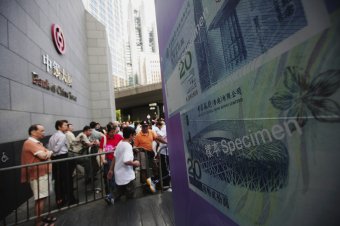 China Photos/Getty Images
The WMA brings a unique business model to the table in that the league is owned by CCTV and run by its affiliate company, an entity that is independent from the federation of the General Administration of Sport. CCTV holds all the privileges, from hosting right to intellectual property. Plus the league owner and its clubs are equal entities, belonging to a community of interest, rather than of administrative relations.
Clubs possess the athletes under contracts and focus on talent selection and cultivation, designed to produce the best fighters for the league. Some clubs intent on building their own Wushu schools, with the purpose of expanding their talent pool as well as making money off it.
"Many parents and students applied to attend our school because of the WMA," a club owner said. "We'll set up our movie studio, and incorporate club, school, and studio to forge an industrial chain."
"In terms of its business model, the WMA takes a step forward," Chen commented. "The WMA is actually 'a Chinese man in a Western costume'."
Conversely, taking a glance at the big picture, China's entire sports community, by this token, has been a blond covered in Chinese outfit.
To date, most of the best sports programmings on CCTV have come from abroad, such as NBA games, which the network has been airing for more than 20 years.
"No sports fans in any other countries are as poor as those in China, in the sense that they depend so much on consuming sports content from foreign lands," Ruan said.
According to Jiang Heping, director of CCTV Sports, 80 percent of the first run on CCTV's sports channel, which accounts for over 80 percent of the audience market, relies on copyright purchases, and that of the domestic events only take up a tiny proportion. More than half of the channel's budget is spent on purchasing copyrights of overseas events every year.
"China abounds in cultural resources," said Chen. "What the nation should import are business models, not cultures, in the way that the WMA does."
(This is a reprint from the Global Times of the March 19, 2011 edition.)
* * *
Zhenyu Li, a contributing columnist for a variety of the world's leading publications, authors the column "Golden Sports — Inside China's Sports Industry With Zhenyu Li", for Bleacher Report. He can be reached at zhenyuli.culture@gmail.com.
This article is
What is the duplicate article?
Why is this article offensive?
Where is this article plagiarized from?
Why is this article poorly edited?