The Longhorn Network: 10 Channels More Ridiculous Than Texas TV
July 22, 2011
Eric Francis/Getty Images
I applaud the University of Texas for being able to get a major network to become a partner to create their own channel.
Anytime a University can increase revenue that in turn allows the school to reduce tuition to help teens afford college is a winner in my book (A University reducing tuition, that could be a ridiculous channel itself, called the Unicorn and Leprechaun Channel).
I'm even more impressed that Texas could work with ESPN to greatly increase their revenue, while watching the other schools in the conference turn submissive and settle for scraps.
This deal and Texas A&M and Oklahoma's battered spouse stance supposedly helped save the Big 12, which now has 10 teams after one of the teams, Nebraska, moved to the Big Ten, which now has 12 teams. College isn't the place to learn stuff like counting, man.
Right before the Longhorn Network is set to debut, the members of the league are having a fit. They don't want the Network to be able to show high school football games because the other teams fear it would give an unfair recruiting advantage to Texas.
The massive television contract, a separate network, the alpha dog in a conference they saved while the others bent over and said thank you. I can see how high school football would be the breaking point.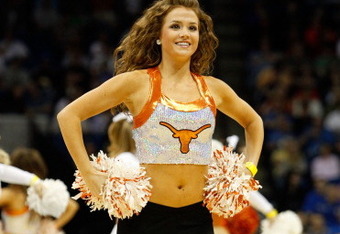 Tom Pennington/Getty Images
What I like is that high school football is a key to having quality programming on the network, because at this point, it's really thin.
Texas vs. Rice Football will be on the Network. That should be fun, for a quarter. The Big 12 -2 teams are protesting that a league game also is scheduled to be shown on there, which I understand because what opposing fan would want to subscribe to the Texas channel to watch a game.
I will say that Texas only has Rice as a cream puff on the schedule. I'm looking at you, Virginia Tech.
What I don't understand is the appeal of a Longhorn Network. I love the NFL, watch 10 games every Sunday. I haven't watched the NFL Network since March.
The Longhorn Network will have pre-game football, one live game, post-game football, mediocre college basketball games, other sports, and about 120 hours a week to fill.
Watch all five wins from 2010 all week long. I know Texas has a lot of good athletic programs, but as a non-Texas alumnus, I see almost zero appeal in this network.
The Longhorn Network is the latest example in the fragmenting of cable sports to the point where it's just another channel along with 130 others on my satellite I never watch .
The Mountain West Channel almost worked, until BYU wanted it's own Texas type deal and Utah left and TCU is bolting.
The Big Ten Network (my head hurts) at least has 12 teams and Gus Johnson. At least Texas is a big name in football, and you can watch live games (or game), and hopefully a Wild On-type show hosted by Cedric Benson.
With my Cedric Benson programming genius, I bring you a vision of where cable sports is headed.
10. Field - This may actually intrigue me a bit, because I am a big track guy, but I will be quickly disappointed to learn that I get to watch zero track events. It's all field. All triple jump, all day. Every shotput and discus heave, it's on Field. Usain Bolt breaking World Records, not here. They also have the rights to every Sally Field movie to kill time.
9. World Series of Video Poker - ESPN2 recently morphed into showing real time poker, which is intriguing in a "can run errands and not miss a big hand" way. I can see a poker channel becoming reality some day, which will lead into the video poker channel. It's not interactive, you can't win money, you just have to watch other people play video poker machines.
8. WBA - The positive of this channel is that every once in awhile, you might get a good fight. The negative is that a majority of the day is spent CSpan style, showing the deliberations of the WBA. You too can now get inside the process of how their can be three Featherweight Champions and what a Super Champion and Regular Champion means and how a Vacant title can be crowned one day before the Champion defends his title. Dan Rafael will love this.
7. WNBA Classic - The NBA Lockout has forced NBA TV to morph into WNBA TV and NBA Classic. So this goes the next step, by being the first network to show WNBA Classic games exclusively. The exclusive is key, to drive subscribers and distributors. The channel will struggle since it is tough to reminisce about something nobody has ever seen.
6. Coach Speak - This will have a lot of original programming, since it will be able to draw interviews from coaches in many different sports, to give their opinions on the game. Sadly, the network is only allowed to use sound bites from boring coaches and interviews. A lot of "we need to work harder and play one game at a time" interviews. This channel might become a hit at colleges as a drinking game mecca.
5. The Cowboys Network - For a moment a lot of Dallas fans got excited, as finally a full time channel is dedicated to the Boys. Those fans will be quickly disappointed as they learn it is the Wyoming Cowboys Network. Just like Texas, they only get to show one game also, and this was a desperate move to keep the Mountain West together. Really desperate. At least we get to see some classic Fennis Dembo highlights.
4. Over the Top - Vince McMahon has been clamoring to create a wrestling cable channel all his own, but we beat him to the punch. The only 24 hour arm wrestling channel is here. Even better is that Kenny Loggins gave the channel the rights to his song, so every break intro and out has "Meet Me Halfway" in the background. Surprisingly, the channel was unable to get the rights to the movie Over the Top, but did get the rights to every Carrot Top special. He might even be in a competition or two.
3. Strike - If the Golf Channel and Tennis Channel have worked, why not a channel dedicated to Bowling? It won't be easy to fall asleep to, since the channel will be broadcast in crystal-clear mono. Sadly, the rights to the bowling majors are too high so the channel will be dedicated to early round matches in lesser tournaments and open bowling. No wussy bumpers here.
2. Nil- This will be another soccer channel, and this one will be a bit different, as it will have both classic and very recent soccer games, but no live games. The main difference between Nil and Fox Soccer, is that Nil will never show a goal. That's right, if you love soccer but hate all of the celebration of a goal, Nil is the channel for you. They will search through the archives and show games and highlights where zero goals are scored. Penalty shots will decide a winner. Not on this channel.
1. The Aggie Network - Haha.
Let me try that again. Just had to give Texas fans something to chuckle about.
1. SportsFlix - Alright, finally a channel where I can sit down and watch Caddyshack then Rocky then Hoosiers in one night. Actually it's Caddyshack 2 then Rocky 5 then Who's Your Caddy. Anything that got over 2 stars in TV Guide or 35% Rotten Tomatoes is way too expensive for this network to buy rights to. TBS may do 24 hours of A Christmas Story during the holidays. SportsFlix does 24 hours of Slap Shot 2: Breaking the Ice every first of the month.
A message to the Big However Many You Are Committee, just let the Longhorn Network show High School games. Just make it required that the games are from Saskatchewan and Northern Alaska.