San Francisco Giants Eye Top Trade Candidates as the Deadline Draws Near
July 21, 2011
Thomas B. Shea/Getty Images
Carlos Beltran to the San Francisco Giants.  BJ Upton playing CF at AT&T Park.  Hunter Pence batting third and sparking a morbid offense. 
These are all scenarios dancing like sugar plumbs in the minds of Giants fans everywhere.
There are many offensive players available this trading season, most of which would be significant upgrades for the San Francisco Giants. 
Brian Sabean is on record saying that the position of the player is irrelevant to the Giants, if he can help the offense.  
Below is a breakdown of some of the top players available, how they are performing this year and what it would likely take to acquire them.
Carlos Beltran - OF -New York Mets
Beltran is on the radar of most of the contenders, especially in the NL.  Beltran is a free agent at the end of this year and is 34 years old. 
There is also a clause in Beltran's contract that prohibits his team from offering him salary arbitration once his contract is up.  This means that the team that ends up with him will not be able to let him leave as a free agent and get a compensatory draft pick for him. 
Beltran is hitting .290/.387/.524/.911 with 15 HR and 61 RBI.  Beltran is clearly the cream of the crop of players who may be traded. 
Beltran is a winner and would add value to any offense that he plays for.  His high OPS speaks not only of HR but of doubles and triples as well.  He is a proven run producer and would make the most significant impact on the Giants out of anyone else who is available.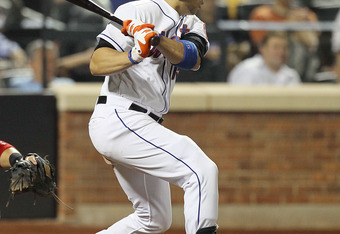 Jim McIsaac/Getty Images
Beltran has somewhere around $7 million remaining on his contract this season.  The Giants would prefer to take on salary as opposed to giving up top prospects, but that is going to be up to the Mets. 
If the Mets pay his full salary for the rest of 2011, the Giants can expect to part ways with Zack Wheeler and others.  Gary Brown, Jonathan Sanchez, Thomas Neal, Roger Kieschnick and others would be in play. 
If the Giants give up two top prospects in Wheeler and Brown in any deal, the return had better be a second World Series ring. Otherwise, it would be too much.
Josh Willingham - OF - Oakland A's
Willingham's name seems to come up yearly around the trade deadline.  He isn't a flashy player, but his numbers are decent enough for teams to look at him as an upgrade over what they currently have. 
Willingham is currently batting .240/.315/.427/.743 with 12 HR  and 47 RBI .  He is playing on a one-year, $6 million contract, and he can be a free agent after this year. 
Willingham would certainly improve the Giants offense, but he is not a difference maker.  He is one of those players that does real well when surrounded by other good players.  He can't be expected to be "the" guy on a team the way Beltran is.
Willingham's price tag will be dictated, as most are, by the laws of supply and demand.  I don't see him as the type of player that should warrant giving up top prospects to acquire. 
Realistically, the Giants should expect to part with one or two mid-level prospects to get Josh Willingham.  Thomas Neal, Nick Noonan or maybe a couple of minor league pitchers are the types of players it should take to get Willingham. 
If he's moved, the A's will most likely land better prospects than they should for him, so I hope that Brian Sabean resists any urge to trade for him.
Hunter Pence - OF - Houston Astros
Hunter Pence is quickly turning into the sexy name on the trade market, and I find it to be more and more interesting all the time.  Pence is hitting .316/.361/.484/.845 with 11 HR  and 61 RBI. 
He's 28 years old, is team controlled through 2013 and is a difference maker in any lineup.
Why would the Astros trade such a talented, young, controllable player?  They very well may not, but the team is being sold and word around the league is that the new ownership has asked that payroll be brought as close to $60 million as possible. 
To accomplish that, the outgoing ownership will have to shave about 17 million dollars off the current payroll and Pence is the fourth highest paid player on the team behind Wandy Rodriguez, Brett Myers and Carlos Lee. 
The team could get to that magic number by simply offloading Lee and his $19 million annual salary, but I can't believe that there is a team out there that will take him on under any circumstance. 
His numbers are not bad, but his contract is less than desirable. 
They are shopping Rodriguez and Myers, but if they can't offload them, and they get a reasonable offer for Pence, I could see them moving him as unpopular as it would be. 
Pence is making $6.9 million this year and should get a significant bump in arbitration this offseason.
This is certainly one situation that Sabean is keeping an eye on.  As attractive a player as Beltran is, Pence makes so much more sense. 
His talent, track record and contract status must have Sabean drooling and giving up two top prospects, plus for Pence would not be unreasonable.  If Pence is available and I'm Sabean, I make it happen.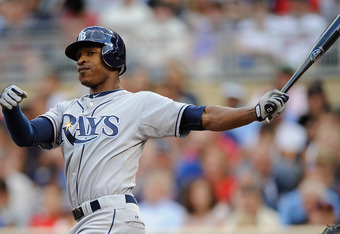 Hannah Foslien/Getty Images
B.J. Upton OF Tampa Bay Rays
Lately there has been speculation in the media that the Rays would move Upton if the price was right. 
This year he is hitting .234/.316/.407/.722 with 11 HR  and 52 RBI .  He's only 26 years old and can't be a free agent until after the 2012 season.  His numbers are OK, but he has the potential to be a truly dynamic baseball player.  
With his speed and tools he really should be hitting better than his batting average and his on-base percentage indicate.
I don't know what it would take for the Rays to consider trading him, but from the way it sounds, they are not in any rush to move him.  That generally means that they will need to be overwhelmed in order to trade him, and Brian Sabean should steer clear of that trap.
There are certainly many more players available as the deadline approaches, Aramis Ramirez, Michael Cuddyer, Melky Cabrera and Ryan Ludwick are all names that have at one time or another been linked to the Giants. 
I chose to highlight the four that I did because of their fit with the Giants overall team vision.
I really do believe that Sabean will move top prospects in the right scenario and will not make a move just to make a move. 
The next 10 days will be very interesting.