MLB Trade Rumors: Ryan Dempster and the Folly of the Divisional Trade Snafu
July 26, 2011
Jared Wickerham/Getty Images
Chicago Cubs starting pitcher Ryan Dempster might be the second- or third-best right-handed hurler truly available as the trade deadline approaches this July. Two teams in the National League could take a huge step forward in their bids for playoff berths with the acquisition of a starter of his quality. The Cubs are motivated sellers, and would likely take on some of the money owed Dempster through next season to get a meaningful asset in return. Again, two teams fit very well. Dempster fully ought to be dealt.
He will not be traded, though, and the reason is simple: The two teams that are fits for Dempster are the St. Louis Cardinals and the Cincinnati Reds. The fact that those squads share the NL Central with the Cubs will quash any deal before it gets started. This is one of the truly mindless axioms that make up the rigid morass of front-office decision-making in Major League Baseball. The crucial nugget of illogic is this: You never make a headline deal within your division, lest the player you trade someday head you off en route to the playoffs. The core assumption seems to be that a bad deal would hurt more if made with a divisional foe.
That's true, as far as it goes. But it critically and foolishly overlooks this central tenet: You should never make a deal in which you do not fully believe in the first place. Assuming you get the better end of a trade--and why make one at all unless you feel that way—the damage to your rival done by the deal is even more beneficial than the advantage gained in a random deal.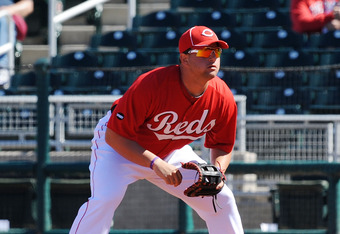 Norm Hall/Getty Images
The Reds are the best team in the NL Central, but have not played like it. Dempster could be the adhesive needed for a struggling rotation. And Walt Jockety could easily get Dempster for either Yonder Alonso or Devin Mesoraco, two prospects the organization can afford to lose without damage. But if (that most troublesome word in the GM dictionary) the prospect dealt became a stud for Chicago, Jockety would catch hell for what was actually a fair deal.
Meanwhile, the Adam Wainwright-less Cardinals also need pitching help. Pairing Chris Carpenter and Jaime Garcia with Dempster would make them the prohibitive division favorites. The team is also on the outs with mercurial center fielder Colby Rasmus, and trade whispers have lapped at Rasmus' flanks like flaming tongues.
Cubs GM Jim Hendry would love to take on Rasmus, who would make Marlon Byrd expendable and could become a terrific complement for top Cubs outfield prospect Brett Jackson. For Cards GM John Mozeliak, though, the risk is that Rasmus plays some part in the Cubs winning the division in (say) 2013. That would, unfortunately, put Mozeliak under a microscope despite his having brought in Dempster and secured the 2011 Central flag.
Of course, it takes two to not tango, and teams in the Cubs' position are not immune to the gun-shy illogic of the divisional trade stigma. Hendry does not want to deal Dempster because he envisions a contending team in 2012, and because he knows Cubs fans (and maybe even people within the organization) would hold him accountable if dealing Dempster helped St. Louis or Cincinnati reach and/or win the playoffs.
It's too bad those in the league's front offices are not creative enough to think this way. They are individuals and self-interested rational actors; to expect otherwise is folly. But the number of doors to success that remain closed because of inflexibility in the thinking of managers and general managers about strategy and roster-building ought to frustrate baseball fans of every stripe. Root for one of the above deals to happen, but be warned: They won't.