NASCAR Nationwide Series: Travis Pastrana Looks Ahead to Debut at LOR
July 21, 2011
Jason Smith/Getty Images
He's the face of action sports, one of the world's most talented athletes. He's conquered the world of motocross, becoming one of the most decorated athletes in X Games history. He's arguably the top rally driver in the United States, as his four consecutive Rally America titles from 2006 to 2009 suggest.
Now, Travis Pastrana turns his attention to NASCAR, making his national touring series debut July 30 in the Nationwide Series event at Lucas Oil Raceway in Clermont, Ind. driving the No. 99 Toyota for Pastrana-Waltrip Racing.
During NASCAR's weekly teleconference Wednesday, Pastrana credited the challenge NASCAR presented as his main motive for entering the world of stock car racing.
"(It's) very important to be with the Boost Mobile Toyota team and to be able to still compete at X Games, at least this year, and really make a diehard decision to do this and let's try to be as competitive as we are for the next two or three years," Pastrana said. "Hopefully if I can race good at all, we'll continue for a long time after that."
Pastrana was quick to admit that the learning process in terms of competitive action is a hard one, but credited Camping World Truck Series driver Matt Crafton with assisting him in learning NASCAR terminology.
"I don't know a lot about what types of adjustments the cars really do," Pastrana said. "So when I was coming in, like two races ago at Richmond, I said, 'Hey, guys I'm really tight in the middle of the corner.' Matt Crafton came over the radio and said, 'It looked like you were pretty loose coming into the corner.' I said, 'Yeah, I'm loose coming into the corner but I can deal with that. I'm tight in the middle.'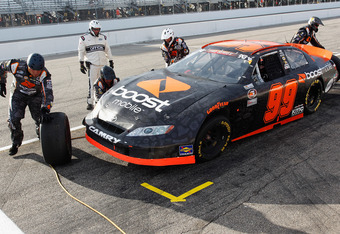 Geoff Burke/Getty Images
"He said, 'Look, we fix the beginning of the corner first. If you're loose on the entrance, you're probably going to be tight in the middle.' So all they did was fixed the entrance and all of the sudden, and the middle roll speed was great and the exit was perfect. Because a lot of the stuff that I would change about a certain part of the car that feels the worst is really caused by something completely different.
"So we definitely have a lot to learn and a lot of times, I'm still holding my breath or I'll be in a race situation, we're still trying to translate what I'm feeling to what's actually happening."
In response to criticism that his deep pockets—built through successes and endorsements—earned him a Nationwide ride, Pastrana gave credit to the young drivers that are still in search of one, admitting that they may be more talented than he is.
"I definitely understand there's a lot of drivers that have been definitely beating me every week, week-in, week-out, kicking my butt in the K&N Pro Series," Pastrana said. "Drivers, literally 16, 17, 18 years old, are looking at me getting in the Nationwide car going, 'that could be me,' and wherever I finish, they know, and they are probably right, that they could finish ahead of wherever that spot is."
Pastrana has a best finish of 22nd at both Iowa in May and New Hampshire in July on the K&N Pro level, running one race in the West and three in the East.
He also hopes that his attempt at NASCAR will help draw new fans into both stock car racing and action sports, combining the two audiences together.
"I think it's going to help get a different audience, because there's not a lot of the action sports audience that was really into NASCAR and probably not a lot of NASCAR was really into action sports, until you start getting some crossover and there's some interest," Pastrana said. "There's a reason a kid can sit down with his dad and watch NASCAR and a reason that the dad is going to sit down with his kids and watch the action sports. Hopefully it all works."
Ryan Papaserge is a Featured Columnist for Bleacher Report. Unless otherwise noted, all quotes were obtained first-hand or from official interview materials from NASCAR.