UFC 133 Fight Card Preview: Undercard Breakdown and Predictions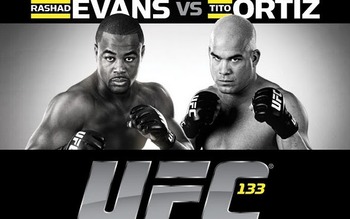 Courtesy of UFC.com
With the absorption of WEC, UFC fans have gotten a significant increase in the quality of undercard bouts. The UFC has also done a fantastic job of finally allowing fans to watch these fights through Spike TV, Facebook and YouTube.
UFC 133: Evans vs. Ortiz is no different as it features several young up-and-coming fighters as well as veterans and a former champion.
Starting with Rafael Natal vs. Costantinos Philippou and ending with Matt Hamill vs. Alexander Gustafsson, these preliminary fights feature several intriguing matchups.
Rafael Natal vs. Constantinos Philippou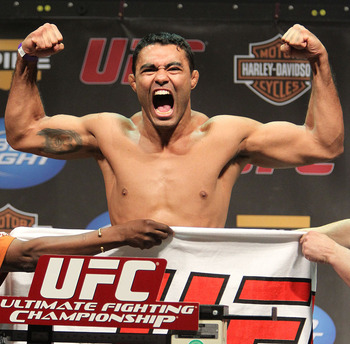 Courtesy of UFC.com
Rafael Natal and Costantinos Philippou kick off the evening with an interesting middleweight matchup.
Natal (12-3-1) has been underwhelming thus far in his UFC career, losing his debut to former Ultimate Fighter contestant Rich Attonito by decision and fighting to a draw with Jesse Bongfeldt.
Of his 12 wins, seven have come by way of submission, four of which have been rear naked chokes.
Representing the Serra-Longo Fight Team, Constantinos Philippou (7-2, 1 NC) put together an impressive eight-fight unbeaten streak before dropping a unanimous decision to Nick Catone after coming in on short notice.
Again stepping up on short notice for the injured Riki Fukuda, Philippou gets another shot in the UFC. Perhaps it was coming in on short notice that didn't agree with him, but Philippou looked relatively lethargic in his debut.
Given Philippou's struggles on the ground with Catone coupled with Natal's higher level of competition, I'd have to go with Natal by decision.
Mike Brown vs. Nam Phan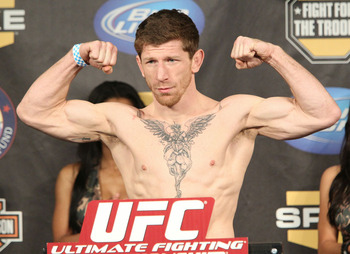 Courtesy of UFC.com
Oh, how it hurts to see Mike Brown on an undercard fighting Nam Phan. It really does. In 2009, Brown (24-8) was considered one of the top pound-for-pound fighters in the world after he defended his WEC Featherweight Championship, defeating Urijah Faber for a second time.
Since then, he's gone just 2-3, dropping his last two to Diego Nunes and Rani Yahya for an 0-3 UFC record (Brown debuted back in 2004, losing by submission to Genki Sudo).
Nam Phan (16-8) is certainly a worthwhile opponent, coming off of a win...wait, a loss to Leonard Garcia. He also looked very impressive during his run on The Ultimate Fighter.
This is a very interesting matchup because Phan has been consistently improving while Brown seems to be on the decline.
It could be that his fight against Yahya was only three weeks after his fight with Nunes, who, in my opinion, is a top contender at 145. However, I think with a full camp, we'll see a revitalized Mike Brown who can return to the winning path.
Nam Phan is extremely well-rounded and may give Brown some trouble, but I see this going down as a unanimous decision win for MTB.
Johny Hendricks vs. Mike Pierce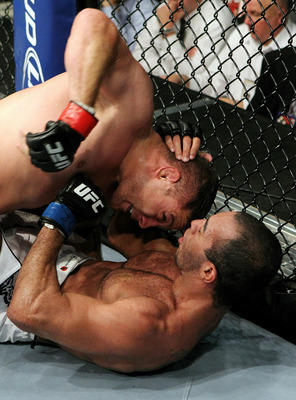 Courtesy of UFC.com
One of the more important fights on the undercard, Johny Hendricks and Mike Pierce will be featured in the third bout of the evening. This fight will be important for the outlook of the welterweight division, as both have the potential for working their way up to contender status.
Mike Pierce (12-3) has been extremely impressive in his UFC career, going 4-1 with his only loss coming to one of the top pound-for-pound fighters in the world in Jon Fitch. Pierce has also won nine of his last 10. A strong wrestler out of Portland State University, Pierce tends to finish his fights by TKO.
Johny Henricks' (10-1) sole loss came at the hands of contender Rick Story. Like Pierce, Hendricks is also a decorated wrestler and both men have very similar styles. He holds wins over Amir Sadollah, Charlie Brenneman and TJ Waldburger, all by TKO.
This is an extremely difficult matchup to predict, but I think Mike Pierce's heavy hands and strong wrestling will allow this fight to go very similarly to the one with Story, therefore I'd take Pierce by a close decision.
Ivan Menjivar vs. Nick Pace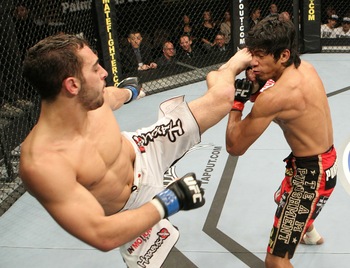 Courtesy of UFC.com
In the bantamweight division, Ivan Menjivar takes on Nick Pace to finish off the Facebook portion of the undercard.
Although he has just seven bouts under his belt, Nick Pace (6-1) has put together an impressive record with his only loss coming to highly ranked bantamweight Demetrious Johnson. Pace debuted in the UFC with an extremely impressive submission finish over Will Campuzano.
Ivan Menjivar (22-8) is the much more experienced of the two, but has gone just 2-3 in his last five fights. He's fought in four different weight classes, competing as heavy as welterweight. In his most recent bout, he finished Charlie Valencia via TKO in the first round.
The vast difference in experience may make a difference in this fight, but I still like Nick Pace given his innovative ground game and the fact that he has been consistently improving since his debut in 2008.
Still, Menjivar hasn't been finished since 2002, so I'll take Pace by decision.
Chad Mendes vs. Rani Yahya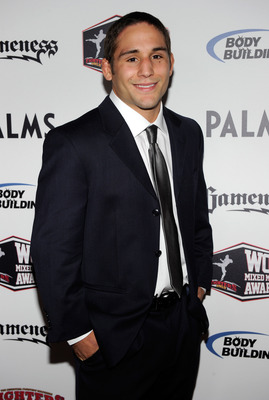 Ethan Miller/Getty Images
In the first fight on Spike TV, Chad Mendes takes on Rani Yahya.
Chad Mendes (10-0) has had an extremely impressive run in the WEC which carried over into his first UFC bout with a unanimous decision victory over Michihiro Omigawa. With his wrestling control game, Mendes has essentially dominated every opponent he's had. The biggest criticism against him is his inability to finish fights. Mendes has been to decision six times in 10 fights.
Rani Yahya (16-6) is, however, a finisher. Fourteen of his 16 wins have come by way of submission for the second degree Brazilian Jiu-jitsu black belt. His most recent bout was the biggest win of his career–a decision win over Mike Brown. Still, Yahya is just 1-2 in his last three fights.
While Mendes is a strong wrestler and Yahya has proved his ability to fight of his back well, I still don't think this is a good matchup for Yahya. Mendes has ever improving striking and he seems to do a good job of controlling his opponents on the ground. Submitting Mendes and putting an end to the hype would be a huge feather in Yahya's cap, but as much as I love great jiu-jitsu, I don't see it happening.
I'll have to take Mendes by decision.
Matt Hamill vs. Alexander Gustafsson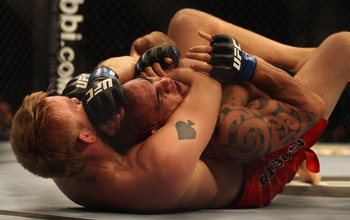 Mark Kolbe/Getty Images
In the final bout of the preliminary portion, Matt Hamill steps in on short notice to take on Alexander Gusafsson.
Matt Hamill (10-3) is coming off of a unanimous decision beating suffered at the hands of Quinton Jackson. In the bout, Hamill looked listless and completely ineffective. His striking was nonexistent and his takedown attempts were easily shrugged off. Still, before that bout, Hamill was on a fiv- fight win streak, taking out the likes of Tito Ortiz, Keith Jardine and Mark Munoz.
Alexander Gustafsson (11-1) is an extremely exciting prospect and at just 24 years old, he continues to get better and better. Despite a loss to Phil Davis, Gustafsson has looked extremely impressive in every one of his other bouts and has only been to decision once. He's extremely well rounded with the ability to finish fights on the feet and on the ground.
While Hamill is not a top 10 light heavyweight, he's still a tough draw for anyone in the division. Still, I think Gustafsson has nearly limitless potential and will use this opportunity to make his mark on the 205 pound division.
I can't see Hamill being finished, since it has only happened once, but I'll take Gustafsson by unanimous decision.
Keep Reading