Alistair Overeem out of the Strikeforce Grand Prix HW Tourney
May 31, 2016
News released on Monday confirms that Strikeforce heavyweight champion, Alistair "The Demolition Man" Overeem has been yanked from the Grand Prix Tournament.
Sources confirm that the former Olympic wrestler and rising prospect Daniel Cormier has replaced Overeem to face Antonio "Big Foot" Silva in the semifinal heavyweight matchup.
Cormier, undefeated in mixed martial arts with an 8-0 record (5-0 in Strikeforce), is riding a steady wave of momentum after securing his biggest victory to date with a one-side defeat of Jeff Monson in June of this year.
In contrast to Cormier's performance, Overeem's lackluster effort in his rematch with Fabricio Werdum was extremely disappointing and did not impress either the UFC brass or its fans.
Appealing to the UFC management, Overeem had requested that his fight with Silva be in October instead of September to allow time to heal injuries.  
UFC president Dana White essentially provided "The Demolition Man" with an ultimatum to compete on Sept. 10 or to be removed from the Strikeforce Heavyweight Grand Prix tournament. 
Needing to heal injuries prior to stepping foot inside the cage against Silva, Overeem denounced the threat and was subsequently cut.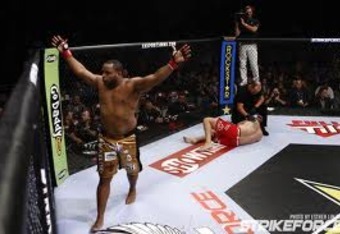 Daniel Cormier slated to face Antonio Silva in September
Looking forward to facing Overeem, Silva was disappointed with the sudden replacement, yet professional and understanding of the situation.
Speaking through his interpreter, Alex Davis, "Big Foot" told MMAJunkie.com, "I'm very frustrated and disappointed that someone who is considered one of the best fighters in the world would basically withdraw from the competition and refuse to fight me. Overeem is a great guy, but I don't really like what he's doing right now as a fighter.
"Either way, I don't pick my opponents. I would have much rather Cain Velasquez stepped in for Overeem because I want to prove I'm the best heavyweight in the world. If it's Cormier, I won't take him lightly, either. I'll continue to train just as hard as if I was still facing Overeem."
The remaining semifinal matchup hosts the hard-hitting Russian, Sergei Kharitonov and the always-vocal American, Josh Barnett.
Additional non-tournament bouts rumored on the September card include a middleweight title fight between current champion, Ronaldo "Jacare" Souza and Luke Rockhold.
Two light heavyweight duels are scheduled. The first pairs up former champion Muhammed "King Mo" Lawal and jui-jitsu ace Roger Gracie and the second will be a slug-fest between Gegard Mousasi and Mike Pyle.
Rounding off the night's action will be a lightweight matchup between Josh Thomson and Maximo Blanco.
Stay tuned to Bleacher Report with any breaking news regarding these rumored pairings. If the venue remains intact, tune in Sept. 10 for a night of tremendous action.
I welcome your comments.
Todd Seyler
"Like" me on Facebook and/or "Follow" me on Twitter
Like the new article format? Send us feedback!