2011 WSOP Main Event: Breaking Down the Final Table's November Nine
Gaye Gerard/Getty Images

The 2011 World Series of Poker's main event is finally here!
After all the rounds, the knockouts, the big stacks, the bluffs and all the winning it has finally come down to nine of the best players in this year tournament.
These elite poker players are known as the November nine.
Let's take a quick look at the November nine; learn a little bit about them, check out their chip count, and discuss their chances at winning:
| Player | Chip Count |
| --- | --- |
| Martin Staszko | 40.1 million |
| Eoghan O'Dea | 33.9 million |
| Matt Giannetti | 24.7 million |
| Phil Collins | 23.8 million |
| Ben Lamb | 20.8 million |
| Badih Bounahr | 19.7 million |
| Pius Heinz | 16.4 million |
| Anton Makiievskyi | 13.8 million |
| Sam Holden | 12.3 million |
Begin Slideshow

»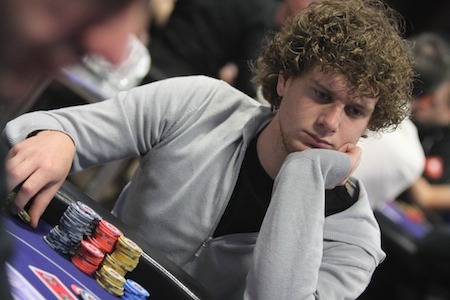 http://www.pokerstarsblog.com/ukipt/2010/ukipt-edinburgh-day-2-level-14-blinds-15-072652.html
This young 22 year old from Britain is looking to be the first Brit to be the world champion of poker since 1990, and only the second ever.
He will start out the final table at seat No. 9 with a chip count of $12.3.
Anton Makiievskyi was the chip leader for a stint during the tournament, so he definitely knows what he is doing.
He is capable of winning this thing, and at seat eight I think he will be going in with a very dangerous underdog edge on table.
He has a $13.8 million stack to start off.
http://www.pokerlistings.com/o-dea-lamb-headline-2011-wsop-november-nine-92596
Heinz is a player from Germany who made his name as an online start by the name of "MastaP89".
He is the first German player to play in the November Nine, and he is considered to be a newbie in live poker.
That being said he is coming in hot at the seven spot with $16.4 million.
http://oneclick.indiatimes.com/photo/02Wo3qD3lMcEl?q=Belize
Bounahra made his claim to fame on the island of Aruba as the runner up in the UB Aruba Poker Classic of 2009.
He finished 51st in the 2008 WSOP.
Boundahra is more of a recognizable name and is in the sixth chair with $19.7 million.
Lamb is the most recognizable name of the 2011 WSOP November Nine, and even though he is going to start off at five, many consider him to be a favorite at the final table.
He can easily make his way up with big hands and should be able to grow his stack quickly from his starting total of $20.8 million.
http://www.pokernews.com/news/2010/08/phil-collins-rocks-day-2-of-wpt-legends-of-poker-8762.htm
No, this isn't Phil Collins the singer, so don't get your hopes up!
That being said, this Phil Collins is still quite a star.
He studied business at the University of South Carolina and has been an Internet pro since 2007.
He comes in at four with a good chance to win starting at $23.8 million.
http://www.pokerlistings.com/live-tournaments/wsop/2011/event58/live-updates?day=8
Giannetti is a young American poker player who has made his name in the live tournament games.
He spent some time in the lead, and it wouldn't be surprising to see him take it back.
He's currently in the third seat with $24.7 million in chips.
Eoghan O'Dea is the son of famous Irish professional poker palyer and 1998 bracelet winner Donnacha O'Dea.
Eoghan could be considered a favorite to win, being that it is in his blood line. But, I also feel he is very comfortable where he is at and could be prepared to stand pat until it's time to make a run.
He will start off the final table at second place and $33.9 million.
http://espn.go.com/poker/story/_/id/6785486/2011-wsop-nine-players-remain-contention-2011-wsop-main-event-title-meet-2011-november-nine
Staszko will be entering the final table in first place and with an utterly commanding lead. He is just about six million ahead of second place, but will be playing with the pressure of playing with the lead.
He will have to be discipline enough to not let his stack go, but he can't grow complacent as well.
Personally, I think he will have the hardest time at the table. He will be on the hot seat and in the spotlight.
He starts of with a $40.1 million stack.
Gaye Gerard/Getty Images

Prediction:
It's really tough to say how the cards will fall, but if I had to put my money on it I would bet on Ben Lamb to come away as the 2011 World Series of Poker champion.
With the Main Event underway, tune to Bleacher Report's Poker Page to stay updated on everything happening at the 2011 WSOP.
Follow Andrew on Twitter: @AKonSports