UFC Fight Night 25: Why Jake Ellenberger Will Be a Huge Test for Jake Shields
July 20, 2011
How will the skill set of Jake Ellenberger serve as a huge test for former welterweight title contender Jake Shields?
To answer this question, some history is necessary. Shields' arrival into the UFC in October of 2010 was as much hype and anticipation as it was actual performance.
Earning a narrow split-decision victory over Martin Kampmann at UFC 121, Shields stated the weight cut necessary to make welterweight taxed his energy supply and negatively impacted his performance.
With the championship belt on the line against Georges St-Pierre at UFC 129, Shields' conditioning was no longer a factor.
However, the Brazilian jiu-jitsu ace could not mount a consistent offense versus the dynamic St-Pierre and suffered his first defeat in the octagon since 2004.
An extremely talented fighter with an amazing ground game and 10 submission victories to his credit, Shields is elevating his stand-up striking so as to balance out his overall skill set.  
Fast forward to UFC Fight Night 25 in September of this year, and Shields will have his hands full when he faces Jake "The Juggernaut" Ellenberger.
With an overall MMA record of 25-5, the hard-hitting Ellenberger has 16 knockout victories to his credit, with three (T)KO stoppages within the UFC.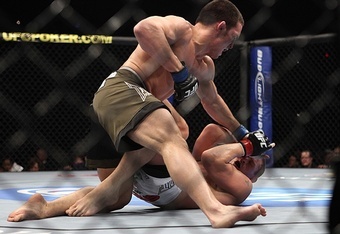 Possessing a strong wrestling pedigree, Ellenberger's grappling game should be somewhat equal to Shields'.  
The difference on the ground will be the jiu-jitsu brilliance of Shields. Ellenberger's minimal experience as a BJJ practitioner could haunt the Nebraska native if this fight ends up on the mat.
If this fight goes to the ground is the strong variable that deserves attention.
Ellenberger has been successful in defending 89 percent of the takedown attempts executed. He is extremely challenging to get down to the mat.
Shields experience in fighting highly successful grapplers has not thwarted his efforts in the past to take the fight to the ground and dominate by utilizing his advantage in the jiu-jitsu department.
Fighting the legendary Greco-Roman grappler Dan Henderson in April of 2010, Shields executed brilliant takedowns on Henderson, passed his guard, mounted the icon and rained down devastating punches and elbows.
The real question is whether or not Ellenberger is cut from the same mold as a Henderson. Both are excellent wrestlers. Both have dynamite for right hands. Both possess iron chins.
However, Ellenberger is a young, motivated, extremely powerful welterweight contender who understands what a victory over an established MMA veteran like Shields would mean for his career.
Ellenberger also realizes Shields will not want to stand and trade in the center of the octagon. The boxing prowess, solid chin and dynamite in his punches Ellenberger possesses holds a distinct advantage over Shields' developing striking game.
Therefore, if Ellenberger is patient and does not overextend or overcommit to his strikes, he will be able to avoid the takedown opportunities of Shields and keep this fight standing.
That subtle difference is what plagued Henderson against Shields and allowed their fight to go to the ground. That difference is what Ellenberger must avoid to be successful.
Is Ellenberger's fate the same as Henderson's when fighting Shields?
If the fights stays standing, Ellenberger will be a huge test for Shields.
Conversely, if Shields can successfully execute his game plan and take Ellenberger to the mat, I feel that "The Juggernaut's" fate will be exactly the same as Henderson's.
I welcome your comments.
Todd Seyler
"Like" me on Facebook and/or Follow me on Twitter