Cleveland Indians: What More Does Jason Kipnis Have to Do to Be Called Up?
July 19, 2011
Christian Petersen/Getty Images
Based on the fact that Jason Kipnis is fresh off participating in both the AAA All-Star game and the Futures game (where he hit a lead-off home run off top Braves prospect Julio Teheran), it appears that all of baseball recognizes how good Jason Kipnis is.
If only the Cleveland Indians felt the same way.
I've been on the Jason Kipnis bandwagon for a long time, but I do understand the patience involved in promoting Kipnis to the big league club. Calling him up before the season (and thus bypassing the AAA level entirely) would've only made sense if the Tribe wasn't competing in 2011.
Obviously, the front office knew this team could surprise people and planned accordingly, signing Orlando Cabrera. Turns out putting off promoting Jason Kipnis before the season was the right choice.
But what excuse do they have now?
Back on May 9, I wrote an article arguing that Orlando Cabrera shouldn't be the everyday second baseman anymore. I felt that there was a perfectly good option at AAA ready to play at a high level and take the Indians even farther.
Turns out the front office felt the same way and moved on from Cabrera a month later. The problem is they moved on to Cord Phelps.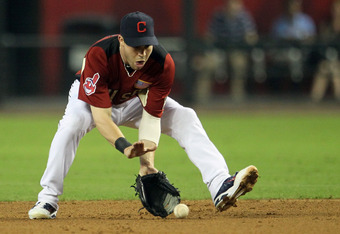 Jeff Gross/Getty Images
Cord Phelps didn't work out either and was demoted after 19 games. Now we're on to the Luis Valbuena era 2.0, which is going about as well as the first Luis Valbuena era. How on Earth is calling up Luis Valbuena supposed to fix our offensive woes?
Taking a look at the collective stats of the four players the Tribe has used at second base this year (Orlando Cabrera, Cord Phelps, Adam Everett and Luis Valbuena) paints a sorry picture of ineptitude. If you have a weak stomach you might want to look away.
Here they are: .233/.278/.307 slash line, .585 OPS, 5 HR, 43 RBI, 8 SB in 465 PAs, 65:25 SO:BB, -0.7 WAR (0.0 dWAR), 15 errors in 518 chances (.967 fielding percentage).
Ladies and gentlemen, these players are on your contending Cleveland Indians team.
So what's keeping the Indians from calling up Kipnis?
Check out his AAA stats: .287/.370/.488 slash line, .858 OPS, 11 HR, 53 RBI, 12 SB in 383 PAs, 66:43 SO:BB, 10 errors in 364 chances (.973 fielding percentage).
The Indians need an offensive spark and are getting nothing out of the second base position; why not just give Kipnis a chance? The argument that Kipnis' defense isn't ready yet doesn't work; he has a better fielding percentage than the players he'd be replacing (who have played at a replacement level anyway).
Based on his career minor league numbers, it's not unreasonable to expect these stats out of him the rest of the way (assuming he is promoted for Wednesday's game): .300/.381/.487 slash line, .868 OPS, 7 HR, 36 RBI, 6 SB in 269 PAs, 47:28 SO:BB, 9 errors in 321 chances (.972 fielding percentage)
Comparing that to what we've gotten out of the Cabrera/Phelps/Everett/Valbuena quartet, that looks insanely good. Starting Kipnis would allow Cabrera to be the 2B/SS/3B super-sub and clubhouse glue guy that he's best suited for at this stage of his career. It's sad but it's true; Orlando Cabrera's best days are behind him.
I'm tired of checking Twitter and the Indians homepage every day hoping that we'll finally see Jason Kipnis is a Cleveland uniform. Bringing him up would be like a deadline deal on its own. Replacing Valbuena's production with Kipnis? Sign me up.
It's time the Tribe stops beating around the bush and calls up Kipnis. Phelps and Valbuena have gotten the chance already; there's no argument left for leaving Kipnis stuck in Columbus.