Sin Cara's WWE Wellness Violation: Team Triple H Whiffs Again
July 19, 2011
WWE's new talent division, headed up by Triple H who traded in a sledgehammer for a suit, has taken the wrestling world by storm—one flop at a time. 
During his young tenure at the helm of WWE's new talent division, the future WWE Hall of Famer has demonstrated Al Davis-like precision in selecting talent.  
Just where does Triple H find these workers from?
Is his next move to sign the recently released Casey Anthony to a contract?  She'd certainly have some 'splainin to do once the Miz girl goes missing (or is it pronounced Mizzing?)
Triple H's first failed new talent was Kharma, the unstable yet talented super heavyweight diva who hit the ground running upon her debut in the WWE. 
After first appearing at WWE Extreme Rules, Kharma would go on to lay waste to a small handful of unfortunate WWE Divas, injecting as much power as intimidation during her one-sided slaughtering of WWE's trained models that was reminiscent of an angry pimp.   
Just as it seemed that the world-renowned talent couldn't get hotter, Kharma, real name Kia Stevens, messed around and got pregnant. 
The pregnancy, followed by a perplexing angle to write Stevens off of television, instantaneously removed a spark from the WWE Diva's division that had been absent for far too long.  Thanks to magic of politics and PR, where firing a pregnant individual is an act of sin, Stevens is expected be back  following WrestleMania season next year.
On a side note, a sizable crowd, that was evidently blinded by the all too familiar and detrimental Internet wrestling delusion, took up for the inexplicable err in judgment from Stevens by suggesting that her pregnancy couldn't possibly be an act of instability especially if it was intentional.
Hilarious.
It can easily be argued that the idea to intentionally get pregnant during the biggest push of one's professional career is even more unstable than the idiocy of a featured female WWE performer failing to use contraception in this day and age of 2011. 
Stop me if this makes sense—a woman competing in the most dangerous profession in entertainment, ripe with a death toll that seems to rise by the day, feels it's a good idea to get pregnant? 
Makes plenty of sense. 
There was much angst in signing Stevens due to a past that has suggested she does have an unstable personality. 
Stevens famously attacked noted hack Bubba the Love Sponge backstage at a TNA taping after the oversized shock jock made thoughtless remarks about Haiti. 
Yet Triple H and the WWE decided it would be worth the risk.  The risk seemed to be on its way to paying off quickly just weeks into Kharma's introduction to the WWE Universe, however fate eventually rolled snake eyes and now she-gone. 
International sensation Sin Cara (formerly known as Mistico) is now the latest in a duo of failed experiments from the WWE's new talent division. 
Since his first botch in the WWE during a post-match run in against Sheamus, I've been an ardent critic of the Mexican Superstar with the underlining notion being that one day he will hopefully adjust to the WWE style and become a big star. 
With the news coming out that Sin Cara tested positive for anabolic steroids and will be, at the very least, suspended for a month, the odds stacked against Sin Cara only accentuate said criticisms. 
The new talent division was one of many aspects of WWE's business, highlighted at the last investor's meeting, that was exalted as an entity that would help pull WWE out of its current financial downturn.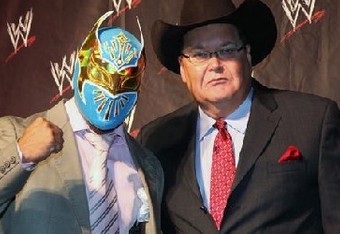 WWE is going to have a hell of a time explaining to their investors, during their upcoming shareholder's meeting to discuss 2Q-11 earnings, just exactly how that's working out for them in the wake of the two poster children for future super stardom now gone for the year due to reckless pregnancy and alleged steroid abuse. 
Lucky for the fed, WWE investors have proven in the past to be more in the dark than Kharma's in-ring pregnancy supporters. 
The announcement of Sin Cara's involvement in the always dangerous Money in the Bank match elicited nervous groans from some of the more cynical pro wrestling pundits, including yours truly. 
Sin Cara had quickly developed a reputation for botching high-risk maneuvers en route to the SmackDown MITB match, and with ladders thrown into the mix, one botch could prove to be dangerous if not deadly. 
Luckily for Sin Cara, and the field, Cara's action was kept relatively limited, featuring a few impressive high spots before Triple H's first-born star was powerbombed through a ladder by Sheamus and unceremoniously stretchered out of the Allstate Arena in Chicago. 
Due to the fact that Sin Cara was battling mounting criticisms during his much ballyhooed run in the WWE, preceded by a high-profile contract signing and press conference alongside WWE Hall of Famer Jim Ross, there are now reports that WWE may just throw up their hands and cut their losses altogether.
Such a move should presumably put Triple H squarely in John Laurinaitis' (WWE's VP of talent relations who has failed to re-sign several departing former world champions in recent years) hot seat, however it is worth mentioning that both Sin Cara and Kharma were able to achieve a measure of popularity and relevance before being  promptly written off from television.
Let's hope for Triple H's sake, that the third time will be the charm. 
Follow Big Nasty on Twitter @ThisIsNasty.