The 25 Biggest Stars of the Past 25 Years (and Their Most Iconic Moment)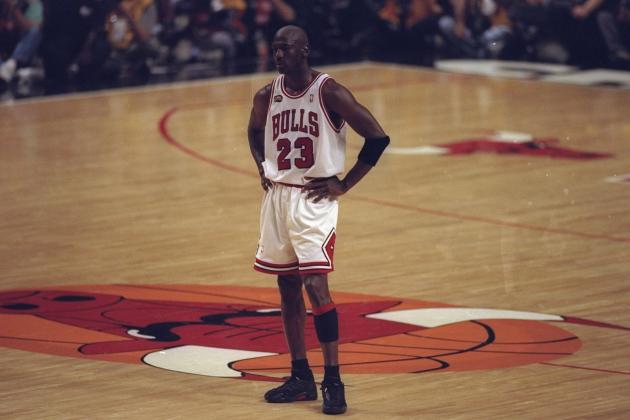 Jonathan Daniel/Getty Images

With the game on the line and the final seconds ticking off the clock, only true stars can put the entire world on their shoulders and create the magical moments that have affected generations and proved individual heroism.
Throughout the past 25 years, numerous athletes have changed the fortunes of franchises and changed history forever.
While these players were most successful during these specific years, they are continuously admired and remembered for their effect on sports, as well as used as measurements sticks for future youngsters.
There have been a plethora of stars and remarkable athletes, but few of them can be labeled as iconic to their craft.
These stars avoided performance enhancing drugs and the superfluous media attention that can often misguide an athlete to lead their respective teams to success.
Here are the biggest stars of the past 25 years, with their most iconic moments.
Enjoy.
Begin Slideshow

»
The all-time home run leader with 762, Barry Bonds tainted baseball for his alleged involvement with performance enhancing drugs. There will always be an asterisk next to his name. Ironically, if he had avoided bulking up, he would still have become one of the best players ever.
With 583 career home runs, Mark McGwire would seem to be a lock to be selected to the Hall of Fame, but steroid controversy has clouded this man's career. His most significant stat is averaging a home run once every 10.61 at bats, the lowest at bats per home run ratio in baseball history.
Sammy Sosa is the last man who let the opportunity to bulk up allegedly fog his judgement. With 609 career home runs, Sosa was once in a zealous battle with McGwire for most home runs in a single season.
These three changed the game, but not necessarily for the better.
The temptation was too much for these stars.
Being named "Olympian of the Century" is the one achievement that can truly define this man's career.
The former track and field athlete won 10 Olympic medals (nine gold) and 10 World Championship medals (eight gold).
A prolific sprinter and long jumper, Lewis set world records in the 100m, 4 x 100 m and 4 x 200 m relays.
He had one of the longest streaks in sports with 65 consecutive wins in the long jump over 10 years.
Lewis brought true recognition and attention to track and field.
With the most iconic last name in sports, this Jamaican sprinter is a three-time Olympic gold medalist and considered to be the fastest man in the world.
He became the youngest-ever gold medalist when he won the 200 m at the 2002 World Junior Championships.
At the CARIFTA Games in 2004, Bolt became the first junior sprinter to run the 200 m in under 20 seconds (19.93 seconds).
He holds the 100 m world record of 9.58 seconds, and became the first man to set world records in all three events at a single Olympics.
A remarkable athlete.
If it weren't for numerous injuries throughout her career, Serena might have been the best female tennis player ever.
She is ninth all time with 27 Grand Slam titles and is only the fifth woman in history to have held all four singles titles simultaneously.
She has won more money than any other female athlete in the history of sports.
Quite the achievement considering she is the younger sister of the first black woman to reach a World No. 1 ranking.
Her greatest feat came at the expense of then-World No. 1 Martina Hingis in 1999, when Serena won her first Grand Slam.
The rest is history.
This man was the face of tennis during his 15-year career.
While he battled Andre Agassi almost every year for the title, Sampras was constantly on an island by himself.
He finished with a World No. 1 ranking for a record six consecutive years from 1993 to 1998.
Sampras also spent 286 weeks at No. 1, the most of any player ever.
Thoroughly missed by most Americans, he is the last player American player to win Wimbledon and the ATP World Tour Finals.
He stands alone as the winner of seven overall wins in Wimbledon, and this moment occurred in 2000, when he reached the milestone.
Not only was she a star soccer player, but Hamm stole the spotlight from her star-husband Nomar Garciaparra while he was on the Boston Red Sox and one of the best players in baseball.
She has more international goals than any other player in the history of United States soccer history with 158 and has appeared in 275 international matches.
She was chosen by Pele as one of FIFA's 125 best living players and is a founding member of the Washington Freedom.
Hamm was selected for induction into the National Soccer Hall of Fame in 2007 and was inducted into the Texas Sports Hall of Fame in 2008.
While she was the youngest player ever to win a World Cup Championship at the age of 19 in 1991, her best moment came in 1999, when the women's national team won the Cup a second time.
A true icon for all female soccer players.
It's rare to see a 6'10" gargantuan playing baseball rather than basketball, but this man dominated his craft like few others have.
With a dominating fastball that routinely reached 100 mph and a hard-biting slider, "The Big Unit" was often unhittable.
Johnson finished his career first in strikeouts per nine innings with 10.67 and second all-time in total strikeouts with 4,875 (first among lefties).
Understandably, considering his wild tendencies, he finished third in hit batsmen (188) and 10th in hits allowed per nine innings pitched (7.24).
Johnson has pitched two no-hitters, including the 17th perfect game in history.
He was a monster on the mound.
This legend is the only person ever to win a Stanley Cup as a player and an owner.
He is the all-time leader in goals per game with 0.75 in his 17-year career with the Pittsburgh Penguins.
One of three players to return to the game after being inducted into the Hall of Fame, Lemieux was referred to as the "savior" of the Penguins and is known for changing the fortunes of a franchise in need.
His playmaking ability was remarkable considering his 6'4" frame.
Sid the Kid is on his way to having a similar effect.
Known for popularizing tennis in the 1990s with his charisma and flamboyant attire, Agassi changed the game of tennis.
An eight-time Grand Slam champion, he was the first man to win all four Grand Slams on three different surfaces, a feat that is more difficult than it sounds.
While his baffling hair styles may have distracted many opponents and led to many victories, Agassi brought attention to tennis, and his rivalry with Pete Sampras was one of the best in sports.
Tennis surely misses this pioneer.
This superior athlete was the first to be named in All-Star in two major sports.
After winning the Heisman Trophy at Auburn in 1985, Jackson was drafted by the Tampa Bay Buccaneers with the first-overall pick, but didn't sign and was drafted the following year by the Los Angeles Raiders in the seventh round.
He ran a 4.12 40-yard dash, the fastest ever recorded at an NFL Combine.
In four NFL seasons, Jackson rushed for 2,782 yards and 16 touchdowns while averaging 5.4 yards per carry. This was remarkable considering he was Marcus Allen's backup.
He also had a record 229 yards during a Monday Night Football game in 1987, only 29 days after his first NFL carry.
While a hip injury derailed his career, he is remembered as one of the most prolific athletes in history.
While he's not MJ, Kobe has been a prolific winner during his entire career with the Los Angeles Lakers and became the face of the franchise after Shaq left.
After being drafted in 1996 by the Charlotte Hornets with the 13th pick out of high school and being traded to the Lakers, he quickly established himself as a unique athlete, winning the 1997 Slam Dunk Competition.
His 81 points scored in a game in 2006 is second to only Wilt Chamberlain's 100-point game.
A five-time champion, Kobe has taken the Lakers on his back for the majority of his Shaq-less career, despite a tough breakup with the once dominant center.
His life is never bereft of comparisons to Jordan.
This man pioneered the way for goalies to be more active in the offensive game. The NHL even changed its rules regarding the legality of goalies handling the puck outside of the goal crease.
His passing ability, puck handling, positional play and standing up style made him into one of the most unique players ever in the NHL.
During his 19 years with the New Jersey Devils, he won three Cups and was in the playoffs every year but two.
Brodeur has two Olympic gold medals and is the NHL's all-time leader in wins, shutouts and games played.
While he is the only goalie in history to have eight 40-win seasons, his most notable achievement is becoming one of only two goalies to score goals in the regular season and playoffs.
That is unheard of in hockey.
While his alleged personal life seemingly clouded his playing prowess, Woods is known as arguably the best golfer of all time.
The highest paid athlete in the world, Woods received an estimated $90.5 million in 2010.
Woods has won 14 golf championships, second to Jack Nicklaus, and has more career major wins and career PGA Tour wins than any active golfer.
The youngest and fastest to win 50 tournaments on tour, Woods is also the second golfer to have achieved a career Grand Slam three times.
He was once seen as a driven hero, a model citizen.
Unorthodox decision making on his part has led to mass disrespect and disappointment.
A legacy in the NFL, Manning quickly separated himself from his father, once the Saints' quarterback.
After being drafted first overall in 1998 by the Indianapolis Colts, Manning went on to achieve NFL records for consecutive seasons with 4,000 or more yards passing and the most total seasons with 4,000 or more yards passing in a career.
He holds the sixth highest career passer rating in NFL history with 94.9 and the highest single-season passer rating, 121.1 in 2004.
While he is known for leading the Colts in every quarterbacking category, his tedious pre-snap routine has become his signature.
He is the best at lulling defenses to sleep with his concise cadences.
Iron Mike is arguably the most vicious boxer in history.
While many remember him for biting off Evander Holyfield's ear during their epic match, Tyson was also the youngest boxer to win the WBC, WBA and IBF world heavyweight titles at 20 years old.
He dominated through intimidation and recklessness.
A fearless competitor.
Known for his 12,000-calorie per day diet, this lanky swimmer has won 16 Olympic medals, making him the most successful Olympian ever at both games he appeared in.
He tied Eric Heiden for most gold medals at an individual Games and then beat the record with eight in the 2008 Beijing Games.
Phelps has 59 total medals in international competition and won Swimmer of the Year six times.
He holds a plethora of World records, but his 200 m fly record is the most significant.
The true definition of an Olympian.
At 325 pounds, this man-child dominated through brute force and sheer will.
After becoming the first-overall pick by the Orlando Magic in 1992, the Big Diesel went on to win three NBA Championships with the Lakers after signing there as a free agent. He won one more with the Miami Heat as well.
While he tried his hand at acting, he prospered most on the basketball court.
Recently retired, Shaq left a legacy on the game that few big men can match.
He has NBA Rookie of the Year award, 15 All-Star game selections, three All-Star Game MVP awards, three Finals MVP awards, two scoring titles, 14 All-NBA team selections and three NBA All-Defensive Team selections to his credit.
The game has been bereft of such dominance since he left.
Pound for pound, this is the strongest man on the planet.
The first eight-division world champion and the first to win the lineal championship in four different weight classes, Pacquiao was named "Fighter of the Decade" for the 21st century by the Boxing Writers Association of America (BWAA).
The rest of boxing literally shakes when they think about fighting this man.
Jenn Sterger trembles at the thought of this man being one of the best ever, but stats can't be ignored.
The 20-year veteran, known as a gunslinger and for his feisty style of play at the quarterback position, is the only quarterback in history to throw for over 70,000 yards, over 500 touchdowns, over 300 interceptions and over 10,000 passes.
The Iron Man of the NFL, Favre started an NFL-record 297 consecutive starts, or 321 including the playoffs.
He's the only player to win the MVP three consecutive times while making two Super Bowl appearances (only winning one).
He holds records in almost every category, good and bad, even leading the league in sacks received.
One of the most electric arms in history and arguably the toughest individual ever at the quarterback position.
If it wasn't for injuries, "The Natural" would've been arguably the best player to ever grace center field.
Early in his career, he was a prosperous home run hitter and one of the best defensive players ever.
Tied for the record of most consecutive games with a home run (eight games), Griffey also won 10 Gold Glove awards and was selected to 13 All-Star games.
It was heartbreaking to see injuries derail his prolific career.
Even with his numerous handicaps, Ken Griffey Sr.'s son finished with 630 home runs, 1,836 RBI and 2,781 hits.
Arguably the most aesthetically pleasing swing in history.
A hero to many.
The "Iron Man" gained plenty of respect throughout his career, but deserves credit for staying with the Baltimore Orioles for his entire 21-year career.
Ripken played in a record 2,632 straight games over 17 years and was a 19-time All-Star.
With 3,184 hits in his career, he is considered to be one of the best shortstops and third basemen ever. With a 6'4" frame, he started a trend of larger shortstops, which was once rarely seen with the likes of Ozzy Smith patrolling the left side.
He was a first-ballot Hall of Famer in 2007 with the third highest voting percentage ever (98.53), behind pitchers Tom Seaver and Nolan Ryan.
When he broke Lou Gehrig's record for most consecutive games played with 2,131 in 1995, he hit a home run. This moment was voted as the "Most Memorable Moment" in MLB history by fans.
His record is seen as unbreakable.
This future Hall of Famer paved the way for late-round picks to carve out successful careers.
With three Super Bowl wins, he turned the New England Patriots into a dynasty and is ubiquitously talked about as one of the best quarterbacks ever to play football.
He has 261 touchdowns (only 103 interceptions), 34,744 yards passing and an eye-popping 95.2 rating in his career.
He's not even close to being done.
This footballer is a hero in Brazil and an icon to fans around the world.
A dominant scorer during the late 1990s and early 2000s, Ronaldo was European Footballer of the Year in 1997 at the tender age of 21, quickly establishing himself as a young star.
He was "Player of the Decade" in 2010 through an online poll and was named to the FIFA 100, a list compiled by Pele.
In 97 international matches with Brazil, Ronaldo scored 62 goals, and he helped Brazil win the 1994 and 2002 World Cups.
He became the highest goal scorer in history with his 15th goal in 2006.
During his prime, he might have been the most famous man in the world.
Most regard Rice as the best receiver ever to grace the football field.
The all-time leader in touchdowns with 208, he was selected to 13 Pro Bowls, named All-Pro 11 times and won three Super Bowls with the San Francisco 49ers.
Rice accumulated 1,549 receptions for 22,895 yards.
He revolutionized the wide receiver position.
The newest member of the 3,000-hit club has been the face of the Yankees and baseball since his debut in 2005.
As an eligible rookie in 1996, he won Rookie of the Year and led the Yanks to a World Series Title.
Captain since 2003, Jeter is the all-time leader in hits among shortstops and has left a legacy on his franchise that is more valuable than just stats.
A great player, leader and icon for fans around baseball.
While L.T.'s legal troubles have tried to cloud his Hall of Fame career, he is still remembered for his reckless style of play and for changing the linebacker position forever.
Playing his entire career with the New York Giants, he essentially created the importance of the left tackle position because he was constantly attacking the opposing quarterback's blindside.
From 1984-1990, Taylor finished with double-digit sacks, including 20.5 in 1986, the year he was named MVP.
He also won a record three Defensive Player of the Year awards.
Few disagree that he is the best defensive player of all time.
Words can't do this star justice.
There is a reason this man was known as "The Great One."
After retiring in 1999, Gretzky held 40 regular-season records, 15 playoff records and six All-Star records.
Not only was he the only NHL player to total over 200 points in one season, which he did four times, he recorded over 100 points in 16 seasons.
He won four Stanley Cups with the Edmonton Oilers.
His jersey number, 99, was retired by every team in the NHL.
The ultimate display of respect.
No man has popularized a game like this icon did over the course of his career. However, his greatest achievement may have been his role in Space Jam.
After winning a National Championship for UNC in 1982, Jordan was drafted by the Chicago Bulls in 1984 with the third pick.
His leaping ability and scoring prowess caused fans to drool on themselves every moment.
After winning his first championship in 1991, he went on to help the Bulls secure a three-peat.
Jordan won five MVP awards, 10 scoring titles, three steals titles and six NBA Finals MVP awards.
He holds the NBA records for highest career regular season scoring average with 30.12 and highest career playoff scoring average with 33.45.
There will never be another Air Jordan.
Follow Zack Pumerantz on Twitter @z_pumerantz