WWE Fans Get What They Want with CM Punk, Christian, and Daniel Bryan Wins
July 18, 2011
Mark A. Wallenfang/Getty Images
The unimaginable happened last night in Chicago: Vince McMahon and his WWE bookers actually put on a quality pay per view.  After seeing what transpired in the Windy City, many wrestling fans and almost all of the IWC are arguing that Money in the Bank was the best pay-per-view the company has organized in years—even better than recent editions of Wrestlemania.
It's awfully tough to shoot down this argument, given the fact that, for the first time in what seems like an eternity, the booking for the night was tremendous.  Obviously, the buzz begins and ends with CM Punk's stunning upset of the "New York Yankees" of wrestling: John Cena.
With an awesomely rabid crowd backing his every move, Punk did exactly what he said he was going to do, as he walked out of Allstate Arena with the WWE Championship.  What makes Punk's feat that much more special is the fact that this was the last possible scenario wrestling fans thought would occur.
Given his notorious contract situation with WWE, many thought Punk had no chance of holding the championship belt once MITB went off the air last night; having John Cena or Raw's MITB winner Alberto Del Rio win the title seemed much more likely.
But now that Vinnie Mac has given the IWC what they wanted and let Punk keep the belt, it leaves fans begging for more and opens up the door to the tempting thought that maybe, just maybe, Punk is staying with WWE after all.
That was just the tipping point in a night full of booking surprises.  Not only did McMahon take the WWE Championship off of Super Cena, he also stripped Megastar Randy Orton of his World Heavyweight Championship on the same night!  And if that wasn't enough, the WWE gave a huge push to everybody's new favorite technical wrestler Daniel Bryan, who won Smackdown's MITB match. 
Wrestling fans should be encouraged from what they saw out of the booking team last night.  First, there will now be renewed interest and compelling new storylines for fans in the near future—particularly for both Cena and Orton.  In my opinion, wrestling's biggest stars are more entertaining when they're chasing the biggest titles, not holding them.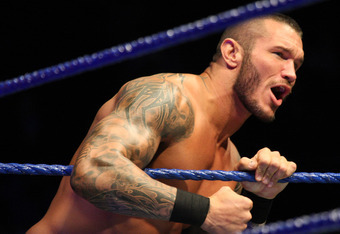 Gallo Images/Getty Images
Stripping Super Cena and Mega Orton of their belts will breathe new life into their characters, as they had grown stale so far in 2011.  Second, McMahon proved last night that he is willing to do what it takes to turn his staggering ship around. 
Sure, he could've played it safe and kept the titles on his two biggest draws in the company in Cena and Orton.  But by having both titles change hands to two fan favorites in Punk and Christian, it's evident that VKM is consciously trying to boost his sagging ratings and PPV buy rates.
Finally, by giving underground sensation Daniel Bryan a chance at the golden carrot, McMahon declared that—yes, wrestling fans and IWC—he is listening to you!  Giving Bryan, Punk, and Christian the spotlights they were lacking for so long proves that Mr. McMahon still has his finger on the pulse his fan base.
Fans, he finally gave you what you wanted at MITB.  It's only appropriate that you return the favor and tune it to see the compelling aftermath.