Red Sox's Crawford Will Return Tomorrow; Reddick Should Displace Drew In RF
July 18, 2011
Left fielder Carl Crawford is scheduled to rejoin the Red Sox lineup for the start of the upcoming series in Baltimore, so the question that confronts the front office is: What will Sox manager Terry Francona do with red-hot Josh Reddick once Crawford is back on the field?
Right fielder J.D. Drew has been a black hole in the offensive attack—his play has been, in a word, offensive. General manager Theo Epstein has reportedly been toying with the idea of emptying the farm system in order to obtain oft-injured Carlos Beltran from the Mets, but the ballclub's solution to the right field dilemma may already be on its roster: Reddick.
Of Reddick, Francona says: "He's been terrific, and to be honest with you, until we're there, I don't know how to make that work perfectly. We're just going to try to win. Whoever we think can help us win, we'll play."
Francona is a master of understatement. J.R. is hitting .379, with three HR and 17 RBI in just 66 at-bats entering tonight's game vs. Tampa Bay. What's more, the left-handed-hitting Reddick is batting a blistering .615 against southpaws (while Drew is hitting just .205 against left-handed pitchers).
This would seem to be a no-brainer, but if you read my Web site with regularity, you know I often perceive situations thusly, only to look on as Francona makes decisions that boggle my mind.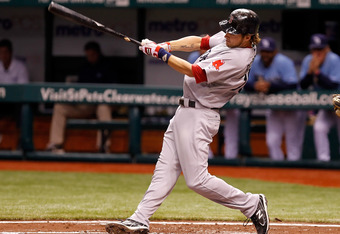 J. Meric/Getty Images
It is undeniable Reddick has not been the type of hitter the front office and manager prefer. He is a see-the-ball, hit-the-ball kind of batter. When I have interviewed him, he has been unapologetic about his approach—it is what his father taught him and what got him to the big leagues in the first place.
In his first few years in pro ball, he tried the organization's approach, but often struggled with the transition—and on two occasions he made the unilateral decision to go back to doing things his way.
But each spring he went back to the drawing board. He went to Fort Myers, listened to the coaches and applied himself to being the best hitter he could be. The hard work has finally started to pay dividends.
He is hitting the ball with authority, but he is also getting on base with more consistency—he has drawn six BB in 66 AB (a nine percent walk-rate). It may not be optimal, but it is a heckuva lot better than the three BB he drew in his first 121 career ABs.
And so it says here the front office and the manager should reward Reddick's efforts. He is finally becoming the kind of hitter they always thought he might become. He is likely a big part of their future.
Drew is a part of their past. After I watched him in Arizona a couple of years ago, I wrote he could become the next Trot Nixon (although better, as I think he'll have more power and a far superior arm). It says here it is time for the front office to let Red Sox Nation see what he has got under the hood.
————————————————–
Regarding Crawford, Francona said: "He didn't swing the bat great, but he is healthy… He got some at-bats out of the way. (As for his) timing at the plate, hopefully it will come quick. He'll be ready to go tomorrow. There are no issues physically. He felt really good (while rehabbing), so that's great."