2011 British Open: Is American Golf in Trouble?
July 17, 2011
Jamie Squire/Getty Images
OK.
I am officially worried about American men's golf.  
I will say it, shout it, I will suggest a golf summit with President Obama.  Invite Tim Finchem, please.
With all the American flags on the Open Championship leaderboard, there seemed to be a satisfaction with—pause, throat clearing—second place.
We are not a second place country.  Second place is for countries like Northern Ireland, the 1.8 million populous land where the last two major champions reside.   Northern Ireland has about the same number of residents as West Virginia.  West Virginia?
Does anybody get it here?  Darren Clarke was already a European Ryder Cup Vice-Captain, which means one thing—he's old (forty-two, to be exact).  He's going to marry the former Miss Northern Ireland.  
The British Open is supposed to go to the top American player, the one that is married to a former Phoenix Suns cheerleader and that drives a Ford and has a penchant for cheeseburgers.
There is no hiding Phil Mickelson's penchant for In-N-Out Burger.  He can drive-thru with the best of em.
On Sunday, Mickelson went OUT in style. He fired a five-under 30 to climb up the Open Championship leaderboard.  The front nine five birdie effort with no blemishes matches his best final round in a major.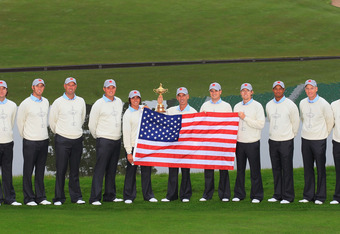 David Cannon/Getty Images
Darren Clarke, who started the championship in the lead, was in idle for the front nine until the seventh where he rolled in a eagle put to press Mickelson and push his lead back to two.
That was the difference, as the weather started to make a blustery mess of Royal St. George's.
Mickelson has had little success on the British—one top-10 at the Open Championship ever.  And, he said at his pre-tournament press conference, "I am trying to pretend it's my first time here."  
No, Phil, you are a 48 million dollar marketing icon from America.  You can't go to Sandwhich and tell them you are pretending anything.  It shows a weakness exposed.
It was a different Mickelson at Sandwich.  It was a player that hung around for three days and then hit the accelerator on Sunday.  The wind was blowing on Sunday and he steadied himself. The weather was awful on the front-nine and he impressed with a 30.  Then he went to the 11th.  He lined up a four-footer for par and hit the putt like Doug Sanders in 1970.  It hit the hole, barely.  He made three more bogeys, and he was never a threat to have his name etched on the Claret Jug.
Then, we had Dustin Johnson playing possum until the back nine.  That's when the lanky American started to show some grit.  He birdied 10 and 12 to get to five-under par.  Then, in All-American fashion, he ripped a mega-drive down the left center of the 14th hole.  He had the par-five in two fever.  Then, unceremoniously, ripped an iron out of bounds.  The ball went over the white soldiers, and he ended up making a double-bogey on the hole.  Can anyone say, it was cow-bell shot that was troubling.
Even Johnson dates an LPGA star in Natalie Gulbis.  
Is there hope?
Looking at the young Americans like Johnson, Rickie Fowler, Hunter Mahan, Nick Watney and Bubba Watson, I think so.  That is a tepid yes.  
Here is the other problem: Johnson has proven he can't finish majors, Watson has proven he can hit it a long way.  Watney has proven he is great on American track, and Fowler looks good in orange.
The last time we chanted USA in a major was when Mickelson's hit the shot from the pine-straw at 13 at Augusta in 2010.  If we go back any further than that, we are talking about Lucas Glover's Bethpage Black U.S. Open win in 2009.  And so, America is 0-6 in the last six majors and 3-for-11 since the 2009 season  Since then....not so good.
Jack, Arnie, Tom, Ben, Bobby, Walter and Sam would not like this trend.  Something is not quite hitting the titanium here.  Those first names roll off the tongue.  Let's try; Rickie, Hunter, Nick, Lucas and Bubba....not so much.
Have I said I'm worried.