WWE Money in the Bank 2011 Predictions: The Start of a New Era?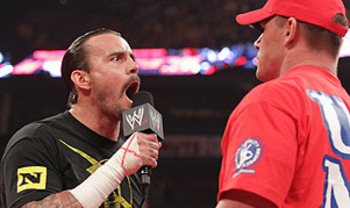 Photo: WWE.com
Tonight, WWE will present it's second annual Money in the Bank pay-per-view event. Last year's event was fun and entertaining, but this year's looks to be one of the biggest events of the year.
The reason for that? CM Punk vs. John Cena.
Yeah, it's not the Money in the Bank Ladder matches themselves that are the most anticipated this year. Those are just extra goodies. The real treat is the WWE Championship match between Cena and Punk. A match that has so many possibilities and so much anticipation that it even has old WWE fans excited to see the outcome.
Before I discuss what could be one of the biggest matches of all-time, though, let's break down the card and see what else WWE has in store for tonight.
Divas Championship: Kelly Kelly (C) vs. Brie Bella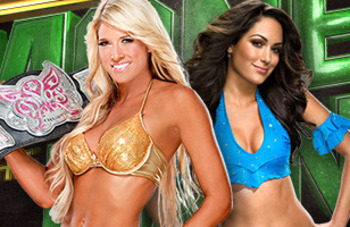 Photo: WWE.com
A few weeks ago, Kelly Kelly got her first taste of a championship when she defeated Brie Bella to become the Divas Champion. Kelly had tried many times over her five-year career to win a championship with no success. The Bellas and their "twin magic" certainly didn't make it easy, but Kelly was finally able to snatch the title.
The Bellas, upset at the loss, have been attacking Kelly both physically and verbally. The twins have recently accused Kelly's eating habits, citing her thin figure. This is similar to the angle WWE created between LayCool and Mickie James last year.
I wouldn't expect this to be a terrific match. There are Divas in the WWE that are capable of putting on a good match, but Kelly Kelly and Brie Bella are not those Divas. This match is simply on the card to give Brie her rematch and get Kelly, the most popular Diva, on the pay-per-view.
Given that Kelly just recently won the title, I don't think her reign is going to end so quickly. I'm sure Nikki will get involved in an attempt to help her sister. However, I think Eve, who has been the backup for Kelly recently, will even the odds. Kelly will pin Brie and move onto new challengers.
Winner and STILL Divas Champion: Kelly Kelly
Smackdown Money in the Bank Ladder Match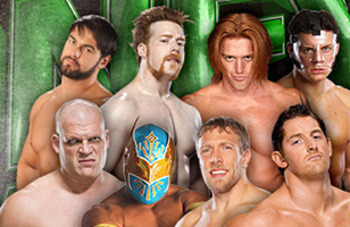 Photo: WWE.com
Instead of just outright telling you who I think is going to win, I'm going to quickly go over each participant and how I see their chances.
Justin Gabriel: Though he has apparently turned face and his 450 Splash is a real crowd-pleaser, Gabriel simply isn't ready to be a top star, in my opinion. He's in this match to deliver some high-flying action.
Sheamus: This is a guy who looks to be headed for a tweener/face turn, having just returned from being punted in the head by Randy Orton. However, this is also a guy who is a two-time WWE Champion. He doesn't need the briefcase.
Heath Slater: Like Gabriel, he is fresh out of The Corre. His career as a singles competitor is looking to just begin, so he has no momentum at this point. Some might say that's an indication that he could win the briefcase, but not in Slater's "case."
Cody Rhodes: Rhodes has had a great year, with an interesting character turn and a win over Rey Mysterio at WrestleMania. I think he has a decent chance of winning, but I personally don't think he is ready for a main event run just yet. Maybe next year.
Kane: Always the big man in the Money in the Bank. Kane, to everyone's surprise, won the briefcase and the World Heavyweight Championship at last year's event, so I don't see any chance that he wins again this year.
Sin Cara: WWE wants him to be a big deal and despite what seems to me like a slow and uneventful start, I think he could get there eventually. I don't see him winning the briefcase, though. The audience hasn't been able to invest in him. Like Gabriel, he's in the match to give the fans some high-flying action.
Daniel Bryan: Bryan is very popular with internet wrestling fans and moderately popular with the casual audience. I'm inclined to say that Bryan won't walk out with the briefcase, but the fact that SmackDown is very light on top faces at the moment leads me to give him a slight chance.
Wade Barrett: This time last year, Barrett seemed to be on the fast track to the main event. After being kicked out of Nexus and the disbanding of The Corre and losing the Intercontinental Championship, though, he lost all momentum. Unlike Slater, that benefits him greatly. I think Barrett has the best chance of walking out with briefcase.
SmackDown Money in the Bank Winner: Wade Barrett
The Big Show vs. Mark Henry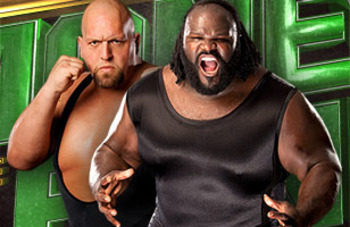 Photo: WWE.com
Last month, The Big Show, in the middle of a fit of rage during his short feud with Alberto Del Rio, had a match with Mark Henry. During the match, Show acted like an animal, tearing Henry up and knocking him out cold. Henry had to be put on a stretcher.
Now, the tables have turned, and Henry is the animal, tearing up everyone in his path.
From beating down Kane to slamming Big Show through the Steel Cage to assaulting the guy who controls the music cues, Mark Henry is on a rampage. Something has been awakened inside of him and he is now more fierce and vicious than he's been in his entire career.
Although I wouldn't expect great quality out of this match, I think it's meant to be more about moving the story forward than anything else.
Big Show won't be pinned, as WWE likes to keep him looking strong. Henry won't be pinned, either. Not in the middle of his huge heel turn.
I expect to see Henry tear into Show, getting himself disqualified. Show will win the match and Henry will still look strong. No matter what, expect Henry to come out looking better, as I think he is on his way to a world title feud sometime this year.
Winner by DQ: The Big Show
RAW Money in the Bank Ladder Match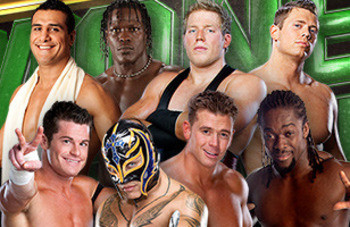 Photo: WWE.com
As with the SmackDown match, instead of just outright telling you who I think is going to win, I'm going to quickly go over each participant and how I see their chances.
Alberto Del Rio: A lot of people are picking Del Rio to win, but the guy already won the Royal Rumble and was in a world title match at WrestleMania. He doesn't need the briefcase. I think he will earn a title shot through the No. 1 Contender status he earned two weeks ago.
R-Truth: He was in a WWE Championship match last month, but I just don't see him getting the briefcase here. His character has become more comedic relief than anything and I don't see him as a threat. I see him losing and continuing his "conspiracy theories".
Jack Swagger: He's won the briefcase before and he cashed it in to become World Heavyweight Champion, but I just don't see Swagger as the guy that wins Money in the Bank twice, especially when it seems as if WWE has lost all faith in him.
The Miz: Like Swagger, Miz has won the briefcase before, but the difference is that WWE is putting faith in Miz as a huge star that will carry WWE in the future. Also, Miz has lost all momentum since his main event match at WrestleMania, including losing his WWE Championship and multiple losses to his former protege, Alex Riley. Taking that into account, I actually think Miz has the best chance to win the briefcase. Again. CM Punk did it.
Evan Bourne: Despite his crowd-pleasing Shooting Star Press and potential to be a popular superstar, WWE refuses to push Bourne, probably because of his size. I don't see that changing here. He's just in the match to give the audience some high-flying action.
Rey Mysterio: Mysterio can move in and out and of the main event scene as WWE sees fit and he can be a world champion at any time. He doesn't need the briefcase. Like Bourne, he will provide some high-flying action. This is Mysterio's first Money in the Bank Ladder match, believe it or not.
Alex Riley: Clearly, Riley is going to be pushed by WWE as a major face on the RAW brand, but I don't think he's anywhere close to ready for Money in the Bank. His upset victories over The Miz are enough to give him the momentum he needs for now.
Kofi Kingston: Personally, I would love to see Kingston win it and I think he could be a huge face in a WWE that is currently lacking major stars, but for some reason WWE always seems to halt his pushes. I'm giving Kingston a slight chance to be a surprise winner.
RAW Money in the Bank Winner: The Miz
World Heavyweight Championship: Randy Orton (C) vs. Christian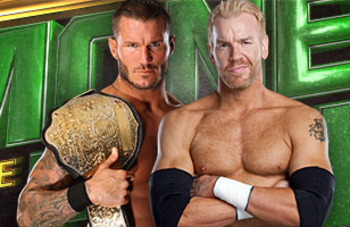 Photo: WWE.com
Ever since losing the World Heavyweight Championship after holding it for only five days back in May, Christian has been on a quest to regain the championship, but he simply can't beat Randy Orton.
After a bad call by the referee at Capitol Punishment, Christian earned yet another title shot. While it may indeed be his last, Christian has the advantage of winning the championship in a DQ situation this time.
A lot of people think that Orton is going to beat Christian again and that Christian will be sent back down to the mid-card. And they may be right. I've certainly never been one to have faith in WWE's use of Christian, who is too talented to be underused like he is.
However, through the DQ stipulation, I think I see Christian walking out with the title here. I just think it's too cut and dry for Orton to win again. I think that either through some sort of cheating or even some interference from Sheamus, Orton will get disqualified and Christian will walk out with the title. It will be the cinching of his heel turn, as he'll taunt the crowd and Orton about how he finally did it, when he really only got lucky.
Orton and Christian always seem to have great matches, so this one should be no exception.
A bit of fan-booking here: I would love to see Christian win the title because of Sheamus interference. Orton gets infuriated with Sheamus for costing him the title, setting up an interesting Triple Threat Match for SummerSlam.
Winner and NEW World Heavyweight Champion: Christian
WWE Championship: John Cena (C) vs. CM Punk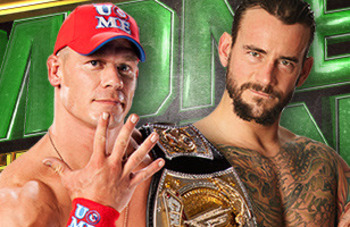 Photo: WWE.com
Well, here we are. The big one.
When CM Punk announced that his last match with WWE would take place at Money in the Bank in his hometown of Chicago, most fans just assumed that he would just lose to Cena clean and leave WWE, similar to Chris Jericho's exit in 2005.
However, when Punk delivered the promo heard 'round the world on the June 27th edition of RAW, people started to wonder. Punk said some very controversial things in his promo. Was it scripted? Was it a shoot? Had Punk already re-signed with WWE? Why would they give him such a huge angle on his way out?
This angle has been incredible. The words exchanged between Punk, Cena and Mr. McMahon over the last few weeks have been shocking, revealing and incredibly intriguing. So much so, that even fans who long ago gave up on WWE are vowing to order the pay-per-view. Websites and magazines that would not normally cover a WWE story have covered this one. This is a very big deal.
Such a big deal, in fact, that many are saying that this is going to be the beginning of a new era in WWE. Some believe that, in a twist, Punk will join up with McMahon to get Cena fired. Some think that this is the night that John Cena turns heel. And some even believe that there will be an "ROH Invasion" of sorts, with Punk's friend and ROH performer Colt Cabana attending the event. Almost every possible scenario has been thought of by WWE fans of all kinds.
Where do I stand? I don't think we're going to get anything nearly as shocking as people are expecting.
Don't get me wrong, I think that this will be a great match with a great atmosphere and there's no doubt that there will be some very nervous moments, but in the end, I believe that Punk is really leaving and that he will not leave with the WWE Championship.
Cena will defeat Punk and be the hero of the company who saved the WWE Championship. Nothing more. Nothing less. We're not entering a new era. I would love to be proven wrong.
Winner and STILL WWE Champion: John Cena
In any event, whether I'm right or wrong, I think that every wrestling fan should watch and enjoy this match because it looks to be one for the ages. Going over every possible scenario will just ruin it for you. It's one of the most well-booked and well-hyped matches in WWE in quite some time.
Keep Reading