British Open Golf 2011: Will Dustin Johnson or Rickie Fowler Star on Final Day?
July 17, 2011
Ross Kinnaird/Getty Images
Rickie Fowler has a better chance than Dustin Johnson to shine in the final round of the Open. He might as well win it if Darren Clarke comes down a bit tomorrow.
When the final round of the Open starts, Johnson and Fowler will be the top two Americans in the leaderboard. Johnson stands just one shot behind leader Darren Clarke, and Fowler three behind.
Johnson is paired with Darren Clarke and Fowler with 2003 runner-up Thomas Bjorn. Johnson has shown he can contend in majors, but it's his past failures that make us think twice before predicting he will win the Open this year.
I still remember that at Pebble Beach, Johnson shot 71-70-66 to take a three-shot lead over Graeme McDowell at the 2010 US Open. Then scored a disappointing 82 in the final round and finished T8.
More recently, in the final round of the 2010 PGA Championship, Johnson held a one-shot lead entering the final hole.
He appeared to have bogeyed the hole, which would have tied him for first and entered him into a three-hole playoff with Bubba Watson and Martin Kaymer.
However, he received a much debated two-stroke penalty for grounding his club in a bunker, thereby dropping him to a tie for fifth place.
Fowler's chances depend most on whether Clarke and/or Johnson could slip down to him and seems to have the more uphill battle of the two to win the Claret Jug—but that doesn't mean he can't win it.
Many would argue that Fowlers' round of 68 was thanks to the fact that the conditions were barely easing midway through his back nine. Then you have to argue that it really suited Clarke, who had the day's last tee time.
Up to this point, both Johnson and Fowler have gotten here via different paths. Johnson was a beaten man at four-over after 13 holes on Thursday. Then he birdied the next two holes and at 16 came the hole in one that changed his fortunes.
Johnson has owned the back nine. So far he's played the back nine in four-under. His worst back nine was on day two when he played on par every hole.
Fowler has played the back nine at one-under, but behind the lines you see that the last two days, Fowler has shot three-under in the back nine. Improving as the rounds go by.
The two-shot difference between them came on day two when Johnson shot two-under and Fowler went on par.
Just looking over, picking Fowler over Johnson seems crazy. But there are two telling stats, which lead me to pick Fowler over Johnson on day four.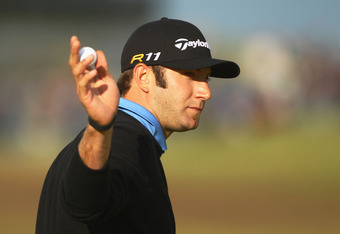 Scott Halleran/Getty Images
First, Fowler has improved his putts per round dramatically each round. Johnson has made 29-28-27, which is an improvement, but Fowler has gone 31-29-27 during the same span.
You could argue that each had the same on round three, or that Fowler has just improved to match Johnson. Point is that Johnson has remained almost steady, while Fowler has kept improving markedly and should continue his upward trend.
The other key stat going into Sunday that affects Johnson, due to his past play, is the sand saves. The past two rounds, Johnson is 0-for-2 in saves. Fowler hasn't had to face this yet, meaning he has been on the clear from this.
Johnson had the hole in one and since is playing terrific and may have some other stats like driving better than Fowler. Ultimately, Fowler has the best upside and has shown the improvement and poise to contend on Sunday.
The only down side to Fowler is that he had been paired so far with his buddy and fellow young gun Rory McIlroy. I have said before that this was going to benefit Fowler who has far more to prove now that McIlroy won a Major, and would push him to perform at a higher level.
Still I remember last year's Ryder Cup when Fowler birdied the last four holes to halve the match after having been four down after 12 holes. In a way it reminds me of Tiger Woods who had that demeanor, determination and resiliency to succeed.
Fowler has shown that at the Open with his improving stats through the rounds. We have not seen that historically from Johnson on a final day at a Major.
Until he does, I will take my chances with Fowler.