2011 British Open Leaderboard: Could Have Unbelievable Chubby Slam at Sandwich
July 16, 2011
David Cannon/Getty Images
C'mon baby, let's do the twist.
- Chubby Checker (1960)
It's happening again. The British Open leaderboard is aligned for another groundhog day. The Irishman at the top, Darren Clarke, would, with a win, propel his agent to the forefront of golf's super agents.
Fifty years ago, a man named Chubby revolutionized a dance move. The country was swept into a tornado-like frenzy of song and dance. Chubby's notes and motion trended up the music charts to No. 1 in 1960 and again in 1961.  
But, like the screeching of the needle on a vinyl record, move on over, for there is a new Chubby making hits.
What was the common denominator in last year's British Open and this year's first two majors—the Masters and the U.S. Open?
Your Google time's up: Chubby—Andrew "Chubby" Chandler.  
He's the agent for each champion (Louis Oosthuizen, British Open; Charl Schwartzel, Masters; Rory Mcllroy, U.S. Open).
And if Tiger had his way with the Tiger Slam, then the Chubby Slam is alive and well. Darren Clarke winning the British Open would send Chandler to the bank with some dance moves of his own. The PGA Championship has, so far, eluded Chandler, but there is always next month.
It's too early to call, but consider if one of Chandler's clients were to win both the British and PGA—we'd have to call it the GRAND CHUBBY SLAM.
Tiger Woods tried to redirect the headlines on Monday as his longtime agent, Mark Steinberg, joined Excel. That kind of announcement is a dimple on a golf ball as players look to close out the 2011 Open.
Chandler's exclusive group of professional golfers is twisting up leaderboards, and their agent is butter—I mean he's Chubby—and he's on a red-hot roll.
But, after further review, it's not the same man that was behind the 1960s hit—that was Chubby Checker. Time to slow the music to a waltz.
Chandler started his International Sports Management Limited (ISM) agency in 1989. It was designed to mimic the sounds Mark McCormack was making with IMG, located in the rock-and-roll region of the United States known as Cleveland.  
Chandler was quick to find talent.  
Clarke was one of his first, and he later built an association with South African Ernie Els. This association ultimately helped him land Louis Oosthuizen and Charl Schwartzel.  
And if it were not for his pursuit of Northern Ireland's wunderkind Rory Mcllroy in 2010, he would have already completed the Chubby Slam—because Graeme McDowell was the player that got away, just prior to his win at the 2010 U.S. Open at Pebble Beach.
Don't think this was easy for the stout agent who also represents first-class cricket players. He had to put his Footjoys to the test at Augusta, moving down the fairway with blazing speed in exultation over his new-found champion, Mcllroy, until....the screech of another needle on vinyl.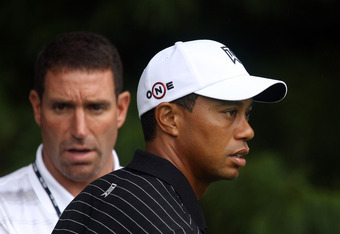 Scott Halleran/Getty Images
The leaderboard frenzy sent Chandler on a mind-bending, expedition-like back nine in Augusta. 
Chandler was forced to make decisions on his involvement with his prized pupils. He showed Checker-like dance moves in greeting Schwartzel behind the 18th green, and consoled Mcllroy as he finished a disastrous back nine.  
Chandler was born a short golf cart ride from Royal Birkdale in 1953. He was seven when he first heard the American hit "The Twist." He parlayed his athletic talents into a career on the European Golf Tour.
Not a particularly noteworthy player, he then turned to representing the up-and-coming talent. He retired from the Tour in 1989 to start his management group.
Call it the Chubby Slam Sandwich: four major champions, lettuce, cheese, pickles and a sip from the Claret Jug.
Chubby Chandler clients:

2010 British Open Champion - Louis Oosthuizen, South Africa
2011 Masters Champion - Charl Schwartzel, South Africa
2011 U.S. Open Champion - Rory Mcllroy, Northern Ireland
?  Darren Clarke, Northern Ireland