Big Ten Breakdown: Penn State Nittany Lions, Part 2 (Defense and Specialists)
August 2, 2011
Jamie Sabau/Getty Images
In the first part of this series, I looked at Penn State's offense, as well as the overall team outlook. In this part, I'll look at the defense, as well as the measurable parts of the special teams.
Defensive Overview
2010 scoring defense: 23.7 PPG (sixth in the conference), total defense: 346.8 YPG (fourth), rushing defense: 4.46 YPC (eighth), passing efficiency allowed: 129.51 (seven).
Average scoring defense conference ranking over last five years: 3.
Best scoring defense conference ranking over last five years: 1 (2009).
Worst scoring defense conference ranking over last five years: 6 (2010).
Returning starters: DE Jack Crawford, DE Eric Latimore, DL Jordan Hill, DT Devon Still, LB Michael Mauti, LB Nate Stupar, CB D'Anton Lynn, CB Stephon Morris, CB Chaz Powell, S Nick Sukay, S Malcolm Willis, DB Drew Astorino.
Open positions: DE, LB.
Defensive Breakdown
Last season, Penn State had the sixth-best scoring defense in the conference, and the 49th-best in the country. If these numbers were applied to Indiana or Minnesota, their fans would be dancing in the streets. In Happy Valley, these numbers are disgraceful.
PSU's defense was a nationally-ranked top 10 scoring defense every single year between 2004-09. The last time the Nits didn't have a top-10 scoring defense was 2003. That defense was ranked 30th, and as Penn State fans remember, that defense was given no help by an anemic offense that ranked 99th in the country.
In short, a Penn State defense that lets up over 20 points per game, allows more than 3.25 YPC, and has less than 30 sacks is, in one word, unacceptable.
So, was last year a sign of things to come, or a blip on the map?
I think it's safe to say it was a blip on the map. After all, despite rumors of taking the head coaching job at Pitt, longtime Penn State defensive coordinator Tom Bradley is still in Happy Valley, and he is not about to let his defense or his reputation sink.
Last season was an unlucky meeting of injuries, timing and Joe Paterno's tendency to play upperclassmen over more talented players.
As for the injuries, PSU was without four starting defensive players in the Illinois game. That carried over into the third-most points the defense allowed all season. The second-most was against Florida in the bowl game, though that was a matter of turning the ball over five times; and the most was against Ohio State.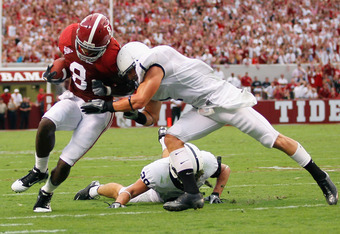 Kevin C. Cox/Getty Images
Regarding the timing, the Penn State offense was down last year. This led to turnovers. Last year's Nittany Lions were minus-four in turnover margin. This was the first PSU team to have a negative turnover margin since 2004. That had an adverse effect on the defense.
Finally, yes, Joe Paterno does have a loyalty towards student-athletes that have stuck with him and remained loyal throughout their collegiate careers. Some might call that characteristic negative, but not me. As has been the case throughout his career, Joe Pa is old school and does things the right way.
Nonetheless, sometimes this does hurt the football team in the win-loss column. Last year was one of those years. This year, the more talented players will be starting.
Defensive Line
Between 2005 and 2009, Penn State averaged 39 sacks per season. Last season, they totaled 17. Between 2005 and 2009, Penn State allowed 2.80 YPC on 1,689 carries. In 2010, they gave up 4.46 YPC on 483 carries. Between 2005 and 2009, Penn State averaged 25 turnovers gained per season. In 2010, they forced 17 turnovers.
Needless to say, this disparity is not solely the fault of the defensive line. However, the foundation of any defense starts in the trenches, and last year's lineman didn't live up to the precedent set by past Penn State linemen.
The majority of last year's starters will return with two key exceptions: Ollie Ogbu has exhausted his eligibility and Pete Massaro is lost for the season with a knee injury. 
Following spring practice, the starters were senior Jack Crawford and junior Eric Latimore at defensive end; with senior Devon Still and junior Jordan Hill at tackle.
Other players that are likely to show up in the rotation are junior James Terry and redshirt freshman DaQuan Jones inside; and junior Sean Stanley outside. After Stanley at end, there is a substantial drop-off.
Of the bunch, Devon Still looks to have the most upside. He has missed almost two entire years of his career with injuries. In effect, he lost a good deal of development time. However, he has been repeatedly compared to former PSU lineman Jared Odrick. It remains to be seen if he can live up to those lofty standards, but Still will probably be the player to watch on the line.
Next to him, Jordan Hill will also be a handful.  Hill gained three starts at defensive end last season, and he played in every game.
If Hill and Still can reach their potential, PSU might have the best defensive interior in the conference. If they don't reach their potential, the run-stuffers should still be in the upper third of the Big Ten.
The bigger concern is at the end position.
Thus far in his career, Jack Crawford has been a disappointment. He has all the necessary tools, but has lacked the aggressiveness needed to play defensive line.
Meanwhile, Latimore began 2010 as the starting weakside defensive end, but lost the job after two games. This is disturbing, given the fact that he lost the job to Pete Massaro and Sean Stanley—neither of whom was especially impressive. A few games after losing the job, Latimore was lost for the season with a broken wrist.
Both Latimore and Crawford had much better seasons in 2009, playing beside the aforementioned Odrick. One is left to wonder if a more substantial presence from Hill and Still will be the difference for Crawford and Latimore.
In closing, my position group ranking for this bunch is admittedly stingy and on the conservative side. If every player can live up to his potential, this unit could be explosive. Nonetheless, following last season and considering the depth issues at end, I'm a little hesitant where it concerns this bunch.
Big Ten Position Group Ranking: 8
Linebackers
And speaking of letdowns, the Penn State linebacker play in 2010 was unacceptable by Linebacker U standards.
I hate to disparage collegiate players. This is especially true of players that keep their noses clean, appear to be doing everything "right" and earn all the playing time they get. After all, they're not pros. A lot of people and institutions make a lot of money on their backs, while they don't see a dime.
Still, the fact is PSU's linebacker play in 2010 was way below par, and part of the reason for that was because the best players were not always on the field. The reason for that, as mentioned in the first part of this article, was because Joe Paterno favors upperclassmen.
Whether that is right or wrong is arguable. What isn't arguable is that, in the words of NittanyWhiteout.com, "The Nittany Lion linebacking corps of 2010 wasn't just weak by Penn State standards, it was a straight-up bad unit."
This will be remedied in 2011.
Following spring practices, the starting linebackers looked to be junior Matt Mauti in the middle, junior Gerald Hodges on the weakside and senior Nate Stupar on the strongside.
Also, sophomore Khairi Fortt and redshirt freshman Mike Hull will be really difficult to keep off the field.
Mauti started seven games in 2010, at both middle and strongside. At the beginning of the season, he was still recovering from an ACL tear that caused him to miss the entire 2009 season. Then, at the end of the season, he was nursing an injured shoulder.
When he was healthy, he was arguably the best player on the field for Penn State. If he is 100 percent in 2011, he will reprise that role.
Gerald Hodges is a converted safety that grabbed one start last year, and may have gotten more if he hadn't broken his leg early in the season. PSU fans have been high on him since he arrived on campus, and this year will be his opportunity to prove he was worth the wait.
Nate Stupar is a hard-worker that has a ceiling (more so than the other four linebackers of note), but is a team leader and a solid player. Last year, he grabbed a starting role arguably because of injuries, but he made the most of it, coming third on the team in tackles.
Fortt was a heavily recruited prospect that played extensively as a true freshman. Due to the Nits' depth at linebacker and lack thereof at defensive end, it was reported that he flirted with the line during spring practices. He was used as a standup end, which is tantamount to a fifth linebacker in many ways, but it goes to show how much the coaches want him on the field.
Lastly, there is Mike Hull, who Scout ranked as the No. 1 linebacker prospect in the country last season. He has yet to see a snap, but was named the backup weakside linebacker following spring practices.
This is a good and deep unit that will reaffirm Penn State's moniker of Linebacker U.
Big Ten Position Group Ranking: 3
Secondary
Due primarily to injuries, eight defensive backs played substantial minutes in 2010. All but one of them returns in 2011.
The first and only player that you can write on the depth chart in ink, is senior cornerback D'Anton Lynn. Lynn is a three-year starter that is perfect for Penn State's defensive scheme. He is not, nor is he ever going to be a true lock down corner (in all probability, he'll become a safety at the next level). However, he is smart, a leader and a strong tackler.
The other six players will compete for the other three positions.
Among the safeties are seniors Drew Astorino and Nick Sukay; and sophomores Malcolm Willis and Stephen Obeng-Agyapong. The cornerbacks are senior Chaz Powell and junior Stephon Morris. Also, sophomore Derrick Thomas could be in the mix at corner if he could manage to stay out of trouble.
Astorino is a two-year starter. He is ideally a free safety, but last year, due to injuries he started at free, hero and even cornerback. He is not what you would call athletically gifted, but he is smart, disciplined, hard-working, tough and the senior leader this defense needs.
Nick Sukay is also a two-year starter, though his 2010 season ended prematurely due to injury. Sukay is more inherently talented than Astorino, though arguably not as talented as sophomore upstart Malcolm Willis.
Willis was a moderately-recruited defensive back from the 2009 class. He burst onto the scene last year, after Sukay went down. Penn State fans are torn, as Willis probably has the highest upside of the bunch, but Sukay's and Astorino's experience and leadership could be invaluable. Knowing Joe Pa, it is likely that Sukay and Astorino will start.
Finally, Stephen Obeng-Agyapong is the odd-man-out in this mix, and he will probably be the starting hero next year.
The second cornerback will be the spot opposing offensive coordinators look to exploit in 2011.
The first option is Stephon Morris. Morris began last season as the starter, but lost the job, primarily due to sloppy tackling.
Chaz Powell then took the job and held it until the bowl game, when his role was limited for undisclosed reasons. Powell is capable, but the problem is he has shuffled back and forth between receiver and defensive back for his entire career. If the coaches can settle him in one spot, he might be able to thrive.
Overall, this is a good and deep unit. If everybody can stay healthy, if the second cornerback can prove to be better-than-adequate, and if the front four can generate a solid pass rush this could be the best unit in the conference. If not, it will still be in the top half of the Big Ten.
Big Ten Position Group Ranking: 3
Special Teams Specialists
Penn State returns a solid punter in sophomore Anthony Fera. 2010 was Fera's first season as a starter, and he fared well, not only handling the punting, but also the kickoff duties. He missed two games with an emergency appendectomy, but came back for the bowl game. With an average of 41.4 yards-per-punt in his freshman season, he will only get better.
This season, he will be an asset to a defense that will already be salty.
Unfortunately, the place kicking game is less certain. Collin Wagner has graduated and PSU will have a competition between two players: last year's backup, junior David Soldner and true freshman Sam Ficken.
Soldner has kicked one extra point in his career, while Ficken is on scholarship as part of the 2011 class. 
In 2010, Penn State split the punt return duties between receivers Devon Smith and Justin Brown. Brown was solid with a 5.13 average, but Smith was explosive with a 14.85 average on 13 returns. Moreover, none of those returns was for more than 25 yards. Therefore, his average is a true indication of his consistency.
PSU continued to alternate between the two throughout the season, though I have no idea why (fumbles?), as Smith was obviously more effective. One can only guess what the plan is for 2011, but following spring practice, Brown was still the official starter.
Chaz Powell will reprise his role as kickoff return man. Throughout his career he has been steady, averaging 28.78 yards-per-return in 2008, 23.19 in 2009 and 23.95 in 2010. He also had one kickoff return for a touchdown last season. He is not the best return man in the conference, but he is closer to the top of the list than the bottom.
Overall, PSU should have solid specialists next season, though there might be some bumps in the placekicking area.
Big Ten Position Group Ranking: 7
Be sure to check out past installments of Big Ten Breakdown, beginning with the most recent, the Northwestern Wildcats.