NFL Trade Rumors: Why Kyle Orton Is a Better QB Option Than Kevin Kolb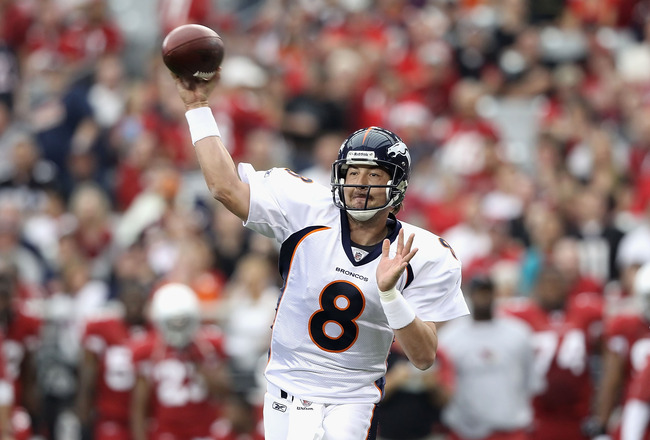 Christian Petersen/Getty Images
Kyle Orton is easily one of the most underrated players in the NFL and is perfectly capable of leading a team to the playoffs.
Orton was a quality "game manager" type quarterback while in Chicago, but after putting up great offensive numbers in Denver he turned into a real quarterback and a threat in the passing game.
It is surprising that there hasn't been a lot of talk about Orton as a trade chip and too much talk about Kevin Kolb. Kolb is a the younger option with more potential but is very unproven and is an overall worse option than Orton.
Teams should be looking to trade for Orton if he becomes available and here is why.
More Experience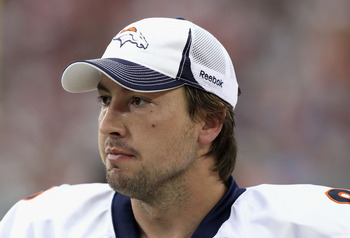 Christian Petersen/Getty Images
Kyle Orton has a lot more NFL quarterbacking experience than Kevin Kolb and has played in more than 3 times as many games as Kolb.
Orton has experience playing and quarterbacking for a playoff contending team and while he hasn't played in the playoffs he has the experience necassary to lead a team there.
Orton is still only 28 years old and has the best football ahead of him while Kolb is 26 and still has some holes in his game.
Orton would be the better option for either a team of veterans that needs a good quarterback to compete or a young team that needs a leader.
Kolb is too unproven in this area to be worthy of a high value trade.
Better Numbers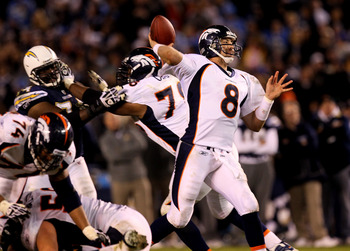 Stephen Dunn/Getty Images
Kyle Orton has quietly put up outstanding offensive numbers the past two seasons while with the Denver Broncos and should be credited for it.
Orton threw for over 3,600 yards and 20 touchdowns with a Quarterback rating of 87.5.
Those are very good numbers and in 7 games last season Kevin Kolb threw for 7 touchdowns and 7 interceptions and a quarterback rating of 76.1.
Orton clearly can run an NFL offense and run it well while Kolb still needs to prove he can on a consistent basis.
Easier to Fit into an Offensive System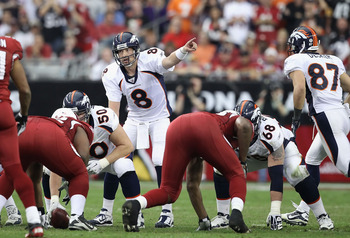 Christian Petersen/Getty Images
Kyle Orton has played in a large variety of offenses throughout his career so he should be able to fit right with any team he is traded to.
Orton is a veteran and knows his way around an NFL playbook while Kevin Kolb has only run one offense throughout his career and would need a lot more coaching to understand an offense.
With the lockout cutting out time for training camps, Kolb could be at a disadvantage if he his traded to a team with an offense he is foreign too.
Orton Has Done More with Less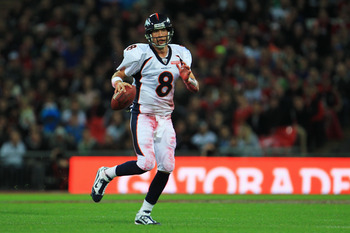 Chris McGrath/Getty Images
Kyle Orton has put up great offensive numbers with lacking talent around him while Kevin Kolb has done less with a lot more talent.
Orton put up quality numbers on a Chicago Bears team with no legitimate offensive threats and did the same with his Denver Broncos team this past season.
Orton has had no help around him since the departure of Brandon Marshall and if he ended up in a place with good position play-makers around him, things could work beautifully.
Kolb has a ton of weapons on the Eagles and when he played he simply didn't put up the numbers he should have.
Orton Will Be Cheaper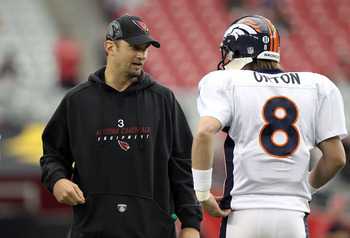 Christian Petersen/Getty Images
The Denver Broncos are in a rebuilding process and they don't see a future for Kyle Orton on their team.
The Philidelphia Eagles really like their young quarterback, Kevin Kolb, and they will need a lot more in return to part ways with him.
Denver needs to see what they have with Tim Tebow, so they are shopping Orton to make room for him as the starter.
The Broncos would have no leverage in a deal because they need to move him. The Eagles are perfectly fine with having Kolb sit behind Michael Vick in case of injury.
A team would be getting a more proven, better-skilled quarterback for a cheaper price if they went the Orton route.
Orton is the best quarterback available via trade this NFL offseason, and any team in need of one should trade for him.
Keep Reading

Denver Broncos: Like this team?