British Open 2011 Scores: Dissecting the Day 1 Leaderboard
July 15, 2011
Ross Kinnaird/Getty Images
The first day of the 2011 British Open is in the books and as always round one gave us some incredible golf, entertainment and tons of interesting storylines.
The question is where do we start?
The best place in my opinion is at the top, so let's take a look at the top of the leaderboard.
Thomas Bjorn barely made it onto the field for The Open, but snagged the next-to-last spot when Vijay Singh withdrew. He capitalized on his good luck heading into the week by going out on his first day and shooting a five-under 65, and he now finds himself tied atop the leaderboard at Royal St. George's.
Bjorn has never won a major and this is the first time he has had a piece of a first-round lead.
Now, onto the young man he is sharing that lead with.
Amateur golfer Tom Lewis came out and stunned the field with his incredible putting game to propel himself up the board and tie himself for the lead with Bjorn. Lewis broke records in the first day by posting the lowest score by an amateur in British Open history.
Now, even though these two came up strong in round one I have to question whether or not they have what it takes to stay at the top of the leaderboard, and I think both their endurance and skill will be tested in round two.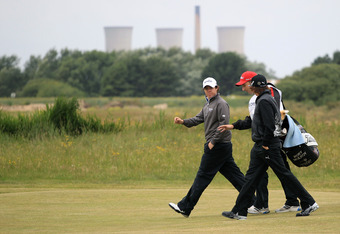 Streeter Lecka/Getty Images
Miguel Angel Jimenez, Webb Simpson and Lucas Glover all shot four-under 66 and are tied in third place.
Let's check in on  some of the bigger names at The Open.
Recent John Deere Classic winner Steve Stricker is looking to capitalize on his momentum and is currently sitting at minus one.
Phil Mickelson, Dustin Johnson, Sergio Garcia and Rickie Folwer are all even-par at 70 and will be looking to move into the red come round two.
U.S. Open winner and recent golf superstar Rory McIlroy had an extremely disappointing round one, especially in light of his U.S. Open performance. He didn't look confident and missed a few shots for par that he honestly should have made.
McIlroy carded a one-over 71 and is tied with some of the world's biggest names including; world No. 1 and No. 2 Luke Donald and Lee Westwood respectively.
I expect that McIlroy will come out ready to bounce back tomorrow. Perhaps he was feeling the pressure of playing so well a few weeks ago in his first Majors win. Now that he got round one out of the way I think we will see him play a lot more relaxed.
In two other notes of importance defending champ Louis Oosthuizen shot a two-over 72 and didn't too good, and Dustin Johnson wowed the crowd with a hole-in-one on hole 16.
Follow Andrew on Twitter: @AKonSports