British Open 2011: Why Most American Fans Will Never Love the Open Championship
July 14, 2011
Stuart Franklin/Getty Images
There are some issues that Americans and Brits will never come to agree on. The spelling of "color" vs. "colour" is one. Which side of the road you drive on is another. And the pronunciation of "schedule" is another: how do you get "shee-doo-ul?"
While I don't aim to speak for an entire nation of over 300 million people, I have to believe that—for the  most part—American golf fans will rate the U.S. Open and the Masters higher on their list of favorite tourneys every day of the week. And not simply because of patriotic zeal.
Part of that is just the preference of American courses over links, but another part is purely a result of pettiness.
Personally, I find it annoying that there is a five-hour time difference—today's first round started at 3:58 am EST.
Then there are the unfamiliar locations. I know that Bethpage and Winged Foot are near New York City, Pebble Beach is near San Francisco, Oakmont is near Pittsburgh, Augusta National is not far from Atlanta, and so on.
But I have no real clue where Sandwich or Southport or Angus is. And while that is more out of my own ignorance than anything else, I bet plenty of sports fans share that same ignorance.
Finally (talk about pettiness) there is the whole debate over the title: Americans call it "The British Open," while just about everyone else calls it "The Open"....it's confusing to say the least. I feel as though the debate is golf's version of that now outdated, super-lame "less filling"....."tastes great!" commercial.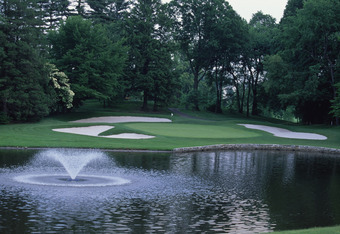 David Cannon/Getty Images
But there are a few more substantial, xenophobic reasons why I think American fans don't have the same type of love and appreciation for the British Open as our former colonizers.
For the most part, in America, golf courses are green, edenic cathedrals; they are built to be things of beauty. There are grand, elaborate clubhouses, pristine fairways and greens and intricately designed architectural masterpieces. Take Augusta National, for instance.
In the British Open rota, however, the courses are more "natural"....in the sense that they look like nature (or livestock chewing up the grass) made them, not man. There's yellow-to-brown grass and a very empty atmosphere with a lack of nuance more often than not.
Along that same vein of elegant settings versus more realistic ones, there is the issue of weather. Of course, no one can control it, but the British Open seems to showcase the worst type of weather....and no one cares. If it rains or is cold or cloudy at a U.S. Open or the Masters, that's almost as big a story as the leader in the clubhouse.
Personally, I don't mind if it rains, or if it's 100 degrees and sunny or if it snows on the golf course of a major championship. I think that the 2007 Masters, when it was freezing cold, was just as exciting as that same year's U.S. Open, when it was blistering at Oakmont.
But I do tend to mind the abrupt changes that take place on the British Open courses—not for visual reasons, but for competitive ones.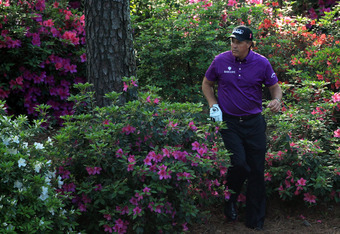 David Cannon/Getty Images
The old mantra, "If you don't like the weather in the U.K., wait 20 minutes and it will change," was repeated again today on the ESPN broadcast. That's fine and well, but it does make for a real imbalance.
The players who tee off at one time of the day usually play a completely different course than the ones who tee off at another time. And that's the case for all four days.
Now that may also be true for one round of a U.S. Open or PGA Championship course—it can always rain, it can heat up and dry out the greens, the wind can pick up—and players have to adapt. But in those events, the 10:21 a.m. threesome isn't playing a completely different setup than the 10:39 a.m. threesome.
Golf may have been created on the hallowed ground of St. Andrews, and the British Open may have begun play 35 years before the USGA created their own event and nearly three-quarters of a century before Bobby Jones invited a select group to play his new course in Augusta, Georgia.
But history and longevity aren't the be-all, end-all. If that were the case, 53-year-old two-time Masters champion Bernhard Langer would be atop today's leaderboard (not near the bottom, at five-over-par) instead of 20-year-old amateur Tom Lewis.