Fiorentina Struggling in Transfer Market
July 14, 2011
Massimo Paolone / Iguana Press/Getty Images
Fiorentina is generally considered one of the top sides in the Italian Serie A. Most would consider it the fifth strongest club after the top four of AC Milan, Inter Milan, Juventus and AS Roma.
But as it stands right now, things are not looking very good in the transfer window for the Tuscan side. Fiorentina has lost a number of players, particularly in the midfield.
Thus, this is a position of dire need.
The club has lost midfielders Mario Santana and Marco Donadel in free agency to Napoli. Defender Gianluca Comotto signed as a free agent with Cesena.
Fiorentina also lost a blind auction with Udinese over playmaking midfielder Gaetano D'Agostino and is now left with just one center midfielder in Riccardo Montolivo, who might also be on his way out.
Montolivo has one year left on his current contract and attempts to get him to sign an extension have failed, leaving the club to think it might be better off selling him now rather than letting him walk for free next summer.
It has been suggested for quite some time that a deal sending Montolivo to AC Milan for Antonio Cassano might work.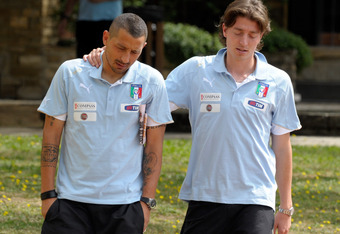 Claudio Villa/Getty Images
Cassano would fill the void left by the departed Adrian Mutu and join Alberto Gilardino in the attack.
If the roster stands as is, Fiorentina might have to move some of its wing midfielders inside. Veteran Marco Marchionni and Swiss international Valon Behrami occupy playing time on the right side and Alessio Cerci and Peruvian Juan Manuel Vargas has played on the left side. Young and talented Adem Ljajic is purely an attacking midfielder and does not fit the bill as a center midfielder.
Not to be forgotten, Cerci has also been listed as a player that could be headed for the exits. The Roman-born player says he and his girlfriend have been treated poorly by the Fiorentina fans and has vowed to never celebrate a goal with the club's fan base.
Fiorentina needs to get its act together and start looking at center midfielders that they can rely on.
Napoli's Walter Gargano could be on the trading block now that three players have arrived in his position, with Udinese's Gokhan Inler being the latest.
Or perhaps Fiorentina can approach bitter rival Juventus, as it has a clutter of players.
Sergio Almiron, who spent last season with Bari, might be another option.  Portuguese midfielder Tiago, who spent last season on loan with Atletico Madrid and has returned to Juventus, is another option.
Midfielder Alberto Aquilani, whose option was not picked up by Juventus after it signed Andrea Pirlo on a free transfer this summer, is back with Liverpool for now.
Some talks have suggested Aquilani could join Fiorentina. But it appears that Fiorentina is unwilling to pay the high price tag that comes with Aquilani.
There is still time to fix the problem. But right now Fiorentina looks very thin in the middle of the pitch. If things don't change, fans can't expect to see too much of the Tuscan sun at Artemio Franchi Stadium this season.