MLB All Star Game: Does MLB Have the Worst All Star Game?
July 13, 2011
Nick Laham/Getty Images
To be fair, we really shouldn't be calling any of the games that the four major sports put on as a true "All-Star" game.  They should be called popularity games or who-has-the-biggest-city game.  Of the four major sports leagues, baseball's version of the All-Star game is the worst. 
Voting
All of the sports leagues have some type of fan voting in place, and it is a horrible idea.  What happens is that too many fans vote for their favorite team's players, then tack on a few players who they have heard of from other teams. 
With baseball having such a long season, most fans can't keep up on who is really having a great season and they just go by name recognition. I swear, if some player changed their name to Ozzie Smith or Cal Ripken, they would get voted in every year. Players long past their true All-Star status still get voted onto the squad by uneducated fans.  The players are just as bad with their voting.  
An added issue with the fan vote is the size of fan bases.  The larger cities, such as New York, Boston and Philly, always place several players on the team.  Many are indeed worthy, but too often there are questionable selections.  We have all seen players, who have spent large chunks of the season on the DL, still getting voted in just because of their name or what city they play in. 
Between these two voting groups we have seen some very odd selections and omissions over the past couple of seasons.
Last year a .230 batting Yadier Molina was voted in while Miguel Olivo and his .308 BA was not.  This year somehow the players thought that a .223 batting Russel Martin deserved a spot. 
Johnny Peralta leads shortstops in BA, OPS and slugging percentage, yet he wasn't selected to the team.  He finally was added as an injury replacement. 
Joey Votto was in the midst of his MVP season but needed the last-chance fan vote to claim the final NL roster spot last season. 
Breannan Boesch batted .345 with 12 hr and 46 RBI but didn't make the 2010 squad. 
Carlos Pena was leading the league in home runs, yet he didn't make the squad in 2009.  If not for making it as a late injury replacement, then it would have been the first time since 1993 that the AL leader wasn't a part of the game. 
 Shady dealings
 The final roster spot is now left up to a fan vote, where the top five players that just missed the cut are given one last chance to make it.
 While this does seem to help at least one deserving person make the roster, it also leads to some devious tactics.  The Philadelphia Phillies and Detroit Tigers have teamed up twice in an effort to get their players into the game via this last vote.  First in 2009 and again this year, they joined forces in what was a deal where they basically encouraged the other team's fans to vote for their guy and vice versa.  It effectively doubled the voting fan base for each player.
It worked in 2009 as the Phillies' Shane Victorina and Tigers Brandon Inge both made the squad. This season they tried this tactic again in order to get Victorina and Detroit's Victor Martinez into the game.  It was only partially successful this time, as only Victorina will make the game.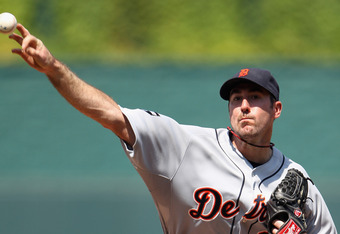 Jamie Squire/Getty Images
Of course, every team wants to have their uniform represented in the game, but shouldn't the goal be to have the very best and most deserving in the game?  Two major cities teaming up with their fan bases and encouraging them to not vote based on merit just does not seem right. 
Every Team doesn't matter
 Guess what? This is a big boy sport and not everyone is going to win.  Chances are if you are a last-place team, then you usually do not have a player who is worthy on an All-Star spot.  The fact that the MLB has a rule where every team has to have a representative is perhaps the second-dumbest rule in baseball. 
As a guy who rooted for the Tigers during the 15+ years in the dark ages, which they have finally emerged from, I can admit there were many years when a Tiger was selected that just had no business being there.  A Tiger being at the game did not make me any more or less likely to watch the game.  In fact, as a fan, I was embarrassed knowing that they were taking the spot of someone more deserving, someone who was truly an All Star.
This bad rule has given us such All-Stars as Lance Carter, Mark Redmond, Mike Williams and Robert Fick. 
What makes having every team represented even more ridiculous is the horrible rule that allows the winning league to secure home-field advantage for their team in the World Series.  Why should an exhibition count for anything?  Every year many players duck out of the game, and while some are for legitimate reasons, the game should not matter. Sixteen players that were originally selected to play in this year's game will not be there.  This mean the B squad will be deciding which team gets home field in the World Series. For those keeping track, this is the dumbest rule in baseball.
Norm Hall/Getty Images
While the baseball All Stars do tend to put forth more effort in their game, in comparison to the All-Star games for other sports, it still is not played like a true game.  The starting pitchers will only go a couple of innings, few position players will make it halfway through the game.  With something so important being on the line, shouldn't the best of the best be out there?
Shouldn't the teams that are leading their division and theoretically have the most at stake, play the most?  Instead players will rotate in and out so that as many of the outrageous 66-man combined rosters will make an appearance.
The Fix 
It is pretty simple. Prior to the 2002 tie, there were not as many complaints. But knee-jerk reactions since then have lead to constant unhappiness with the current format.
1) Get rid of the World Series tie in.
2) Only the best of the best make it, no guarantee that each team makes it.
3) I don't care if it's the baseball writers or some specially formed group that does it, but take the selection out of the mindless fans.  Only the players that are having the best season should be there.  Their career numbers should not matter, just the current season.
4) Cut the rosters back down.  33 players per team is way too many, especially when a regular roster has 25 players on it.  The All-Star roster should be no more than 30 players and ideally closer to 26-28.
That is it, just a few quick changes that would take the ridiculousness out of the MLB All-Star game and would reward the truly worthy.