United States Women's National Team Garners Support from Across the Nation
July 12, 2011
Martin Rose/Getty Images
On July 10, the United States Women's National team pulled off a dramatic victory over Brazil to advance to Wednesday's semifinal against France.  The outpouring of support back here in the United States has been staggering. 
In the hours following the dramatic, come-from-behind win of epic proportions, social media exploded.  Six of the ten trending topics were Women's World Cup related including Ali Krieger, USA/Brazil and #hopesolo.
It wasn't just fans that took to twitter to send their congratulations.  Athletes, rappers, TV personalities and others took to social media to pass along their reactions and congratulations to Team USA.
"The Women's World Cup game blew my mind today. Congrats ladies, I'm rooting for you!", Ellen DeGeneres tweeted.
"USA! USA! Up at the half. Awesome! #womensworldcup #teamusa @FIFAcom" Extreme Makeover Home Edition host Ty Pennington tweeted at halftime.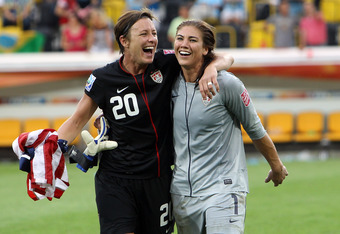 Martin Rose/Getty Images
"I will be petitioning @ESPYs to add a 5th nominee for "Best Play" on Wednesday. #Wambach " tweeted Seth Meyers (Saturday Night Live).  "Wow. Just awesome. Excellent work, US. #WWC"
Rapper Lil Wayne offered his congratulations Sunday night via twitter as well.  "Abby Wambach...a hero. Go USA!"
Actor Tom Hanks also tweeted his reaction.  "I LOVE these women! Hanx http://say.ly/vwVuaa ".  Hanks' link shows a picture of the US Women celebrating following defender Ali Krieger's game winning penalty kick.
Athletes from the NBA, NFL, WNBA, MLS, USA Softball, USA Gymnastics and NCAA were among those to offer their congratulations.
"USA!! #HopeSolo. Congrats ladies!" tweeted LeBron James.
"AHHHHH!!! Go US SOCCER! Come on ladies kick some more serious BUTT!! Pun intended ;)" Olympic gymnast Shawn Johnson posted Sunday night.
"@hopesolo is a beast. Keep it up girl!"  tweeted US Men's National team forward Jozy Altidore "Let's go! USA going on all the way!"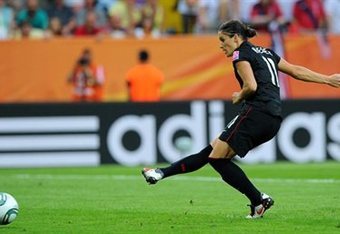 "USA USA USA USA USA so proudddddddd! well done ladies," added forward Freddy Adu.  "@alexmorgan13 congrats. very proud of you and the team. We are all cheering u on."
Chad Ochocinco added a series of tweets following the match.  "Superb game by #USA Are any of the US women futbol players on twitter. We should all send them a congrats on a great victory over Brazil"
"@hopesolo hell of a game today. Congrats"
"Phenomenal game ladies, continued success @alexbkrieger @alexmorgan13"
Rutgers University defensive end Eric LeGrand tweeted, "When I get better I may have to try out some of these soccer skills. After watching that game. Extra hyped right now. Team USA"
Arizona Cardinals wide receiver Larry Fitzgerald tweeted following the match as well.  "Watching the World Cup and seeing these women play w/ so much heart and determination make me so proud 2 b an American! #heartofchampions"
WNBA star Candace Parker tweeted throughout the game including the following: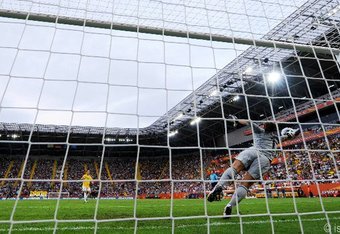 "Dude...this was the BEST soccer game EVER!!!!!!"
"We gotta win the world cup after that comeback win!!!!"
USC quarterback Matt Barkley watched the game on his DVR and had this to say afterwards.  "Just saw the USA game on my DVR!!!! Wowwww I have goosebumps alll over! Unbelievable! Go USA!!!"
New Orleans safety Darren Sharper tweeted "Great match between US v Brazil. One of the best games I've seen. USA USA USA"
Blake Griffin added, "This will probably be my only tweet about women's soccer but Hope Solo has serious swag. Congrats to the us women's team"
Former WNBA star Lisa Leslie retweeted and responded to a Hope Solo message late Sunday night with the following:  "RT @hopesolo: Go ahead, jump on the bandwagon and let's do this together. One Nation, One World, One Team.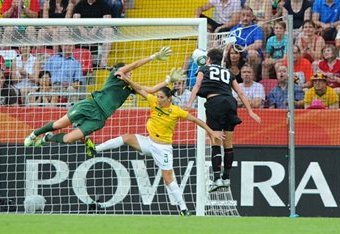 Other messages sent to Team USA included: 
    Roberto Tinajero: Best soccer game I have ever watched. Men or women it's been absolutely amazing.

    Keith Cunningham: I know little about soccer, but anyone who cannot appreciate the athletic achievement displayed by this team doesn't really understand. It's not about the sport really it's about the athletes. If you don't get it, stick to your video games. Well done USA ladies!

    Charles Sowell: That should definitely win an ESPY next year! In fact, I want to be the first to nominate this victory for the comeback of the year ESPY for 2012! 
     Cory Seitzinger: Best female soccer match I've ever seen!! What perserverence, despite the officials trying to take the game from them! UNBELIEVABLE
     Chris Ellerbe: don't like "football" that much buuutt..yea that was awesome! with the ref tripping every two mins. , bad calls, 10 on 11, and Brazil faking injuries to waste time..which came back to bite them in the butt. very impressive ladies.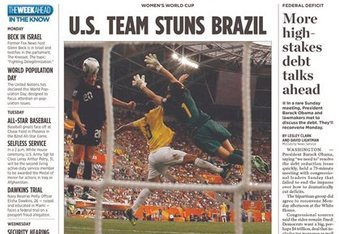 The victory was splashed across newspapers across the country and was the focal point of major online news as well.
News of Team USA's last gasp extra time equalizer and penalty kick shoot out covered the front pages of ESPN, SI.com, Fox Sports, Yahoo! Sports, and MSNBC by Sunday night with additional coverage coming in on Monday.
The US WNT blog provided pictures of newspapers across the country that featured Team USA which included USA Today, the Wall Street Journal, the Washington Post, the Houston Chronicle and the Miami Herald.  In addition, the Rochester  Democrat and Chronicle and the Philadelphia Inquirer also had front page coverage.
Forward Abby Wambach and player of the match Hope Solo both joined Bob Ley in the ESPN booth post-game on Sunday to discuss the win and made an appearance via satellite in Dresden on Good Morning America Monday morning.
Wambach chatted with ESPN First Take on Monday morning and Solo spoke with a couple of radio shows mid-afternoon on the East Coast.
Sports Center and ESPN News showed highlights from the match in every segment, opening one edition of ESPN News with "Hope, a header and a whole lot of heart."
In a weekend that also saw Derek Jeter hit his 3000th hit, Team USA won over a nation in the Sports Nation Poll on Monday afternoon for Most Memorable Moment of the weekend, winning 60.1 percent of the vote.
Highlights of the game were shown on the Jumbotron at Yankee Stadium, where fans stood and cheered.  The LA Dodgers and San Diego Padres watched the game as they prepared for their game later that evening.
Here in the States, we will all be watching, waiting, and cheering as the US women take on France tomorrow morning.  Coverage begins at 11:30am EST on ESPN and ESPN3.com
To send a shout out to Team USA that will be posted on www.espnW.com/WWC tweet with the following hashtag:  #espnwusa.
To pass along a good luck wish to a player in particular check out this list of US Women's National team players on twitter.