MLB: The 10 Best Starting Pitchers at the All-Star Break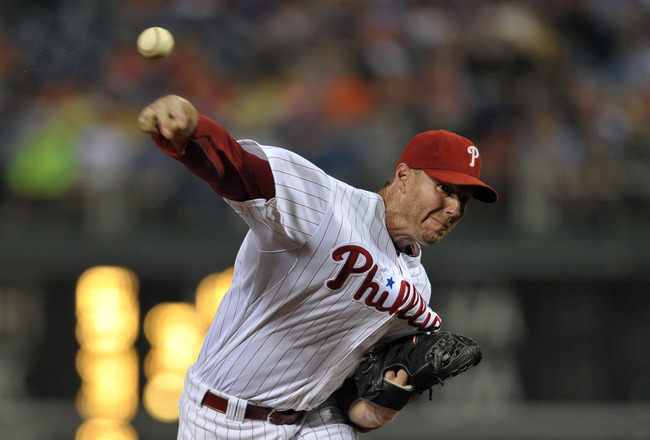 Drew Hallowell/Getty Images
The All-Star Break is already upon us, and it appears last season's "Year of the Pitcher" was no fluke.
Hurlers throughout the league have been making opposing batters look just plain silly so far.
The Steroid Era is officially over, and it's time to celebrate those pitchers who have been superior up to this point.
But what qualifies a pitcher as one of the best?
Of course, those pitchers who let up the fewest runs will have an edge.
The guys who can come up with big wins, log key performances, strike out batters and keep runners off base are all incredibly invaluable to their teams.
Also, those pitchers who go deep into games and give their bullpen a little extra rest will be commended.
Those who have given their teams more wins than than their replacement will also be noted.
So here are the ten best pitchers at the halfway point, all of which have been exceptional so far.
10. Cliff Lee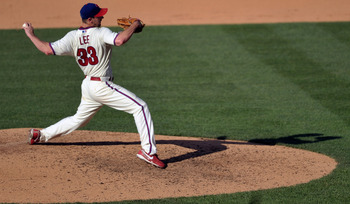 Drew Hallowell/Getty Images
Stat Line: 137 IP, 9 W, 4 CG, 137 K, 2.82 ERA, 1.06 WHIP, 3.6 WAR
Cliff Lee is just one component of one of the greatest rotations the league has ever seen.
After a relatively mediocre start to the season, with just two wins until May 21st, Lee's heat rose with the thermometer, turning in a phenomenal June.
Cliff closed out June with three straight complete games, pitching in 42 of a possible 45 innings. In those 42 innings, Lee allowed just one run.
The month saw Lee's ERA drop from 3.94 to 2.66.
July has been a little more humble for Lee, with the Phillies losing both of his starts, despite his last game being incredibly well pitched.
Key Performance: In his third complete game in as many starts, Lee shut out an incredible Red Sox lineup, winning the first game of an important series between the teams with the two best records in the MLB.
He let up just two hits and four total baserunners.
9. Dan Haren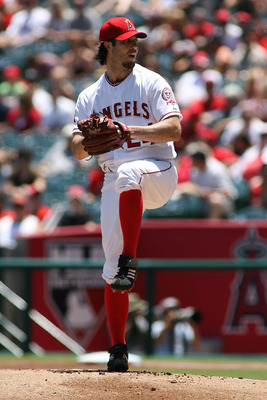 Jeff Golden/Getty Images
Stat Line: 134.1 IP, 10 W, 2 CG, 115 K, 2.61 ERA, 0.95 WHIP, 4.2 WAR
Ever since Haren put on an Angels jersey mid-way through last season, he has been incredible.
His 0.95 WHIP is one of the best in the league, allowing less than one runner on base per inning.
He has been the perfect Robin to Jered Weaver's Batman as one of the best duos in the game.
Being just a game behind the AL West favorite Texas Rangers, each win counts, and his 4.2 WAR has helped keep them in the hunt thus far.
Key Performance: Haren turned in a filthy one-hit complete game against the Cleveland Indians on April 12th. With just two runs for support, Haren hung in there and pulled out a W.
8. Josh Beckett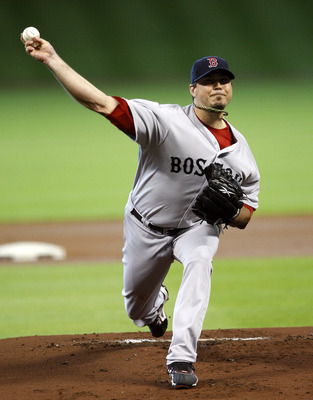 Bob Levey/Getty Images
Stat Line: 111 IP, 8 W, 1 CG, 126 K, 2.72 ERA, 1.16 WHIP, 2.7 WAR
Josh Beckett serves as the stable source of pitching in a rocky rotation.
Many wrote him off before the season, missing significant time in 2010 and finishing the year with a 5.76 ERA.
But Beckett bounced back. His pitching has led the Red Sox rotation to first place in AL East at the break, holding the best record in the American League.
He would've been lower on the list, but his eight wins are short of many other worthy candidates. Usually I would be more lenient, but he has that astounding lineup behind him every time he takes the mound. The guy should have more wins.
Key Performance: Beckett's only complete game this year came as a shutout against a great Rays team, allowing just one hit. After his team lost the first game of this series, Beckett turned things around in the second and ended up helping them take a series against a division rival.
7. James Shields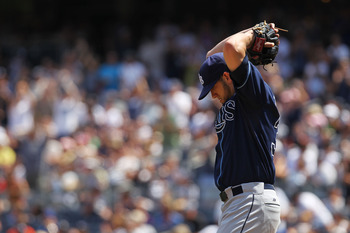 Nick Laham/Getty Images
Stat Line: 142.2 IP, 8 W, 7 CG, 137 K, 2.33 ERA, 0.98 WHIP, 3.4 WAR
David Price isn't having a bad season, but he is being completely upstaged by his teammate, James Shields.
The stat that immediately jumps out at you is his seven complete games, which most pitchers don't even reach in a full season.
He gets such little run support that he actually lost one of his complete games 1-0.
Also, pitching in a division with the Yankees and Red Sox has to be unbearable, and the Toronto Blue Jays and Baltimore Orioles are not so easy to beat up on either.
Key Performance: Of all of his complete games, the loss was actually probably his most notable. He went toe-to-toe with CC Sabathia and that vicious Yankee lineup and didn't allow a single earned run. If it weren't for a huge throwing mistake by B.J. Upton in the outfield and a failed pick-off, that game could have seen two pitchers reach extra innings without any score.
6. Jair Jurrjens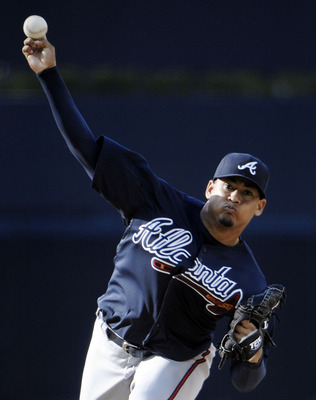 Denis Poroy/Getty Images
Stat Line: 110.2 IP, 12 W, 2 CG, 65 K, 1.87 ERA, 1.07 WHIP, 2.3 WAR
Jurrjens is having an extraordinary breakout season.
He would surely be higher on the list if he had logged more innings.
The entire Atlanta Braves staff is carrying them in their pursuit to catch the Phillies in the NL East, but I wouldn't be too worried–they lead the NL Wild-Card race by a margin of five games.
His 1.87 ERA is the best in the NL, and hopefully we'll start seeing the 25-year-old star go deeper into games as he moves into his prime.
Key Performance: Jair threw a masterpiece against the Orioles on July 1st, a complete game one-hitter. With young stars like Jurrjens, Heyward and McCann, the Phillies could be surprised with how close the division race might get.
5. CC Sabathia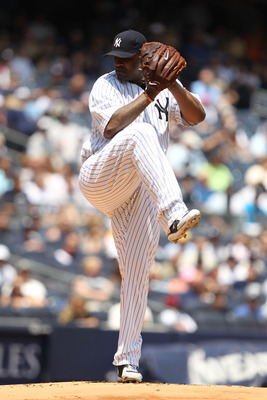 Al Bello/Getty Images
Stat line: 145.2 IP, 13 W, 2 CG, 126 K, 2.72 ERA, 1.16 WHIP, 4.8 WAR
CC leads the major leagues in wins and is second in both innings pitched and WAR.
Every Yankee starter this season has gone through a period of inconsistency, but Sabathia always remains reliable.
Even when he doesn't have his A-game, Sabathia still hangs in long enough to give the lineup a chance to win the game.
His May 24th start against the Blue Jays saw Sabathia allow four runs in as many innings. Despite the 4-1 hole, CC finished out the game which let the Yankee sluggers stage a walk-off comeback.
Key Performance: The same July 10th matchup against James Shields, CC was fortunate enough to not have the sloppy fielding behind him. He threw a 98 MPH fastball to end the game, and got shaving cream pie to the face, usually reserved for walk-off hits.
4. Cole Hamels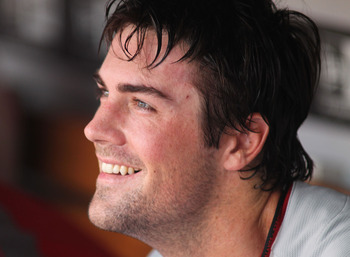 Marc Serota/Getty Images
Stat line: 132 IP, 11 W, 1 CG, 121 K, 2.32 ERA, 0.93 WHIP, 4.1 WAR
Hollywood Cole is finally having that tremendous year that we all knew he was capable of.
With his three overqualified mentors around him at all times, Hamels is putting up numbers that compete with the best in baseball.
He has just one complete game, but had seven other outings where he completed eight innings. The young Phillie is saving the bullpen just like this rotation was built to.
Hamels was having a great start against the Red Sox in an attempt to complete a series sweep, but could only get through four scoreless innings before being removed from the game due to injury.
Key Performance: His May 3rd outing against the Washington Nationals was nearly perfect. One errant pitch to Michael Morse, resulting in a home run, put the only run on the board for the Nats. Aside from that it was a smooth, complete game victory for the career-long Philly.
3. Roy Halladay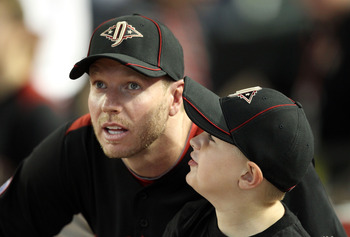 Christian Petersen/Getty Images
Stat Line: 143.1 IP, 11 W, 6 CG, 138 K, 2.45 ERA, 1.02 WHIP, 5.1 WAR
Doc Halladay is not only a heavy candidate for Cy Young, he's probably got my vote for pitcher of the decade.
He leads the NL in WAR and complete games, and is second in strikeouts.
Roy is the best pitcher on the best team in baseball, and there is no shortage of competition–his rotation takes up almost a third of this slideshow.
The only question I have when it comes to Doc is: will he ever slow down?
The guy hasn't had an ERA of over three since 2007.
He puts movement on the ball like nobody else in baseball, and will strike you out looking if you think his breaking ball will end up in the dirt.
Key Performance: The Mets had a 1-0 lead on Halladay through six innings in their April 30th contest. But the cold-blooded veteran never blinked, and pitched well enough for the remainder of the game to allow his hitters to scrap together a couple of runs. I could write for days about how great Halladay's stuff is.
2. Jered Weaver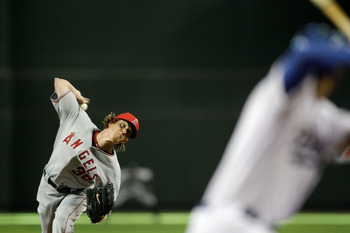 Pool/Getty Images
Stat Line: 140.1 IP, 11 W, 4 CG, 120 K, 1.86 ERA, 0.91 WHIP, 4.7 WAR
The younger Weaver has been fairly consistent in his six year career with the Los Angeles Angels of Anaheim, but we've never seen anything like this before.
The 6'7" pitcher towers over fearful batters; and then he makes them pay.
As Mark Saxon of ESPN LA observes, "He gives up a single and he looks like he wants to fight someone."
After a sub-par May that included four losses, Jered is back to business, at 5-0 in June and July.
He inscribes the initials of his departed friend, Nick Adenhart, in the dirt before each start and honors him properly every time.
Key Performance: Weaver's most valiant effort came in a loss to the struggling Minnesota Twins. He threw the first nine innings of the game, allowing just two hits and striking out seven. However, his lineup couldn't back him up. Two relievers could only combine to get one out before wrecking Weaver's brilliant start.
1. Justin Verlander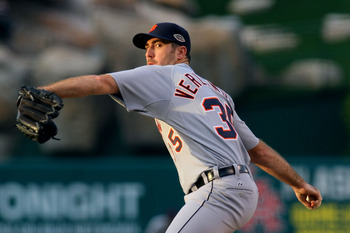 Victor Decolongon/Getty Images
Stat Line: 151 IP, 12 W, 4 CG, 147 K, 2.15 ERA, 0.87 WHIP, 4.5 WAR
While no other active starter on the Detroit Tigers has an ERA on the brighter side of four, Verlander's is hardly higher than two.
The Tigers remain ahead of the Cleveland Indians by a half game in the AL Central, and they have their ace to thank for it.
He has found a way to pick up a win in every single start when facing a division rival this season and has pitched just as well against almost every other opponent he's encountered.
Justin leads the AL in innings pitched, strikeouts and WHIP, and is second in wins and complete games.
He started six games in the June and won each of them. He struck out 54 batters during that stretch and hasn't slowed down since.
There is a bounty of pitching talent in the MLB this year, but there is no doubt that Verlander is above the rest.
Key Performance: Let's see...there are so many great games to choose from, but I'd say his no-hitter might just be the best. The Blue Jays managed to work one walk off Verlander, but couldn't do anything to stop the 9-0 slaughter.
So, as "The Year of the Pitcher, Part II" continues on Thursday, it will be interesting to see which big names maintain their superiority and which will crumble under the pressure of second half baseball.
Keep Reading