Assessing Daniel Ricciardo's Grand Prix Debut
July 12, 2011
Paul Gilham/Getty Images
Daniel Ricciardo made his Formula One debut at Silverstone on Sunday. Very few young drivers reach the pinnacle of motorsports but Ricciardo is now one of the fortunate few. Years of dedication and hard work have started to pay off as he joined the world's greatest drivers on the starting grid.
He looks set to complete the season at the wheel of the Hispania, except for perhaps the Indian Grand Prix, where Narain Karthikeyan may make a one off return.
A new Formula One driver can't sit back and enjoy their debut Grand Prix though. They have a job to do and they have to do it not just with a huge amount of media attention, but also in front of the rest of Formula One—team owners, managers and their fellow competitors. Ricciardo himself admitted he was keeping his head down and doing his best to ignore the occasion and maintain his focus on the job at hand.
So how did he do? It's important to acknowledge the significant disadvantage a driver has when he steps into Formula One mid-season. All the other drivers have completed race distances, they know their team, their engineers, they know the tires and they are racing at peak fitness. Ricciardo had none of these advantages and was also in one of the worst cars on the grid.
To increase the challenge facing him, Friday practice was damp and any meaningful running was ruled out. This meant Ricciardo went into qualifying with a very challenging job ahead of him.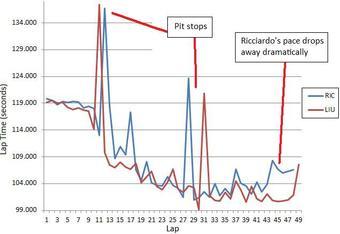 In Qualifying, his first lap was a 1m 38.5, which compared very well to his teammate Tonio Liuzzi's 1m 38.1. But their second runs resulted in a 1m 37.4 for Liuzzi and a 1m 38.0 for Ricciardo. The difference was 0.6, more than any racing driver would like.
But all it highlighted was Liuzzi's knowledge of the car and therefore his ability to push it closer to its limit. Give Ricciardo a few more races and he will gain the experience and, if you like, the comfort and confidence, to push the car to its outer limit in qualifying.
In the race, it was more of the same. Ricciardo's inexperience with the tires limited his ability to show what he could do with the car. Early on, he lapped around a second slower than Liuzzi and maintained this pace consistently.
But as he neared the end of his final stint, his lap times dropped off alarmingly. After the race, Hispania said Ricciardo had worn out his rear tires and the grip level had vanished as a result.
The graph shows just how much his lap times dropped relative to Liuzzi's. The Y axis shows the lap time and over the last six laps or so Ricciardo was over six seconds slower per lap than his teammate. On lap 44, he lost eight seconds, which is a lifetime in Formula One.
Another contributory factor to the slower lap times is the challenge of working around the blue flags. A driver of Ricciardo's quality has maybe never been lapped before, but in a Hispania, he'll be lapped maybe 30 times through the race. It's a skill in itself.
But there is no need to panic. Making your Formula One debut is an exercise in data collection and finishing the race is the best way to do this. The mind of a racing driver will be analysing everything, constantly learning and Ricciardo will arrive at the Nurburgring with significantly more information and knowledge than he had last weekend at Silverstone.
Expect him to be a lot closer to his teammate.