NBA Trade Speculation: How Will Kevin Pritchard Affect the Indiana Pacers?
July 12, 2011
Otto Greule Jr/Getty Images
The Indiana Pacers hiring Kevin Pritchard as director of player personnel showed that they are serious about remaining active and aggressive in free agency, but how?
The former Portland Trail Blazer GM's influence will depend on his perceived role with the team.
Signed to just a one-year contract, if Pritchard was brought on for more than to just evaluate talent for the year, he could begin to slowly shape the Pacers roster.
Pritchard is known for his astute player evaluations and, while he did take Oden over Kevin Durant (maybe that was a Trailblazer curse), he also landed Portland Brandon Roy, LaMarcus Aldridge, Rudy Fernandez and Nicolas Batum, turning the Blazers into a contender in the Western Conference in less than four years.
With the draft over, Pritchard's ability to transform the roster may be handcuffed by his one-year deal.
However, if team President Larry Bird plans on keeping Pritchard around, expect changes to be made.
In Portland, Pritchard vastly improved the Trail Blazer front lines, with the draft day trade for Aldridge being his defining move. But it was a certain free-agent signing that did not go through that might be most telling for Indiana. 
In the summer of '08, Pritchard offered Jazz forward Paul Millsap a 4-year, $32 million deal, which at the time was considered outrageous money for a relatively young player who was still a back-up. 
Millsap signed, but needing a replacement for departing free agent Carlos Boozer, the Jazz matched Pritchard's offer and tendered the Utah forward.
Three years down the line, the Pacers are in need of a double-double type power forward. With the Jazz facing a logjam at power forward, this might be the year that Pritchard finally gets the player he desperately coveted.
Will Pritchard land Millsap? Again, it all depends on Pritchard's role and how much free-rein he his given. 
On several levels, the deal makes sense. Larry Bird already made his move and acquired George Hill on draft night. It's hard to imagine Pritchard dealing or involving Hill in any discussions so as not to step on Bird's toes. 
A player like O.J. Mayo, whom the Pacers went after and nearly acquired last season, seems unlikely. Bringing back Eric Gordon to Indiana is also complicated by Hill's arrival. 
Thus, with the other weakness being power forward, look for Pritchard to focus there. And with the draft already past, free agency will be his only tool to do so.
There are very few times when a trade mutually benefits both teams. Sending Granger to Utah for Millsap and considerations does just that.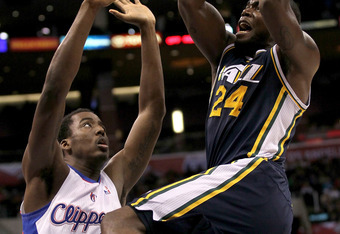 Stephen Dunn/Getty Images
Eager to start Paul George as well as play Hill and Lance Stephenson, the Pacers find themselves with more talented players than they have space for. 
Trading Granger (not an easy decision) allows Hill to move into the starting lineup and George to move his natural forward position. More importantly, the acquisition of Millsap greatly improves the front line for the Pacers, especially in the scoring department, where Millsap averaged 17.3 points per game. 
Utah also gets an all-star wing player capable of providing the dynamic scoring threat they've been looking for, so they walk away satisfied as well. 
The trade is a win-win and a chance for Pritchard to get the guy he so clearly wanted in Portland.
Millsap would also round out the Pacers roster and be the final piece the puzzle. The only question would be whether Indiana will keep the new player of personnel around long enough to see his prized deal play out.